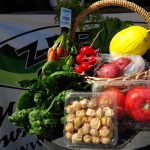 Receive 10 certified organic vegetable (occasional fruit or herb) items delivered to your door or picked up at our farm every other week for 22 weeks (JUNE 6 – OCT 30). This is a suitable choice for smaller families of 2 or less or those with smaller appetites. Each item is approximately 1lb., a pint or a bunch.
The share is purchased in advance of the season to support the farm as we prepare and plant the fields.
Currently offering delivery to Durham Region, York Region, Scarborough, North York, Thornhill and Woodbridge. Doorstep delivery to Toronto is no longer available.
Delivery is included in the price or pick-up at the farm for a discount.