Well, you know that rain that has been on short supply these last few months…we got it! All of it. In one day! Yesterday was quite the downpour. While it's nice to replenish the moisture in the soil, the heavy rains are not always favourable for certain items. If your romaine(s) are wee little things this week, it's because I removed a plethora of outer leaves that had been damaged. What remains is more of a romaine heart. Lots of cruch for your caesar salad 😉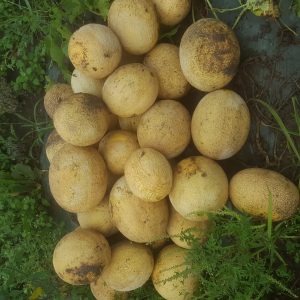 The cantaloupes are at their peak right now. I love how it is painfully obvious when they are ripe- the telltale orange shows right through and you can smell the sweetness when you hold up the stem to your nose. Also from being on the wet ground, you may notice brown/black on the outside. Don't worry- this is just dirt I was unable to scrub away without damaging the fruit. There is lots of delicious sweetness inside, but enjoy it soon, as these are very ripe and ready to be eaten 🙂
Eggplant is here in a big way this week as well as green pepper. I find eggplant was a challenge for me at first, but now with a few recipes under my belt like eggplant lasagna
And baba ghanouj dip
I find myself excited that we have eggplant again :).
In all honesty I just make a simple lasagna by salting, slicing and pre-cooking the eggplant (or zucchini) in the oven until tender, and doing a fairly traditional lasagna but with goat cheese for my son. I have found I now prefer the creamy goat cheese taste to ricotta!
 Please store your eggplant in a cool dry place but not in the fridge (causes brown spots to appear). These last a good week or 2 at room temperature but after a week they start to get softer. 
Also new is spanish onions. I'm sure I don't have to tell you what to do with them. They are fresh from the garden and not cured (dried out) for long term storage. Please take them out of the box and keep them somewhere dry until you use them. See how to cure (dry) onions here.
Our fruit this week is almost all Canadian! With our own melons, Niagara peaches, BC plums and BC apples, there are lots of great Canadian tastes to enjoy. Now if only we could figure out how to grow bananas here 😉
So, here's your list!
Half Share
Carrots
Eggplant
Green peppers
Cantaloupe
Green beans
Spanish onions
Black kale
Romaine lettuce
Grape tomatoes
Saladette tomatoes
Whole Shares
Spaghetti squash
Cucumbers
Zucchini
Radishes
Extra tomato or broccoletti
Sweet cabbage (cone shaped)
Parsley (herb)
Fruit
Zephyr Organics yellow doll or red watermelon
2L Ontario peaches!
1.3lbs BC plums
7 BC sunrise apples
3lbs bananas
We also have a facebook contest going on where you can win a watermelon! With the help of a creative kid 🙂 see facebook for details.
Also, taste and see boxes will be available for purchase for delivery Aug 29-31 and Sept 5-7. This is also a great gift idea. See our website for details.
https://zephyrorganics.com/what-is-farmshare/products/