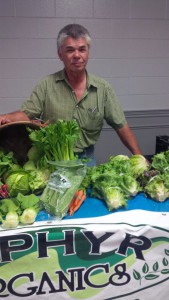 Ted Eng
The 9th sibling of 18 children born to Chinese immigrant Chong Eng and French Canadian mother Jeanne D'Arc, Ted took on the responsibility of the farm his father had started in 1950 shortly after his father passed away. Seeing the growing demand for organics and the value of organic growing principles, Ted led the farm into complete organic certification back in 1991, birthing Zephyr Organics as we know it today. Ted's commitment to growing high quality organic vegetables is seen in his years of late nights and early mornings, tirelessly working to make great food available to Ontarians. Ted has also been involved in local politics for years, serving on the Uxbridge council for the 2006-2010 term and lending his insights to the GTA Ag Action Committee and Ontario Federation of Agriculture, among others. Ted has a vital role in sales, and planting on the farm, and loves to look ahead to new growth and improvements on the farm.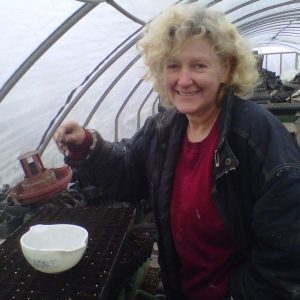 Jannette Eng
Born in Holland, Jannette met Ted and immigrated to Canada in 1981 to marry Ted and start their family of five. Douglas was the eldest, followed by Thomas, now a Free Methodist Minister and Regina, now a farmer in her own rite and new mother, who all spent many summers seeding, planting, weeding, harvesting and packing in their teens. Jannette supported Ted through the hard work of growing a farm, opening her doors to countless visitors, driving vegetables to sell and getting her hands dirty in virtually every farming task. She does the planting for our special farm share crops, harvests with impressive speed and delivers our produce to retail customers.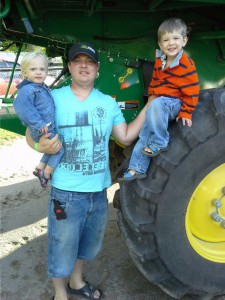 Douglas Eng
Douglas grew up driving tractors and earning spare cash by making up hundreds and hundreds of vegetable boxes. He developed a love of working hard and operating the machinery throughout his adolescence and also spent time working in the construction industry. After high school, Douglas attended Centennial College in Toronto where he took accounting, unsure what his future would hold. A concentrated year of study at Northwood University in Michigan allowed him to earn his degree in Business Accounting. It was then that he decided to pursue farming and took a central role on the farm in 2007, managing many of the daily operations on the farm and putting both his accounting education and construction experience to good use. In 2011, Douglas became a part owner of the farm and manages the more than 20 employees and over 140 acres. He also concluded over a year of study called the Advanced Agricultural Leadership Program, where he learned about principles of leadership and exciting innovations in farming alongside emerging leaders in the agriculture industry. Ongoing education is of utmost important to Doug, who spends countless hours researching the latest in organic methods.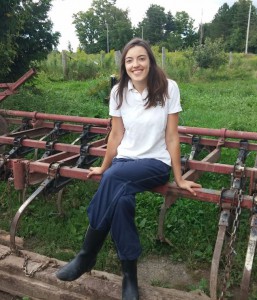 Jennifer Eng
As the granddaughter of a cattle and cash crop farmer, Jennifer longed for the farm experience that she missed when the farm was sold around the time of her birth. It just so happened that this opportunity would come again as she fell in love with Douglas, who would carry on the family trade as an organic vegetable farmer. As a high school student, Jennifer got a taste of the exhausting but satisfying work on the farm as a labourer. In 2009, an opportunity to manage the growing CSA program (Farm Share) arose and Jennifer relished the chance to bring the farm to the people, through attending events, corresponding with customers and selecting and packing a variety of items for Farm Share members. Jennifer enjoys spreading the word about Farm Share, planning and overseeing the business and what goes in the boxes each week when she's not at home enjoying good food and life's every adventure with her 2 small children Tytus and Naomi. Jennifer feels blessed to have access to such amazing, healthful produce and gets great satisfaction through sharing a love of good food with Farm Share customers through facebook, Pinterest, the blog, website updates and events.
Tytus Eng
At 4 1/2 years old, Tytus isn't just a pretty face on the farm. He's an able helper for planting, packing tomatoes and even washing carrots. He loves admiring the tractors, picking his own snacks fresh off the trees and vines, and bringing songs and humour everywhere he goes. This past year he tried his hand at pulling carrots for the first time.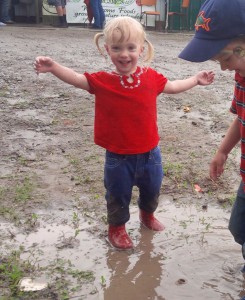 Naomi Eng
Naomi is our 2 1/2 -year-old with boundless energy. She'll forage her own berries and has never tasted a fruit she doesn't like (even the bitter ones!). It's hands on and full throttle ahead for this little adventurer. Dirt, rubber boots and a shovel are all this girl needs to have a blast (and some bubbles!). This past year Naomi helped pick sugar snap peas and did just great at it.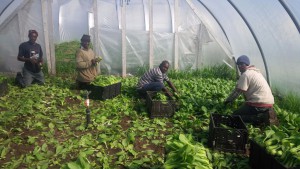 Jamaican Migrant Workers
We simply cannot tend the 140 plus acres of our farm alone. For over 14 years, we have depended on the tireless efforts of workers from Jamaica that come here for a seasonal work contract. There are currently 16 at the farm from about March to December (many of whom have been with the farm for years) who seed, plant, weed, drive tractors, harvest and pack among other things. A few are skilled at managing others and lead teams to get the job done. They live right on site and when not working, can be seen shopping in nearby towns, cooking, cycling or relaxing.
Summer Students
We also employ summer students, mostly in high school or university. It's certainly not the easiest summer job, but it does hold the benefit of learning hard work while getting a tan, not to mention having access to those delicious veggies and fruits!