Welcome to week 2 of Farm Share! I apologize for the delay in getting the blog up-without further delay here is what you can expect to see in this weeks boxes.  Coming soon are sugar snap and snow peas, green beans, currants and zucchini-so look forward to those in the next couple of boxes 🙂
Half
-asparagus
-rhubarb
-red radish
-red swiss chard
-green kale
-baby bok choy
-romaine lettuce
-red leaf lettuce
-turnip greens (light green leafy veggie with white stalk)
-‎basil bunch (please do not refrigerate: leave on counter with roots in water)

Whole
-asparagus
-rhubarb
-red radish
-red swiss chard
-green kale
-baby bok choy
-romaine lettuce
-red leaf lettuce
-turnip greens (light green leafy veggie with white stalk)
-‎basil bunch (please do not refrigerate: leave on counter with roots in water)
-giant red beets
-‎bunch mint
-‎garlic chives
-black kale
-green leaf lettuce


This weeks recipe I tried to keep it simple.  I ran out of olive oil and decided to saute up some of the sugar beet along with some other lovely veggies I had from the share as well as what I had on hand.  There isn't a name and I was quite surprised at how delicious considering it was only the vegetables with butter and a bit of salt and pepper.  Throw in whatever you wish-don't feel limited by what I used since I'm sure it will be great no matter what.
Simple Vegetable Saute (change amounts depending on how many your serving)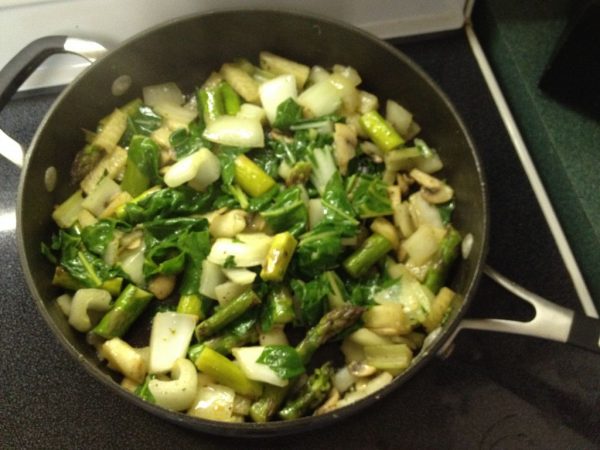 1/4 butter or oil of choice
Asparagus chopped
1/2 sugar beet peel and chopped into small chunks
Bok Choy leaves-cut and separated from the leaf tops (tops to be thrown in after everything else has softened)
Swiss Chard (stems separated from the leaf-top to be thrown in with the bok choy tops)
Mushrooms sliced
Onion
Directions:
Melt butter or heat oil in pan-add onion (you can choose to add garlic or other seasons of your choice as well I didn't), sugar beets and asparagus-season with salt and pepper.  When onions are soft add the bottoms of the swiss chard, bok choy and mushrooms.  When these have reached the desired tenderness add in the top leaf parts from the swiss chard and bok choy.  Serve warm as a side or add a protein and serve on top of rice or noodles.  The sugar beets added a nice hint of sweetness that my husband and I enjoyed-this was both our first experience eating sugar beet this way.  Enjoy!