As I write this a much needed rain is falling at the farm. I can only hope it keeps coming. Certain crops like the rhubarb, a staple of this time of year, are floundering due to the extreme lack of rain. But man, is it coming down now! The asparagus has finally recovered from the frost and ensuing dry weather, and it back growing so rapidly I feel as if I could sit and watch it get taller if I had the time. The strawberries in the field are just starting to produce (happy dance). There is just a small amount hence not having enough for all of you (the lucky whole sharers get some this week only), but I have hopes for much larger yields in coming weeks, and will try to share the strawberry love around. We grow an everbearing variety which means the season should keep going now until frost.
In your farm shares this week:
Simply Six
snow peas
bunch asparagus
cucumbers
bokchoy
basil pots
radish
Half Shares
snow peas
bunch asparagus
cucumbers
bokchoy
basil pots
radish
spinach
spring onions
garlic scapes (pictured above, these are the curly green tops of the garlic plant- they taste just like garlic and when you "pop" them off it actually helps the plant! win win!)
bunch ontario greenhouse tomatoes
Whole Shares
snow peas x 2
bunch asparagus x 2
cucumbers
bokchoy
basil pots
radish
spinach
spring onions
garlic scapes (pictured above, these are the curly green tops of the garlic plant- they taste just like garlic and when you "pop" them off it actually helps the plant! win win!)
bunch ontario greenhouse tomatoes
strawberries
baby bokchoy
red leaf lettuce
Fruit Shares (all items are certified organic as always)
1 mini watermelon
2-3 mangos
5-6 lemons
4-5 peaches
1 clam blueberries
Recipes
I had a few requests for what to do with bokchoy. It may be unfamiliar to a lot of you, but this amazing, iron rich chinese green deserves a space on your regular rotation. We gave the large white bok choy to most of you, which is ideal for cooking in stir fries and soups. Nothing is more perfect for your noodle soups than bok choy! It holds up nicely and retains some texture in soup.
One of your fellow farm share members sent us this gorgeous photo of this meal she created using her pastured organic fed eggs from the farm and her Zephyr Organics bok choy together. So simple, yet such a great and quick balanced meal with lots of nutrients! And here's the recipe from Meghan: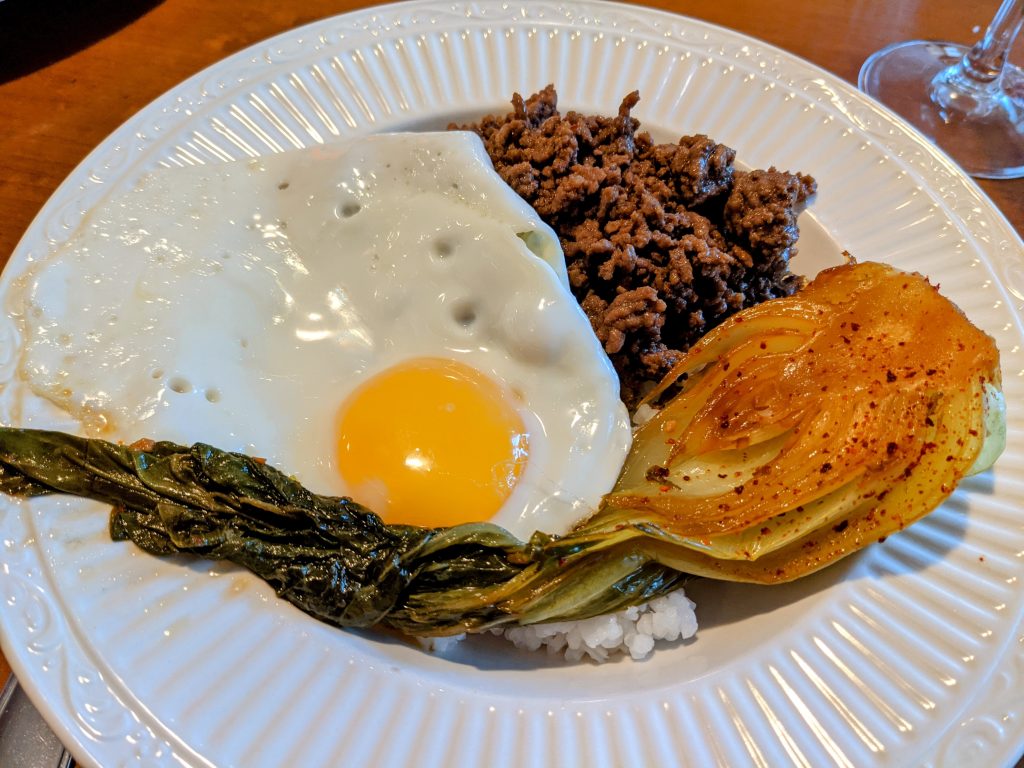 Quick Beef Rice Bowl with Zephyr's Farm Fresh Ingredients
Ingredients:
1 cup rice (Calrose works well with this recipe)
Korean Ground Beef:

1 lb Lean Ground Beef or Beef substitute like Beyond Beef
1 tbsp olive oil
 3 garlic cloves minced or 1 bunch of Zephyr's garlic chives sliced
1/2 cup brown sugar or sugar substitute like coconut sugar
1/2 cup soy sauce
1 tbsp sesame oil
1/2 tsp ground ginger
1/4 tsp red pepper flakes
1/4 tsp black pepper

Baby Bok Choy

1 lb Zephyr's baby bok choy
1 tbsp olive oil
5 cloves garlic minced
2 tbsp soy sauce
1 tsp sesame oil
1 tsp crushed red pepper

Zephyr's farm fresh eggs
Sliced green onions and sesame seeds for garnish
Instructions:
1.  Prepare the rice as usual: Rinse the rice twice, add 1 1/4 cups of water, cover and bring to a boil over high heat.  Once the rice boils, reduce heat to low and cook for 20 minutes.  Then rest for a minimum of 5 minutes and set aside.
2.  In a small bowl, mix the sauce for the ground beef, including the brown sugar, soy sauce, sesame oil, ground ginger, red pepper flakes and pepper.
3.  Sauté the ground beef or beef substitute with the garlic in olive oil over medium heat until no longer pink.
4.  Once the beef is no longer pink, add the sauce and let simmer for 5 minutes.  Then remove from heat, put in another dish, cover and set aside.
5.  Cut the baby bok choy in half lengthwise.
6.  In the same skillet, add the olive oil and sauté the garlic for 1 minute until fragrant.
7.  Add the bok choy cut face down, soy sauce and sesame oil.  Toss to coat the bok choy.  Cover and cook for 1-2 minutes.
8.  Uncover, toss again and then cover.  Continue to cook until bok choy is of desired consistency, about 3-5 minutes more.
9.  Remove bok choy from heat, sprinkle with red pepper flakes and set aside.
10.  Fry one Zephyr's farm fresh egg sunny-side up for each person.
11.  Assemble the rice bowls:  Make a base of rice, top with a scoop of the Korean ground beef, one half of a baby bok choy with some of its sauce, one fried egg, and sprinkle with sliced green onions and sesame seeds.  Serve immediately and enjoy!
-Meghan
This stir fry recipe is making me crave some great homemade Chinese food. This Shrimp with Chinese Greens Stir Fry has everything you need for a quick, easy and nutritious meal. The only thing they forgot is the garlic and onions! Just chop us and use your spring onions and garlic scapes- all of them from the bottoms to the top are great for eating and adding lots of flavour to all your savoury dishes.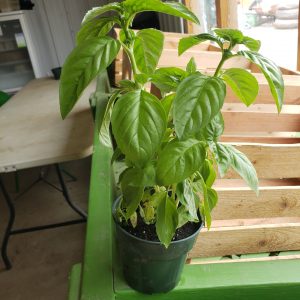 How to Care for your Basil Plant
Congrats on being the proud owner of a sweet basil plant! We are giving you a gift that can keep on blessing you with fresh flavour your for weeks- sweet basil. I copied some tips below from morningchores.com, but you can start by smelling it- that's it, pause and inhale a moment :). You can plant it in the garden but please never put basil in the fridge- it will turn black. If you harvest some and are not ready to use them yet, try keeping moist and storing in a jar on the counter, or better yet, use it as you pick it :).
Pick the leaves as often as you can to encourage continuous growth. Be sure to harvest as you need them because basil doesn't store well for long.
Harvest before cold weather sets in. Basil is an annual, so it won't stick around over the winter. The leaves are better torn than cut with a knife as they blacken easily.
Keep fresh leaves in a plastic bag in the fridge for a short period. You can also preserve in olive oil or vinegar. Basil leaves are delicious dried and store in glass jars.
So, keep it well watered, with lots of sun, and keep picking off the biggest leaves for your salads and pastas (basil and tomato are basically bffs, they go together so well!). If you want to get fancy, you can make some pesto…and presto! You have a great sauce for pasta or "zoodles" when the zucchini comes around. Sadly, zucchini will be later this year as all our hard work of what had been planted was destroyed in that super late frost we had at the very end of May.
Carrots and lettuce are coming along nicely and once they are here, we will have weeks and weeks to enjoy them. Never too many carrots and lettuces, am I right?!
The laying hens continue to be laying like champs, so we have extra eggs this week and will be able to add a few weekly/biweekly egg shares for the rest of the season :). One of the highlights of my day is watching them run, jump and fly out of their mobile chicken coops to live a day of adventure, pecking about at grass, bugs and organic veggie treats I leave them.
Have a fresh and flavourful week!