Hello from the fields of Zephyr Organics!
On week 3 we have cucumbers! (Here's hoping they grow enough for me to send them to everyone!). They are just getting started and the vines are still small, just beginning to climb the netting we hung for them, but my oh my do they grow quickly!
Carrots are also just beginning, so the lucky whole share people get them this week, and everyone can anticipate receiving them next week and beyond. We still have asparagus for now, but the field is slowing down a bit, especially with the dry weather. I got caught in some pretty heavy rain in Uxbridge on Monday, but the farm just got a dusting! I have sad news in that our strawberries are not looking well at all. I was hoping we might get one more year out of our current plants but they are producing tiny, not so pretty little fruits. Happily, the redcurrants are slowly ripening, and we may even have a little raspberries come July.
Upcoming next week one of our amazing farm share members, Melissa Hutchins, is sharing her knowledge of fermenting and letting us get right in there and ferment some asparagus of our own! I am stoked, as I have always wanted to ferment, but been afraid to do it on my own!
Next thurs it will be happening in Port Perry at the library. Check it out here:
https://www.eventbrite.ca/e/fermenting-workshop-organic-asparagus-2-ways-tickets-47224165751
-1lb asparagus
-cucumbers
-bunch beets
-green onions
-rhubarb
-red kale
-rainbow swiss chard
-romaine lettuce
-green leaf lettuce
-red radish
Whole Shares:  same as above with…
-1 bunch carrots
-1 pint snow peas
-1 bunch spinach
-1 bunch oregano
-baby bok choy
Fruit Basket
-1 watermelon
-3 lemons
– 3 mangos
-1lb strawberries
-1 pineapple
Hope you are inspired by the fresh spring veggies!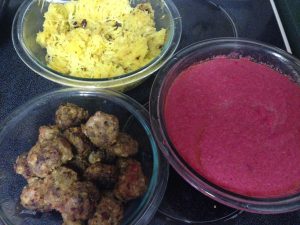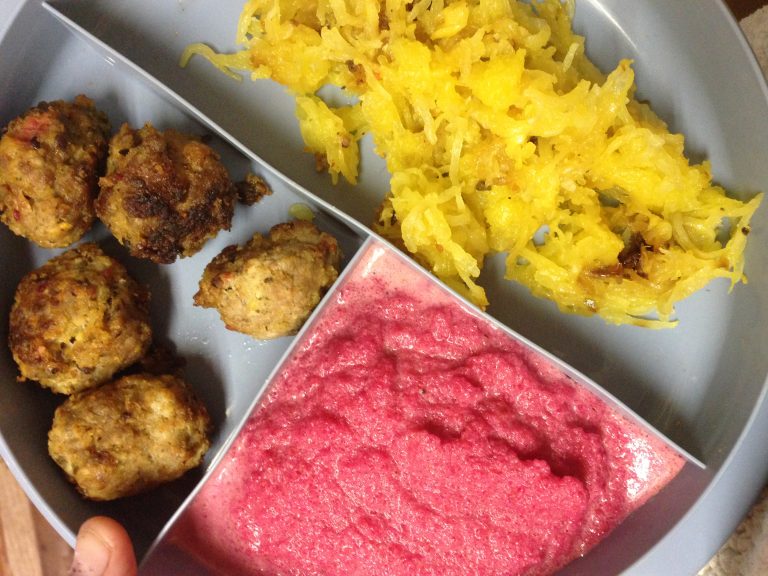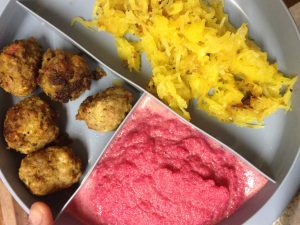 Here is the recipe for the week-I just made it the other night and while I'm not great at taking pictures it certainly looked AND tasted better than my awful photos make it out to.  I put the meatballs on top of squash noodles! Follow the hyperlinks below.
Lamb meatballs in roasted root sauce!

Spaghetti squash noodles.