Hello from the farm,
Hope you are having a wonderful week. We've been busy picking all sorts of yummy things as usual (more broccoli, now some cauliflower, and kohlrabi). What do you do with some kohlrabi you say? It's got a nice crunchy texture and is in the brassica family like broccoli. The taste I find is similar. I peeled and sloced mine as a crudite, and also peeled and grated another one for in some collard green wraps with salmon salad and lettuce. What a satisfying and easy meal it was, and it's low carb, gluten and dairy free as well.
I am super stoked about Melanie at Sparks Honey's first harvest of the year with the bees living on our farm. I never knew the taste could vary that much in honey, but seriously, this is the best honey I've tasted! Looks like the organic veggie life is agreeing with our 6 legged friends :). If you are dying to know how great it tastes, or want the health benefits of raw local honey, message me and I'll send a jar with your farm share or pick it up from the farm store. The cost is $15 for 2lbs.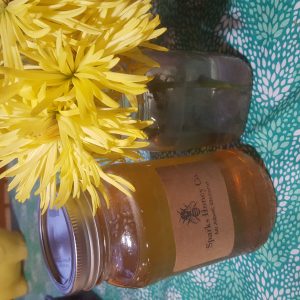 This week I had the immense but slightly painful pleasure of picking blackberries! Those thorns had my by the head and shirt at some points, but they are so worth it! What a treat for me. This was the first time I got to try them freshly picked. Hope you are as jazzed as I am fruit share people.
Watermelom will be ready so soon! They really look gorgeous out there. Maybe 1 more week, and green beans are coming soon too.
Another new item is those pickling cucumbers. We will have them for bulk orders soon, but we thought we'd give you the first taste. No, you do not have to go to great efforts to enjoy pickles. Here's an easy recipe to savour the fresh pickles for longer.
Now, for your list:
Half Shares
Cucumber
Zucchini
Snow or sugar snap peas
Beets
Broccoli, cauliflower or kohlrabi
Endive or dandelion greens (curly leafy veg. We recommend them as a cooking green as they are a bitter veg)
Collard greens (make amazing raw wraps)
Red kale
Romaine lettuce
Pickling cucumbers
Whole Shares (same as above with…)
Carrots
Radish
Cauliflower or broccoli and kohlrabi
Fennel
Mint (remember, it's mojito season!) Try mint syrup with some club soda…yumm
Red leaf lettuce
Fruit Shares
2.5lbs bananas
1lb strawberries
1/2 pint locally picked (and organic of course) blackberries
4 grapefruits
1 pineapple
Hope you enjoy the fruits of our labours!