Happy Monday! It's not so bad when the temperatures are getting milder. This Wednesday when I deliver, I'm not going to even stress about your veggies and fruits freezing- hooray! Thursday is set to be a little cooler, so please do plan to pick up your fruit and veggies soon after delivery.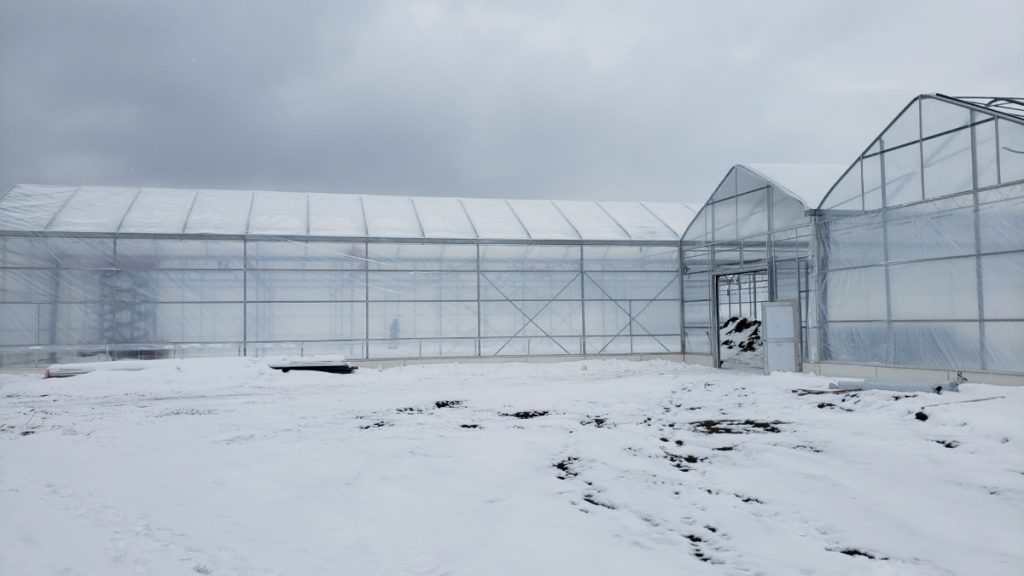 The new greenhouse is really coming together. We have walls now, are in process for the roof and electrical. From there we will do heating and irrigation and we can finally begin seeding in there! Looks like the weather is being cooperative. We start seeding when the bitter cold nights warm up into minus single digit lows and we are getting some positive highs and sun! Sun is key, especially since we can add and retain heat to make good growing conditions. We had originally hoped for plexiglass walls but due to the investment being pretty astronomical, we went with 2 layers of plastic instead, with an insulation layer of blown air in between. Did you know air was a good insulator? Here's a cool experiment if you want to discover more about different insulators that you could do for a good home-schooling lesson.
Savour the Local Items
This week we had to take advantage of a few organic items from the U.S.A. With the lower yields caused mostly by labour shortages and the higher demand for local food that the pandemic brought us, local winter storage crops are running out much faster than in prior years. This will be the last week for beets and they can store quite a few weeks in your fridge so hang onto them a while even if you are sick of beets because they are the last of our crop, and they will do a beautiful job dyeing your Middle Eastern Pickled Turnips!
New Giveaway!
Did you catch the interview with Amanda of Elpida Cafe and Roastery featured in our newsletter? She really inspired us with the difference we can make just drinking our morning cups of coffee when we source from places that truly empower women workers across the globe. We are also introducing a new 1lb bag of their medium nicaragua blend and dark columbia blend for you serious coffee lovers at a great value. To launch this offering and highlight the Elpida roastery we are giving away a free 1/2 bag of coffee! All you have to do is order any of the coffees from Elpida listed on our website and you will be automatically entered to win a free bag for a friend (one entry for each bag purchased)! (or to keep, I won't judge). This is a small contest with just our winter farm share members so let's just say your odds are pretty decent of winning. Either way, you'll end up with some great coffee. Purchase some here.
Your veggies this week:
Regular Organic Winter Vegetable Baskets:
4lbs yellow potatoes (Ontario organic)
2lbs purple top turnip (Zephyr organics)
1.5lbs Zephyr Organics red or golden beets
white mushrooms (Ontario organic)
2lbs carrots (Quebec organic)
1 greenhouse tomato (Quebec organic)
1 head celery (U.S. organic)
1 bunch broccoli (U.S. organic)
Large Organic Winter Vegetable Baskets:
6lbs yellow potatoes (Ontario organic)
2lbs purple top turnip (Zephyr organics)
1.5lbs Zephyr Organics red or golden beets
white mushrooms (Ontario organic)
2lbs carrots (Quebec organic)
1 greenhouse tomato (Quebec organic)
1 head celery (U.S. organic)
1 bunch broccoli (U.S. organic)
8oz baby spinach (U.S. organic)
1.5lbs sweet potatoes (U.S. organic)
Fruit Shares
1 organic pineapple
1.5lbs organic blood oranges (red inside)
2 organic mangoes
1/2 pint organic blueberries or blackberries
4 organic avocadoes
Middle Eastern Turnip Pickles!
Are you a fan of Middle Eastern food? Shawarma, falafel, tabouleh, hummus…I just can't get enough and it's quite nutritious as well. However, the surprisingly awesome thing about a nice Middle Eastern feast is the pickled turnips. With limited effort and a little patience, you could be enjoyed "turnip pickles" in a beautiful pink hue for weeks to come. The great thing is that you likely have most of these ingredients at home (especially after your farm share delivery): 2lbs turnip, 1 small red beet, 1 cup white vinegar, 3 cups water, 2 cloves of garlic, 2 bay leaves, 1/3 cup kosher salt and a glass jar with lid. Totally doable, right? Hope this recipe has you loving your Zephyr Organics turnip, along with the vitamin C, fibre, manganese and potassium that goes with it. Introduce some gut-healing bacteria through pickling it, and you are nourishing your body in all sorts of ways.
Broccoli 2 Ways
Broccoli Mushroom Stir Fry (Easy Vegan Dinner Option from cooktoria.com)
Get dinner on the table fast and feel good with this whole food dinner. Goes great with rice, quinoa or asian noodles or on its own.
Ingredients
2 tbsp soy sauce
2 tbsp rice vinegar
1 tbsp sugar
1 tbsp grapeseed, avocado or olive oil
2 tsp minced ginger
2 garlic cloves, minced
1/4 tsp red pepper flakes
1lb broccoli florets
10 oz sliced mushrooms
1/4 cup water
1/2 tbsp toasted sesame seeds to garnish
optional: kick up the protein by topping with some roasted cashews
Instructions
In a small bowl, mix soy sauce, vinegar and sugar until sugar is dissolved.
In a large skillet, heat the oil on medium high. Add garlic, ginger and red pepper flakes and cook for 30 seconds.
Add broccoli, mushrooms and water. Stir fry for 5-7 minutes or until veggies are cooked to your desired doneness.
Add soy sauce mixture and cook for another minute. Top with sesame seeds and/or cashews to serve.
Creamy Chicken and Broccoli Bowties
Maybe it was the homemade East Side Marios-inspired dinner I cooked up for my husband on his birthday, but now he's craving bowtie broccoli, which was one of their classic dishes. This recipe looks super easy and I think I can change up the sauce for my son with goat cheese and vegan mozzarella, and you can bet he will want it for lunch everyday! I like this recipe because it uses a small number of real ingredients. You could also add your mushrooms into this one and they would totally add! Just sautee them in garlic and butter first and they will be bursting with flavour!
I am going to leave you with an Irish blessing. It seems fitting as we have all faced a long year…and it's only February.
May the road rise up to meet you.

May the wind be always at your back.

May the sun shine warm upon your face;

the rains fall soft upon your fields and

until we meet again, may God hold you in the palm of His hand.

-Traditional Gaelic blessing