And…
That's a wrap!
Thanks so much for going on this journey with us in 2022. We hope you enjoyed all the veggies, eggs and fruits. 2022 was an odd growing season, starting out with a couple months of drought, followed by a July with some of the coolest nights I've seen.
A lot of plants like peppers, eggplants, leeks and celery were just coming into their own when some pretty serious September frosts caused slow growth and even plant death. I saw in envy that some people in Markham/Thornhill still had tomato plants alive when ours had been eliminated by frost a whole month ago! We lost what little corn made it through the drought to some voracious raccoons, and our last crop of lettuce went to feed the local deer, which also appreciate quality, organic veggies. Oh my! I suppose it's another reminder that we are a part of a greater ecosystem, and most animals have remarkably good taste in food!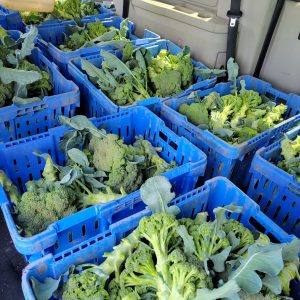 Despite the setbacks, we had a great an abundant crop of tomatoes, some of the best broccoli and swiss chard we have grown in years, and a great cabbage crop with savoy cabbages that may be larger than some of your children (lol, kidding- sort of). We had weeks and weeks of gorgeous beans with rows that stretched on and on, and grew another cucumber jungle that you could get lost in. I admit I got a little tired of bunching and washing carrots, but they grew nice and big and straight as arrows, and once they got going, provided us with a steady supply. The lettuces mid-season were so big, I felt as if I could fill up your boxes with those alone!
The team this year was amazing. This year we had the joy of all returning staff with the addition of one new employee. This meant we could hit the ground running, and everyone knew how to do their part well. This time of year, our employees that live overseas are soon to return to their families. What a big sacrifice they make to keep us Canadians fed! I need to get a group photo of all of them while I still can.
Your Farm Shares This Week
Simply 6
bunch carrots
bag of white potatoes
bunch of beets
green onion bunch
savoy cabbage
Half Shares
bunch carrots
bag of white potatoes
bunch of beets
green onion bunch
savoy cabbage
green kale
baby bokchoy
parsnips- also great in chicken pot pie or roast with carrots
pumpkin
Whole Shares
bunch carrots
bag of white potatoes
bunch of beets
green onion bunch
savoy cabbage
rutabaga
green kale
baby bokchoy
parsnips
pumpkin
celery
red radish
dandelion greens
delicata squash
mint
Fruit
3-4 bc organic honeycrisp apples
2-3 organic gala apples
1 organic pineapple
3 organic avocadoes
4-5 organic midnight valenica oranges
1/2 pint organic blueberries or 1 Zephyr Organics watermelon
Thank you from the bottom of our hearts for supporting our farm this season. Have an amazing fall and winter season!