It's finally here! The new season of Farm Share, and I can't believe all the items that are ready! Whether this is your first or 8th season with us, I hope you taste the local organic difference from the first bite. You'll notice more leafy greens in the first few boxes, but there will be even more variety available as the weeks go by. This year we have cucumbers nice and early- only enough for the whole share boxes this week, but next week we should have quite a few, especially if we get some heat. As you might have guessed, these are coming from the greenhouse. The leeks are "over-wintered" which means they were planted last year and are ready in spring, kept safe by the blanket of snow. We also have lettuce nice and early, and quite substantial in size. Hope you are ready for some refreshing salads! It's nice to lighten up our food choices along with the weather, and keep our bodies feeling their best.
Someone else is finally here: we are pleased to announce the arrival of our new son Boaz to the Eng family! We're all doing well and very much in love with this little guy.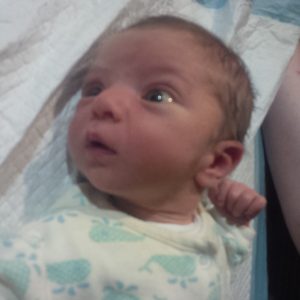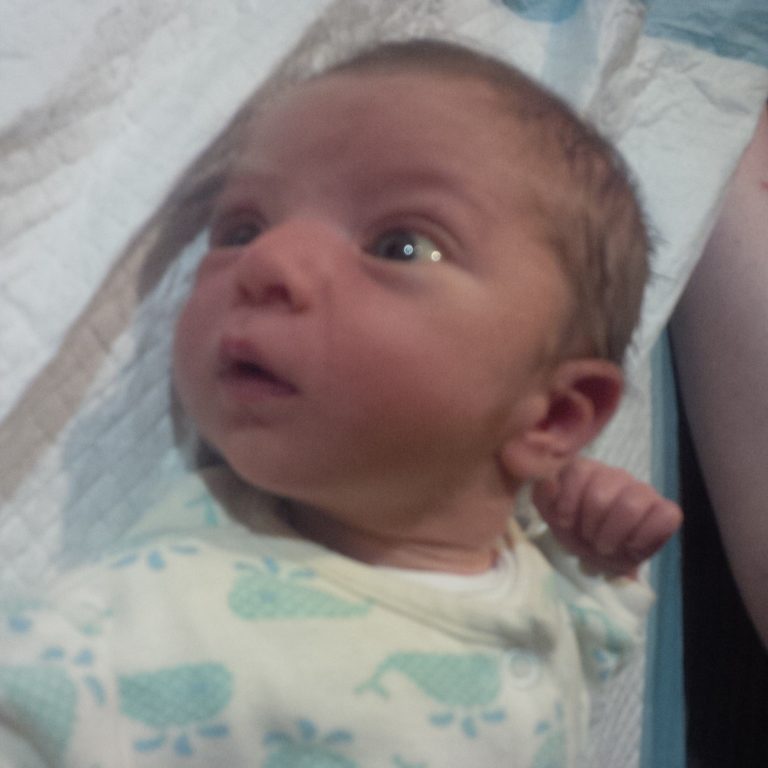 Stephanie will be returning to do the blog in a couple weeks, but for now, I (Jennifer) am here to ring in the new season with you.
Remember, you can get all new posts from us sent to your email inbox as soon as it is posted (Tuesday or Wednesday) each week. Enter your email in the box on the right hand side of this blog page. Now, let's get to identifying the delicious veggies in your box: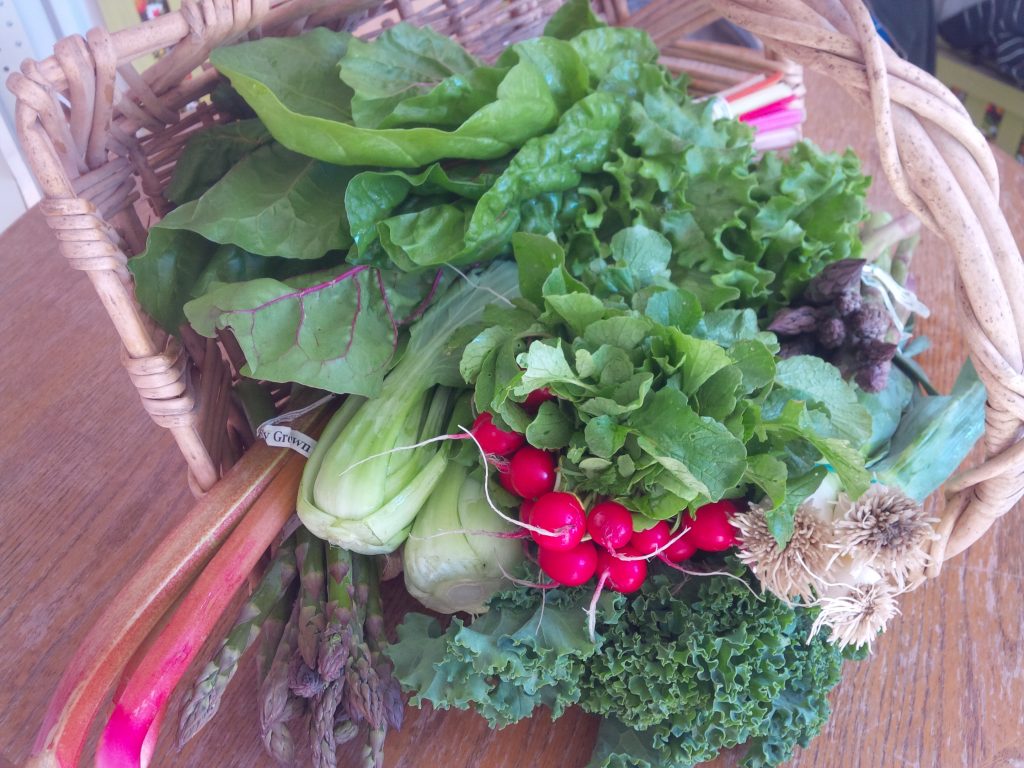 Here are the contents from left to right of the HALF SHARES:
-rhubarb (long red and green thick stalks- try in cake, muffins, or cookies, or simply stew with lemon juice and a little sugar to taste and enjoy with yogurt)
-asparagus (green shoots with purple tips – lightly toss in olive oil and a sprinkle of salt and try them roasted at 400 degrees for 10-15 mins, or get creative with a salad. Also great paired with goat or feta cheese)
-baby bok choy (green leafy vegetable with light green, crunchy head- great in stir fries or enjoy it raw in salad)
-red radish (pinky-red roots with green tops- super in potato and egg salads, toss salad, as a crudité, or roast if you are looking for a milder taste)
-rainbow swiss chard (TOP- pink, white, orange and yellow stalks with green tops- delicious simply wilted with your oil or fat of choice, super chopped up and wilted in pastas, or add some colour to salads)
-green leaf lettuce (the perfect lettuce for salads, burgers and tacos)
-green kale (BOTTOM- bluish-green crunchy leafy green, makes great kale chips, great in soups, folded into mashed potatoes, or massage leaves with olive oil and enjoy in salad)
-leeks (add sweet onion flavour to soups or any savoury dish- especially potato leek, or try in dip
-2nd bunch asparagus
-basil pot (potted herb- keep soil moist and do not refrigerate), adds delicious flavour to salads, pastas, dips, etc.
If you have a WHOLE SHARE, you will receive all the above with the addition of:
-cucumber (super as a crudité or in salad)
-spinach (delicious lightly wilted or raw in salad)
-green onions (chop to add some kick to salads, dips, or onion flavour in cooked foods- also makes a great garnish)
-garlic chives (it may look like grass, but it's full of yummy garlic flavour- skip the powdered stuff and enjoy the fresh taste, full of vitamin C)
-romaine lettuce (delicious in all different salads, and always a favourite in Caesar salad)
CUSTOMER TIP: Or if you have a juicer, anything goes! Experiment and you won't waste any of the veggie goodness in your box! Apples make a good base for veggie juices if you enjoy a little sweet.
RECIPE IDEAS: Avocado Leek Dip:
http://allrecipes.com/recipe/236858/green-avocado-leek-dip/?internalSource=hub%20recipe&referringContentType=search%20results&clickId=cardslot%203
HUNGRY MAMA SPRING SALAD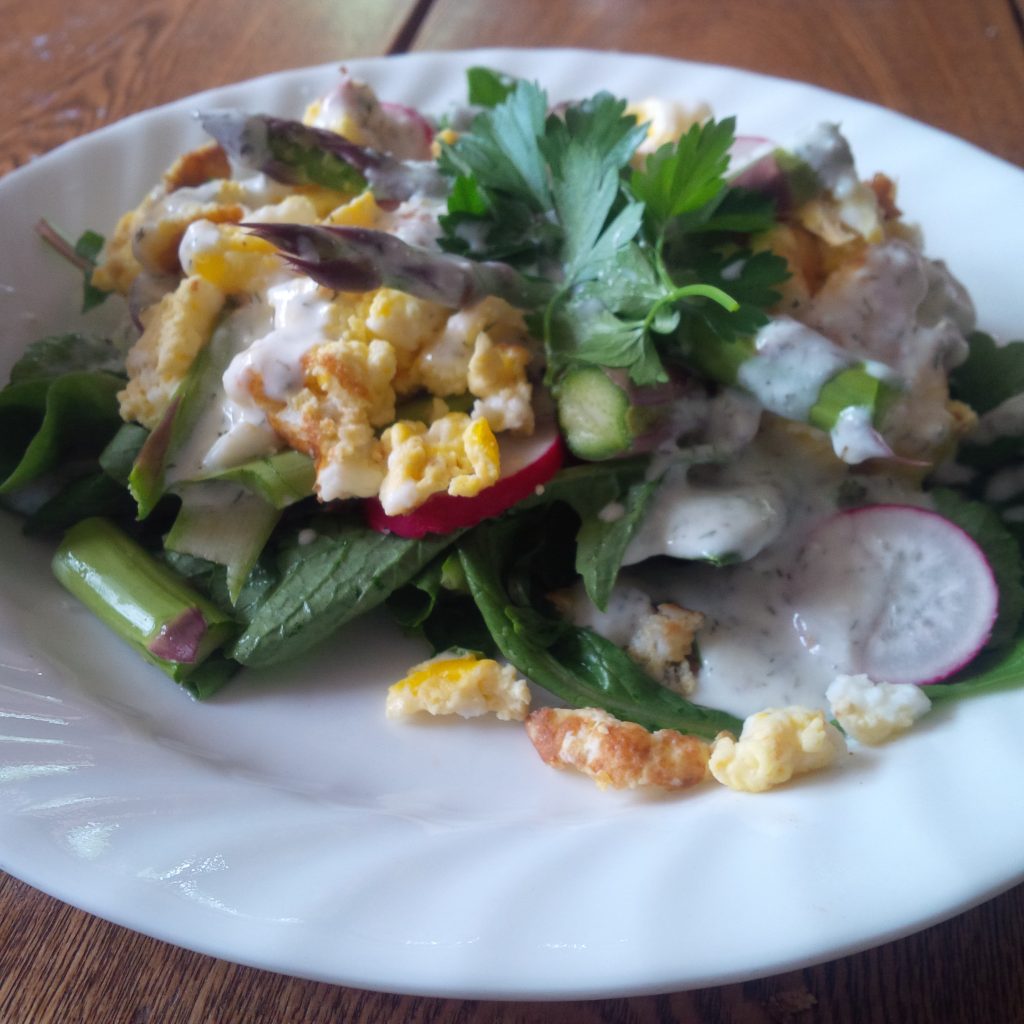 I have had quite an appetite lately, and needed something fresh to balance out all those yummy freezer meals, so this was my first attempt at cooking (or food prep) post baby.
Serves 2
Ingredients:
-1 baby bok choy, washed and chopped
-1 bunch of radish tops, washed
-5 radish, thinly sliced
-5 spears asparagus (I had them raw but roasted would be delish)
-4 eggs, scrambled (optional, goat cheese would also be a nice addition)
-fresh parsley leaves, to taste
-half cup greek yogurt
-juice of half lemon
-salt, pepper and dill to taste
Directions
1. layer ingredients, divided onto 2 plates
2. Serve on it's own as a meal, or with soup if you are super hungry.
ENJOY your veggies! And feel free to comment or email me if you are wondering what to do with an item. Let the adventures begin!
After a seemingly never ending winter the first week of farm share is here! I hope you all are as excited as I am about the sun shining and the wonderful fruits and veggies that the farm will provide us all again this year for the next 22 weeks 🙂
Last year was my first year as a member of the farm share-and my family and I picked up a weekly half share and decided this year to do a bi-weekly whole share since the produce lasted so long from week to week (I even had some for 4 weeks without issues…what can I say-I am still learning to love beets lol!)
The recipe this week is something simple-since it's my husband's birthday today and he requested lasagna and garlic bread-neither of which things from the share could help much with.  I decided to make a simple salad-which easily could be adapted to your families tastes (feta cheese-nuts-apples-croutons-etc).
Growing up I wasn't a big fan of salad-because it was pretty much lettuce and dressing.  Last year was my first experience with bok choy (other than ordering stir fry from the restaurants) and I decided I loved how fresh and crisp and refreshing it was.  So I began throwing it in pretty much everything-our salads included.   This simple salad everything came from the share.  Super exciting I know-but I promise more adventurous recipes as the weeks pass 🙂
One baby bok choy-bottems chopped off (kept the stems but separated them from the leaves just so they are in a more manageable size)
One green onion chopped
Spinach
A few pieces of kale
One radish
Here is what you can look forward to in your boxes this week.
Half Share
asparagus
rhubarb
green onion
leeks
green kale
baby bok choy
radishes
jerusalem artichokes
parsnips
spinach or 2nd kale
Whole Share
asparagus
rhubarb
green onion
leeks
green kale
baby bok choy
radishes
jerusalem artichokes
parsnips
spinach
garlic chives
basil pots (please do not refridgerate)
turnip (nice and mild)
2nd asparagus
2nd baby bok choy
Happy Wednesday everyone!
Welcome back from all the folks at Zephyr, and me, your friendly blogger Heather.
Here are your box contents for the week, along with a great kale recipe created by our very own Jennifer from Zephyr Farms.
We're looking forward to providing you with delicious, fresh organics this 2011 season.  Feel free to drop us a note here on the blog to let us know what we can do to make the farm share experience even better for you.
Have a great day everyone!
Box Contents for Week 1
Half Share
-romaine lettuce
-red leaf lettuce
-green kale
-rainbow swiss chard
-baby bok choy
-chives
-asparagus
-rhubarb
-strawberries
-radishes
Whole Share
-romaine lettuce
-red leaf lettuce
-green kale
-rainbow swiss chard
-baby bok choy
-chives
-asparagus
-rhubarb
-strawberries
-radishes
-red beets
-onion bulbs
-amaranth (calliloo) Used in Carribean cuisine, steamed as side or in stews
-italian parsley
-black kale
Recipe for the week – Kale & Tomato side dish
Ingredients:
-1 bunch of green kale
-1 tbsp. olive oil
-salt to taste
-1 tomato, medium chopped
-1/4-1/3 cup feta or other soft cheese
1. Wash kale, remove steps and coarsley chop leaves.
2. Sautee Kale in pan with the olive oil until wilted but still vibrant in colour. Sprinkle liberally with salt.
3. Add tomatoes and feta just before kale is done cooking.
Serves 3.
Enjoy!