Can you believe that I was hoping for some asparagus in this week's farm share? Spoiler alert…asparagus prefers above zero temperatures -lol. Honestly though, all it takes is a few nice sunny days so we'll get out there harvesting and have some ready for online ordering/pick up for our virtual open house on May 30th. But those greenhouses are saving us this week and we have some beautiful baby bokchoy ready, along with more tender spring leeks, spinach and garlic chives from the farm! Ontario organic vine tomatoes are now here, so you can bet I snapped those up, along with doubling your cucumbers since I keep getting requests for extra cucumbers anyways 🙂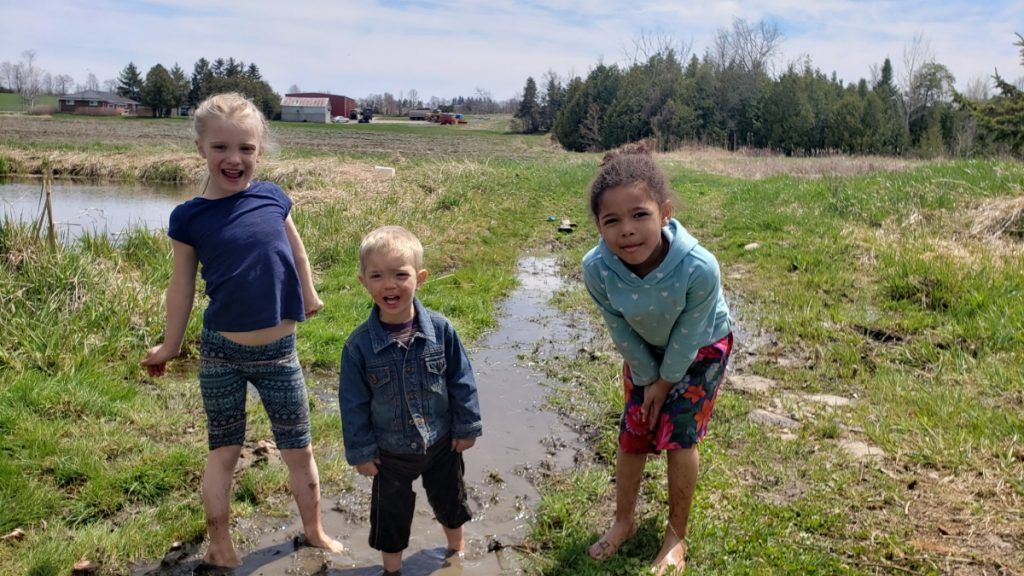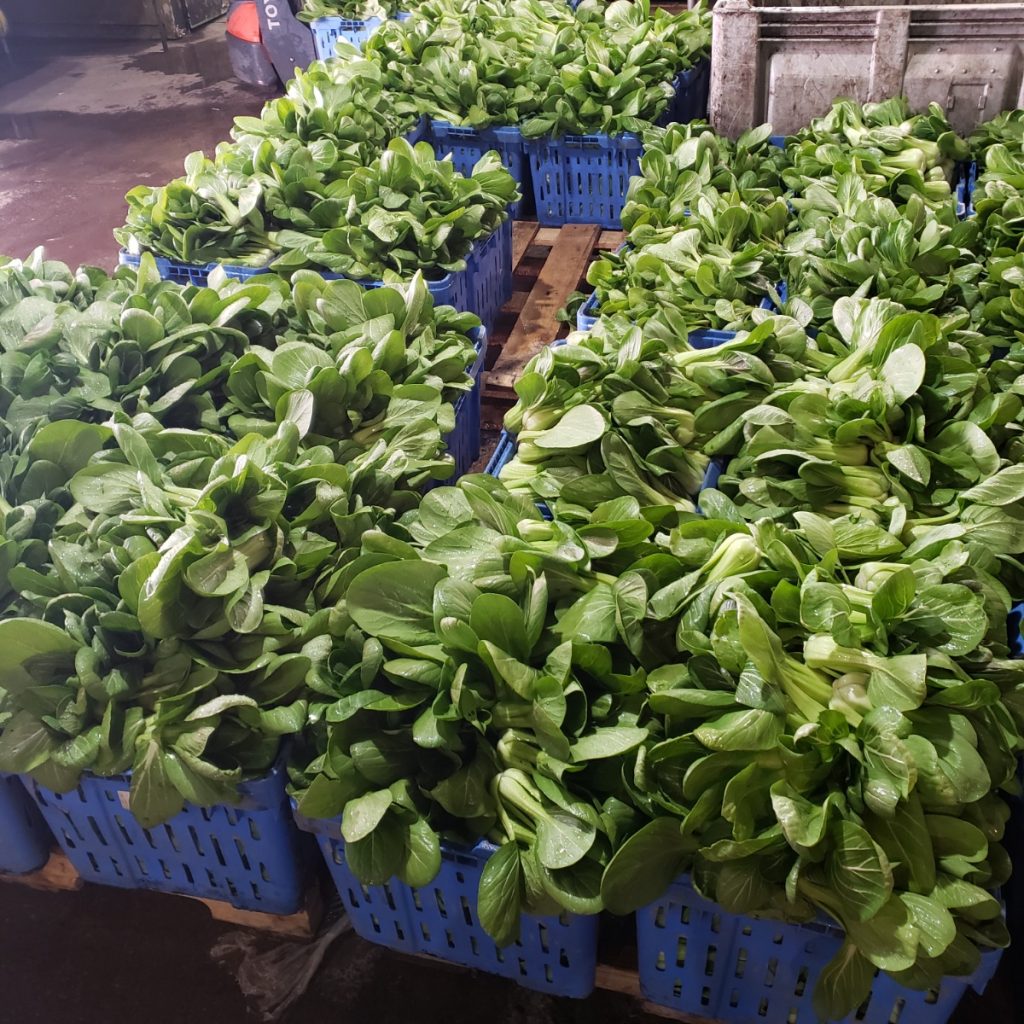 We've planted the strawberries in the field now and are again just waiting for some heat to get those growing. The chickens are settling in and feathering out. My neighbor described their current status as an awkward phase, but they will be fluffy-feathered beauties soon. They are gradually laying more eggs and I know they too would be encouraged with a little more heat and sun. They are trying out their feathers for flying and one especially daring hen managed to work her way to the very top of the chains supporting the nesting box. I offered to help her down but she was content to fly :). They are amusing me with their antics. Their pasture is nice and grassy but one chicken decided she needed a dust bath so she did an impressive job of digging down to some dirt and rolled around in it like she was in chicken heaven. Of course her sister hens wanted a turn too since she made it look so enjoyable!
Here's Your LAST winter share of the season. You can order on our website from May 27-29 for PICK UP ONLY on May 30th. When you order we will give you a time to pick up so that we can minimize your wait times and limit how many people are on the farm at once. Only one customer will be permitted in the farm store at a time. If you text us when you arrive, we can even bring your order right over to your car! After that it is summer farm share time…which in my humble opinion, is the best! Best freshness, variety and value, since we grow it all and have some more cooperative weather to work with! https://zephyrorganics.com/what-is-farmshare/products/ Get your order in soon as our delivery routes are quickly filling up.
Veggie Shares:
-1 bunch or 1/2lb organic spinach (Zephyr Organics)
-1lbs organic baby bokchoy (Zephyr Organics)
-1 bunch leeks (Zephyr Organics)
-1 bunch garlic chives (Zephyr Organics)
-3lbs yellow potatoes (ON Organic)
-1.5lbs sweet potatoes (US Organic)
-2 english cucumbers (ON Organic)
-1lbs vine tomatoes (ON organic)
Fruit Shares
-7 organic oranges
-1 organic watermelon
-1lb organic strawberries
-1/2 pint organic blueberries
-3lbs organic granny smith apples
Do you know of any hard-working people looking for a low-risk job where they can stay fit and take home healthy veggies? We are looking for physically fit folks who are able to lift & bend to harvest, wash and pack vegetables and that have their own transportation to the farm in Zephyr. Interested candidates can send their resumes to jen@zephyrorganics.com.
Recipes
Baby bokchoy Salad with Asian sesame dressing
You probably have seen baby bokchoy somewhere in a stir fry, and yes, it rocks in a stir fry. One of the best plant-sources of iron and one of the most nutrient-dense foods you can eat, baby bok choy is worth getting to love if you don't already! Some people don't dig bok choy on the first try. If that's you, don't give up on this powerhouse so beautifully. It also makes great salads! I often add mine to caesar salad (where even the bok choy haters will eat it), or in this simple salad of baby bok choy, radish and cashews. I made a simple dressing of soya sauce, rice vinegar, local honey, sesame oil/olive oil and a little pepper. Your garlic chives would also be a stellar addition! If you would like a proper recipe, try this one. I love to wing it in the kitchen!
Cauliflower Crust Pizza with Leeks, spinach and chicken bacon
Not planning to make a big batch of soup with your leeks? Though that would be tasty, one other idea is to add some savoury and mild flavour to pizza, with spinach too. Add in more garlic chives for the win! I finally tried my hand at a simple cauliflower crust . This recipe appealed to the lazy (or busy) girl in me and was inspired by a sad-looking cauliflower in my fridge I had forgottem about, as well as running out of yeast (like everyone lol)! https://www.wholesomeyum.com/easy-low-carb-cauliflower-pizza-crust-recipe/ Since I was so not feeling like squeezing out cauliflower and wanted to make a nice big pizza that would stay together, I actually added whole wheat flour until I liked to texture better. I didn't have Parmesan so I simply used mozzarella. Still a win for me, since I used up a forgotten head of cauliflower and we got a heck of a lot more vitamins in our pizza. I sauteed chicken bacon lightly, then added washed chopped leek, and finally the spinach and cooked until everything was lightly wilted. Then I smothered my pre-cooked crust with tomato paste, covered it in cheese and generously covered it with my sauteed toppings. I cooked for about 12 mins at 425 degrees. Home made pizza is a highlight of my week, even if I am the one who makes it. It's kinda therapeutic working with the dough and serving something my kids get excited about 🙂