Hello from the farm! We are enjoying the cool mornings of August here. On Sunday I found that the weather was so mild during the day that I needed a sweater! Everything feels cool when you are used to working in 40C with the humidex! I was able to take my little girl shopping for back to school after the farm store closed on Saturday (masked and well sanitized, of course). What a strange year, when masks are on our back to school shopping lists! I am sure among you that have kids there are those who are sending them back (probably with a little trepidation like me), those keeping them home for the first time, and those who have been home-schooling all along. Wherever each of you are at I just want to encourage you that we have all made it through a long haul without a lot of support…a summer without the camps, play dates and outings that kids so look forward to (and so do parents). I hope that you made a lot of good memories in the back yard (and still are doing so), and rediscovered the simple joy of being home with your people. Maybe the to-do list suffered, and the house is a mess. Maybe the kids were on screens too long. In any case I hope you and your family have been healthy, and can be thankful for that. Through the long, tiring summer days in the fields, we have enjoyed good health, and our kids, while eager for a break from farm life sometimes, have been well cared for.
These cooler nights have been ushering in some changes, like the sweet peppers turning. We did mixed green and red peppers this week to make sure everyone got a taste of that red pepper goodness! Don't worry folks, there are lots more red peppers to come. Whether the traditional bell or the more elongated sheppards peppers, or the skinny yellow banana peppers, all your peppers are sweet rather than spicy (banana peppers might have the teensiest hint of spice). There are so many things you can do with peppers, from simply slicing them up and enjoying with dip (like that baba ghanouj from your eggplant, or sauteeing with onion, or in fajitas, or in fresh tomato salsa. I used some smaller campari tomatoes, yellow tomatoes, green pepper, banana pepper and green onion in mine and served it with tortilla chips for an easy side.
Out of a wild looking field we have some lovely green cabbages. The small ones are nice and easy to grate with a box grater in cabbage coleslaw, and the larger ones lend themselves well to cabbage rolls. I adore cabbage rolls but they are one of those little extra effort meals, so I will save them for slower days ahead. Coleslaw is quick, easy and cool, so that fit the bill for me. Making the slaw is as easy as washing and grating the cabbage (I used about 3/4 pound of cabbage and 1 medium carrot grated with the coarser side of my box grater and made a similar dressing to this one. However, I did not think 2 tbsp. of sugar seemed necessary as the cabbage already has some sweetness to it.
On to your boxes!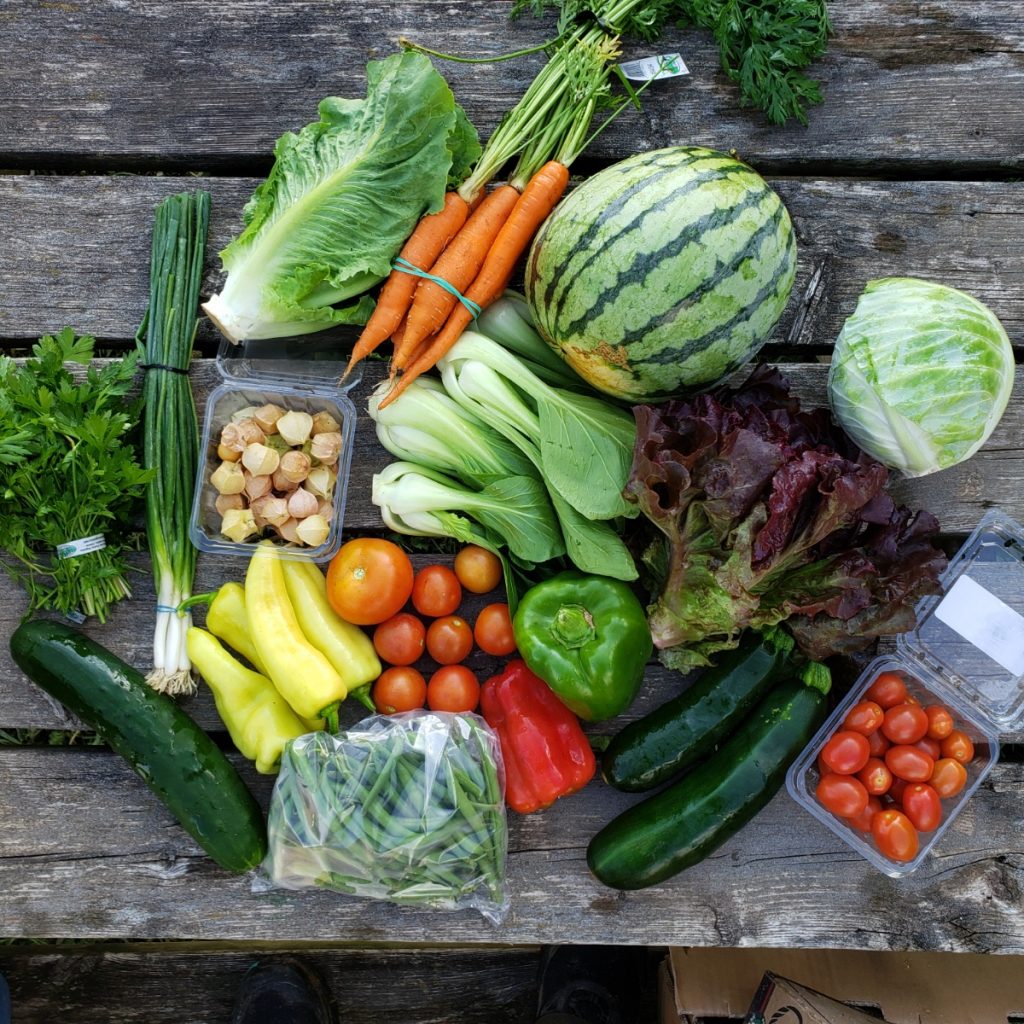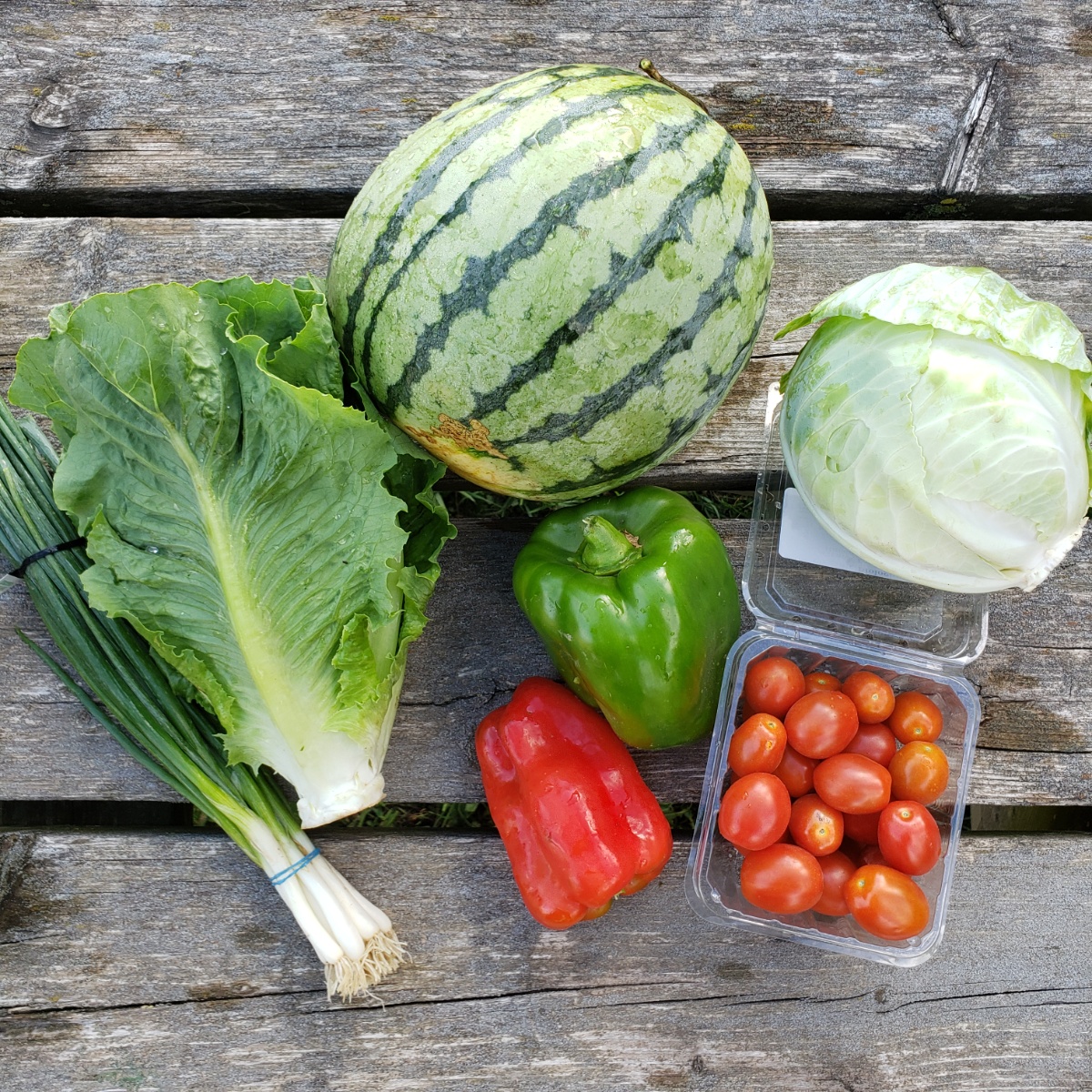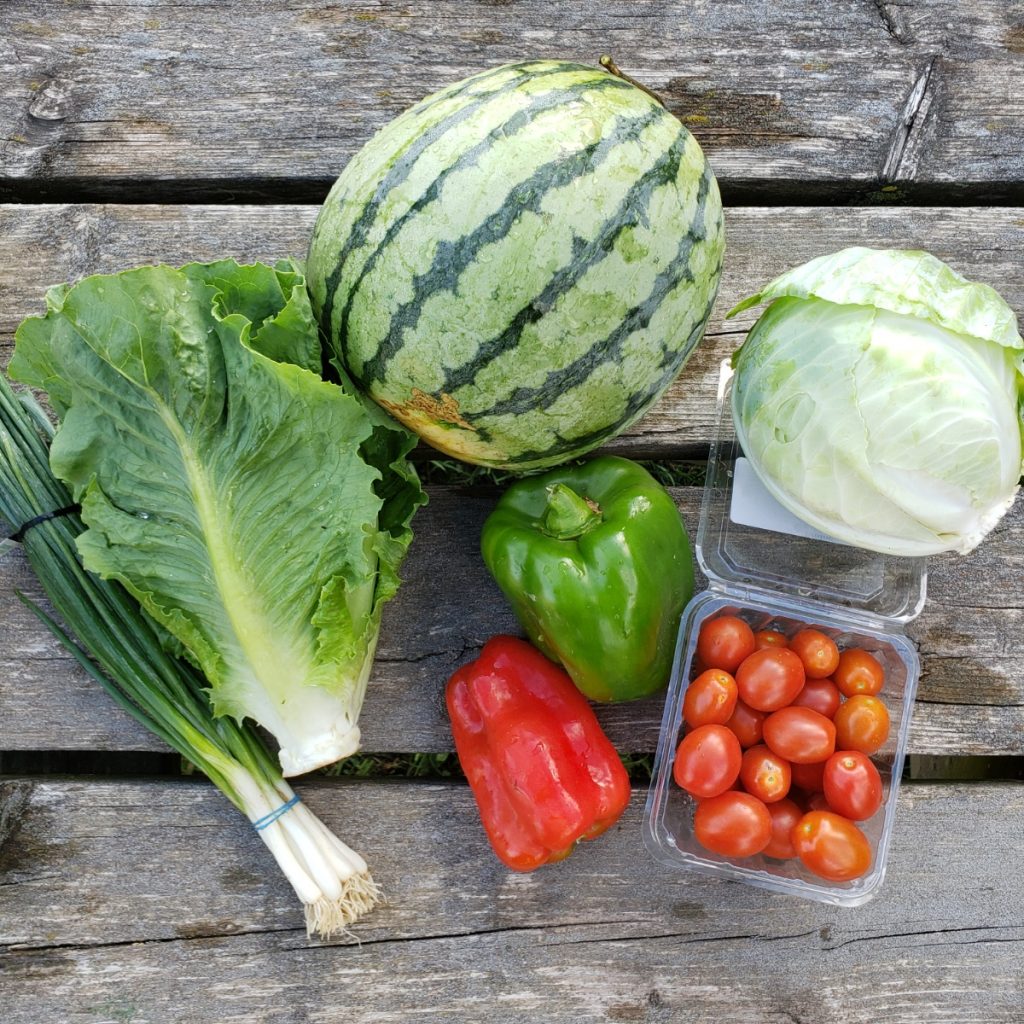 Half Shares: yellow doll watermelon, grape tomatoes, red/green peppers, green onions, green cabbage, romaine lettuce, green beans, carrots, field tomatoes, cucumbers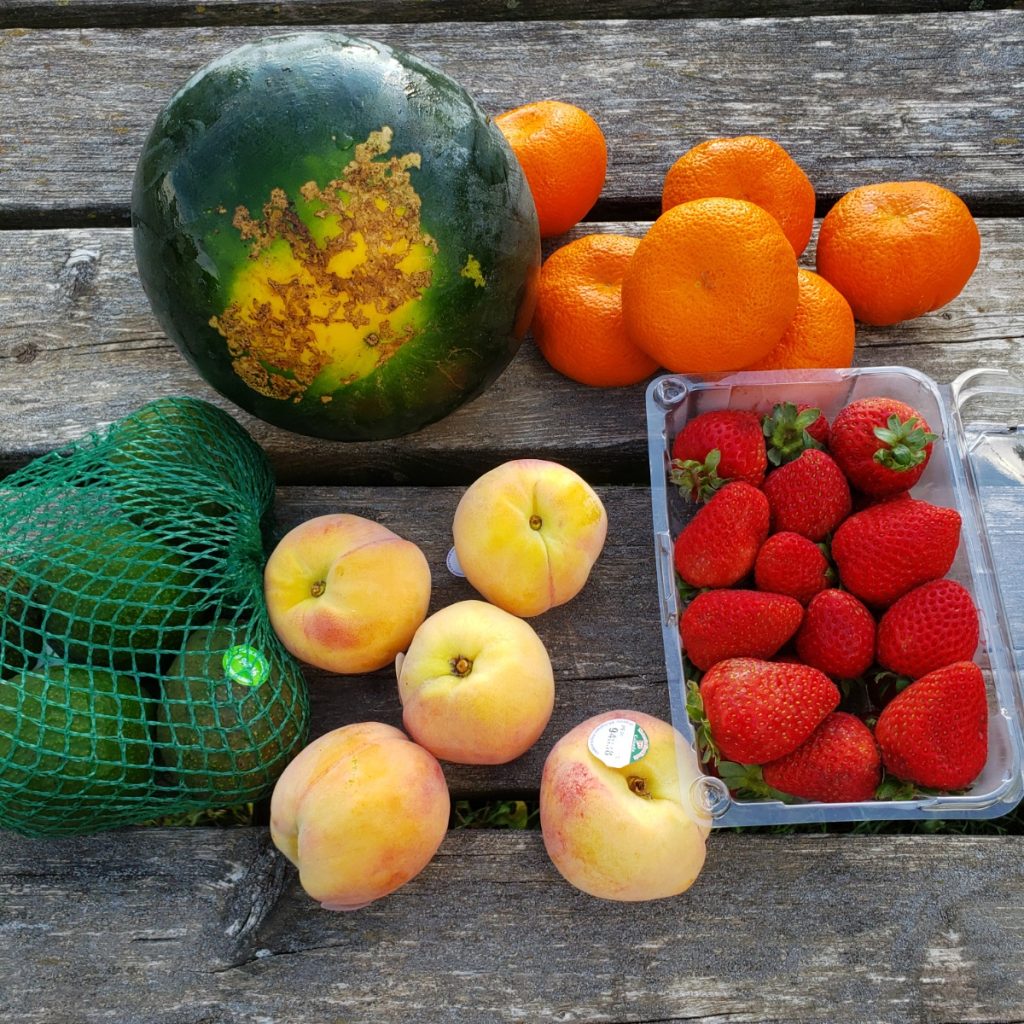 Have you ever even heard of a nadorcott? I hadn't until I ordered them, no word of a lie! Once I bit into one I decided I need these in my life. They are are a type of tangerine, nice and easy to peel like a clementine and super flavourful. Hope you enjoy them as much as I have been!
Whole Share members are getting introduced to a new fruit this week (unless you got strawberries), grown right on the farm! The are ground cherries. They are these pretty little orange pearly fruits encased in delicate little papery wrappers. Just slide back the husk and try 'em. They have a tropical taste to them (reminiscent of pineapple), but with a tomato-y texture. A new taste sensation for you. You can eat them as is, add them to a salad, or even use them as pretty and tasty toppers for cupcakes. How cute!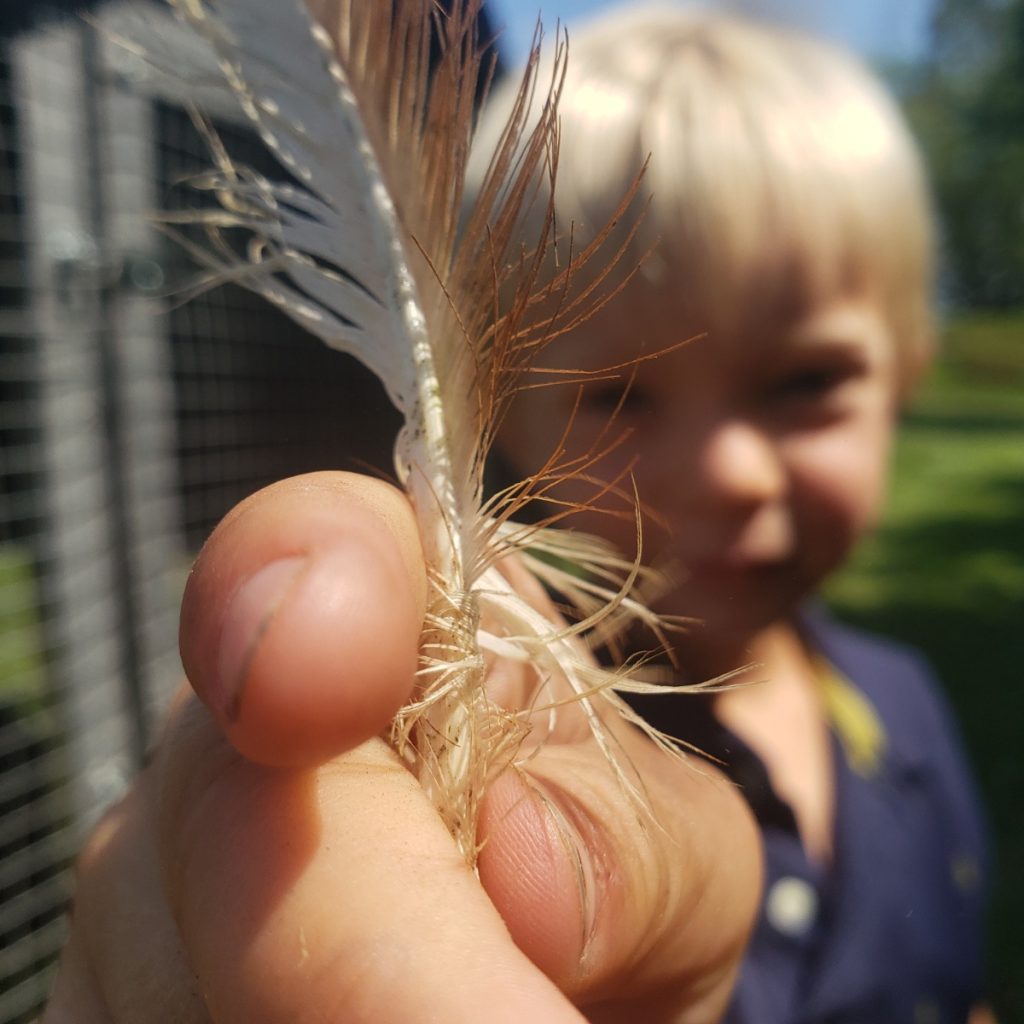 May you never lose the simple wonder of a child! Have a wonderful week!