Hello friends of the farm! This week I am feeling super grateful for a few reasons, and many of those reasons are the beautiful gift of some helping hands. This weekend I was determined to get all the ripe watermelon in the cooler (we had been harvesting them each day, but wow, there were a lot of watermelon out there!). It just so happened, the time I finally could carve out for it happened to be Friday evening, near the end of our Friday farm store day, and I had a vehicle and the good trailer, so I was going to do it, darn it! No matter that everyone has Friday afternoon/evenings off and I was flying solo. I got out there, stubborn thing that I am and started picking…and picking…and picking….making pile upon pile of watermelons, until before I knew it, I was thoroughly in over my head. Then in came Angel- I mean Angela of FN Happy Farms, a fellow local farmer lady extraordinaire, coming to the store for a few red peppers for her delicious gazpacho (see recipe below) for the Uxbridge market.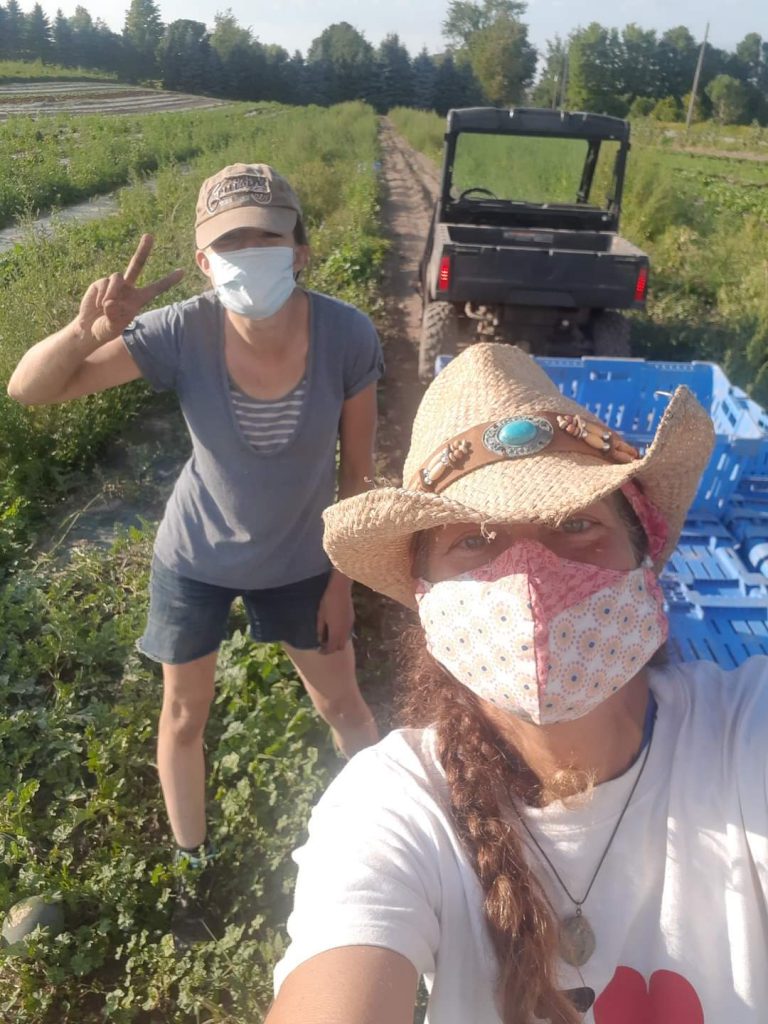 She sees me knee deep in a substancial amount of work and, bless her heart- volunteers to help me haul all 400 or so watermelons from the fields to the cooler. No small feat when each of these melons can weigh between 3 and 18 pounds! She stuck it through with me until the job was done, and provided me with the best company all the while- a fellow farmer who gets the joys and challenges of farming, and an all-around super awesome boss lady! She spoke of the incredible blessing a volunteer can be, and was eager to pay it forward (and joyfully), even if it meant spending her Friday night hauling melons with me. Thanks Angela! If you are in the Uxbridge area on a Sunday come see her at the Uxbridge Farmer's market for a healthy and original lunch made with truly local ingredients.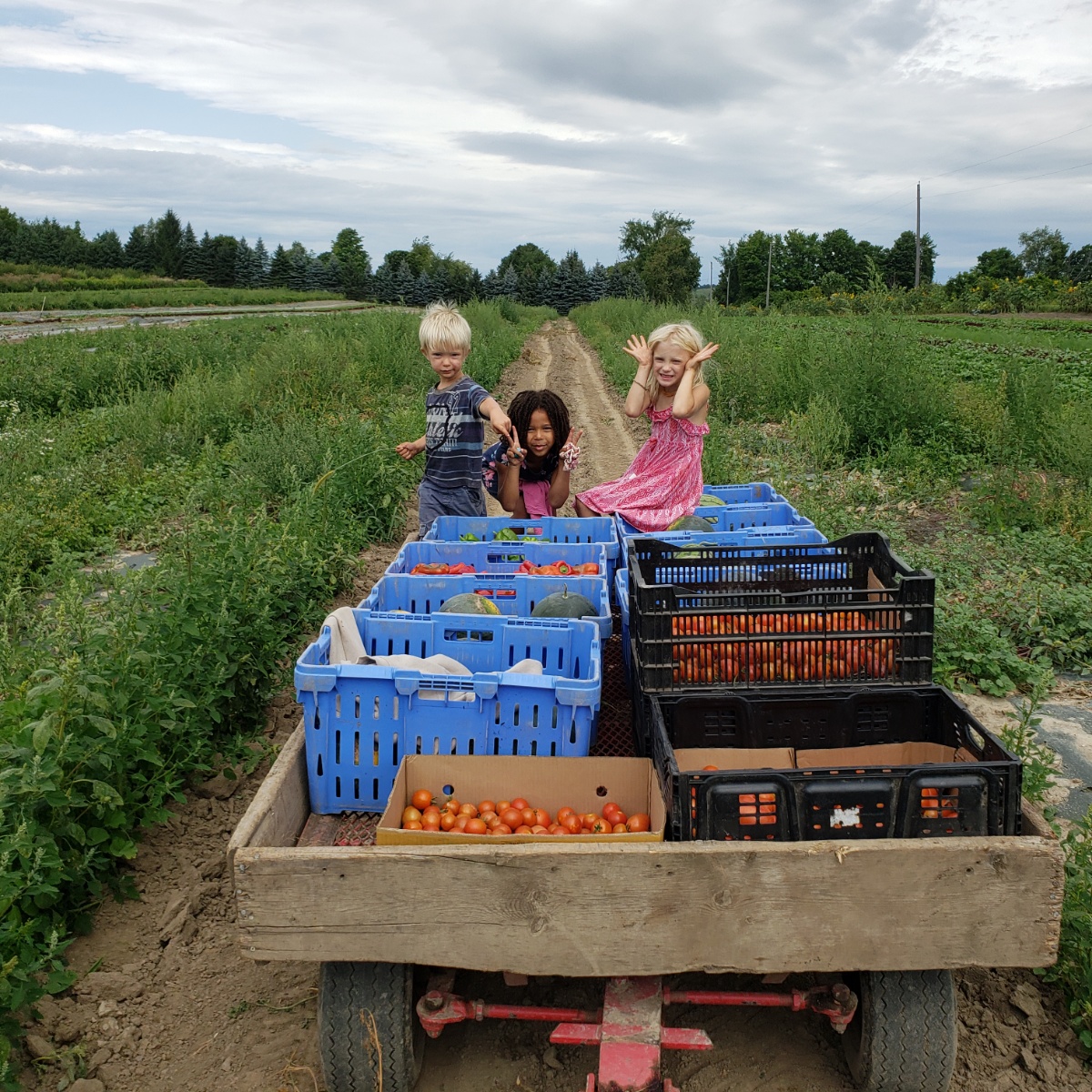 My next batch of volunteers may not be able to haul many melons, but their sunny personalities and curiosity put the fun in farming. Don't worry, we were stopped when this photo was taken! I'm not taking any chances with these cutie pies. They are just too precious. We even spotted a nest of baby birds in the tomatoes that we have been checking up on since they hatched. Here they are pictured at about 4 days old.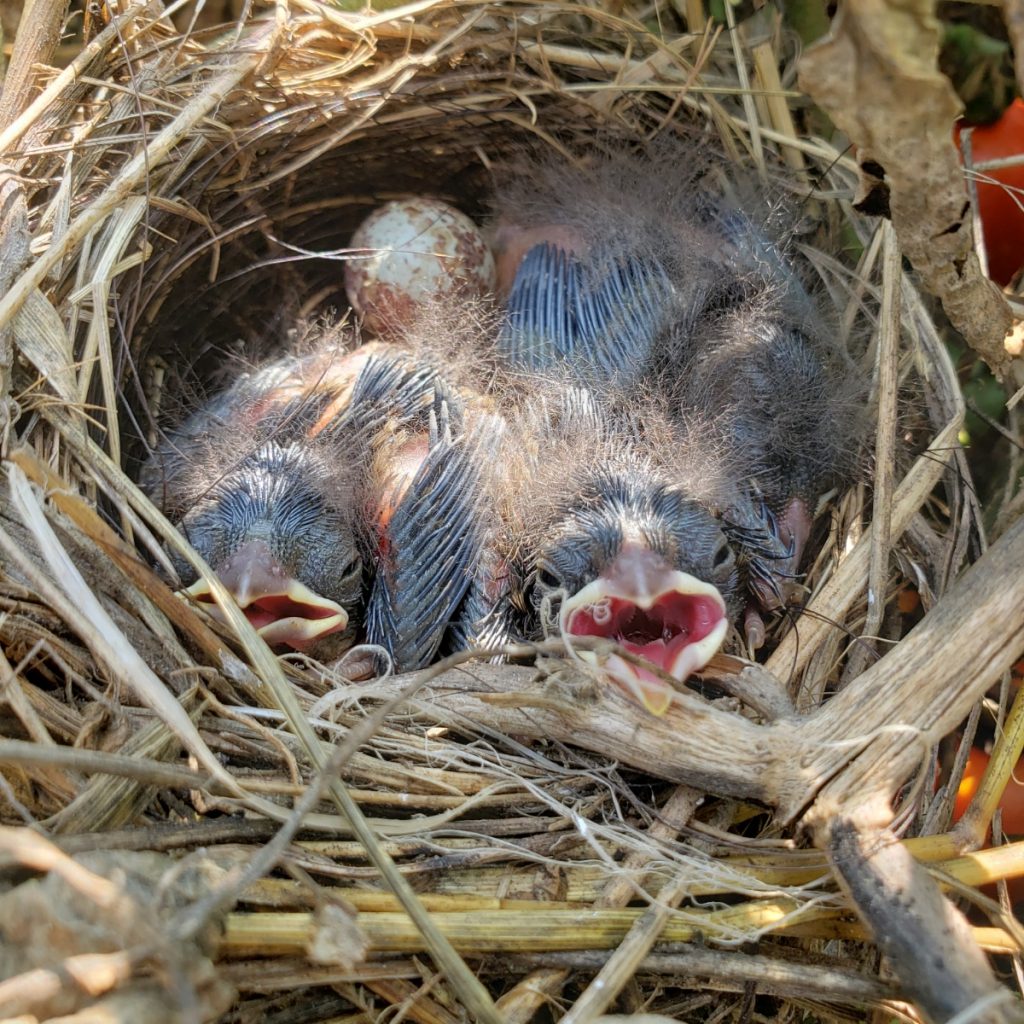 My biggest kid got to try his hand at driving the new lawn tractor this week, and to say he is enthusiastic about this opportunity is an understatement. Not sure if it is the "farming genes" or the way that he is so concise and careful, but this boy is handling it like a pro already, and not chewing up mommy's chicken-watering hoses. Kudos!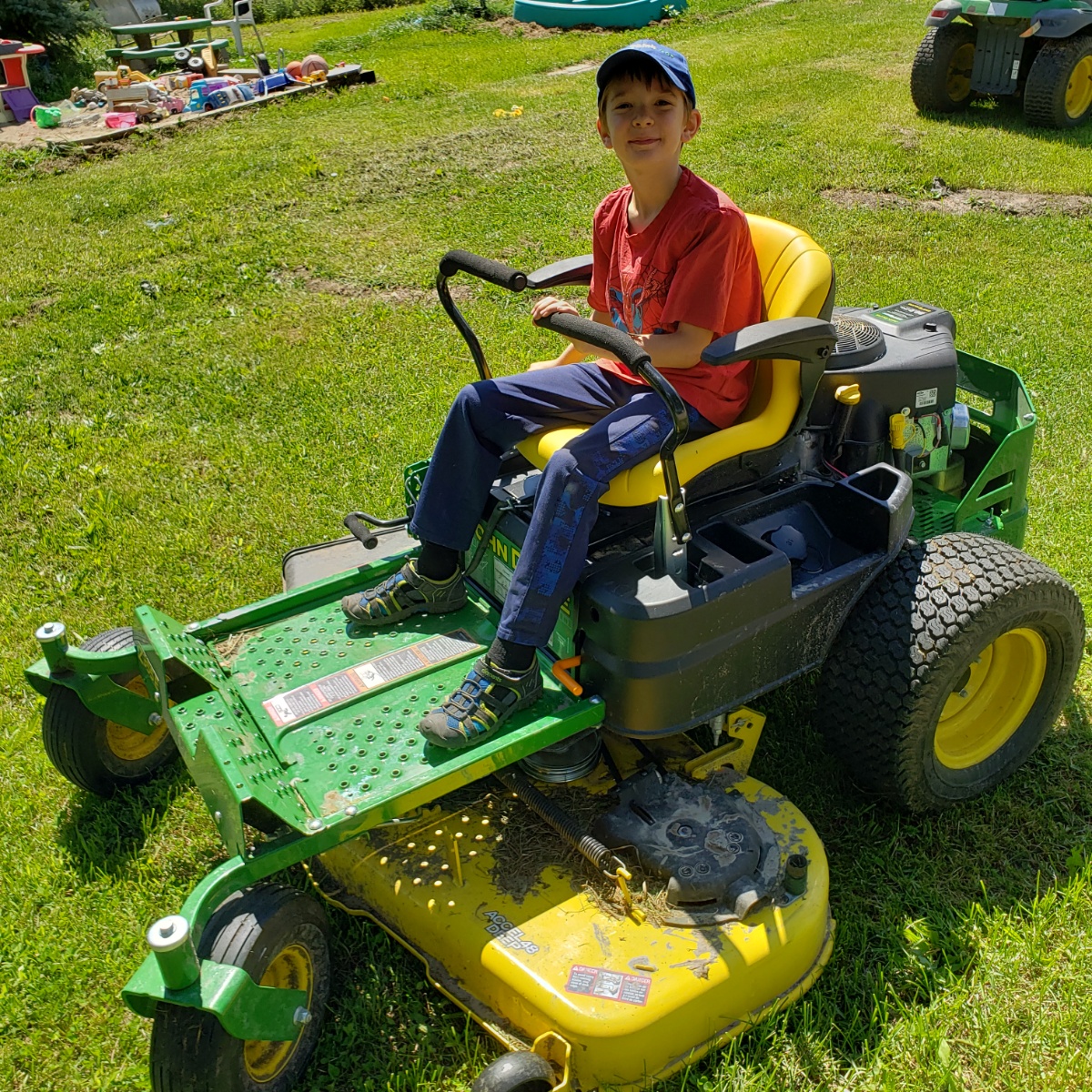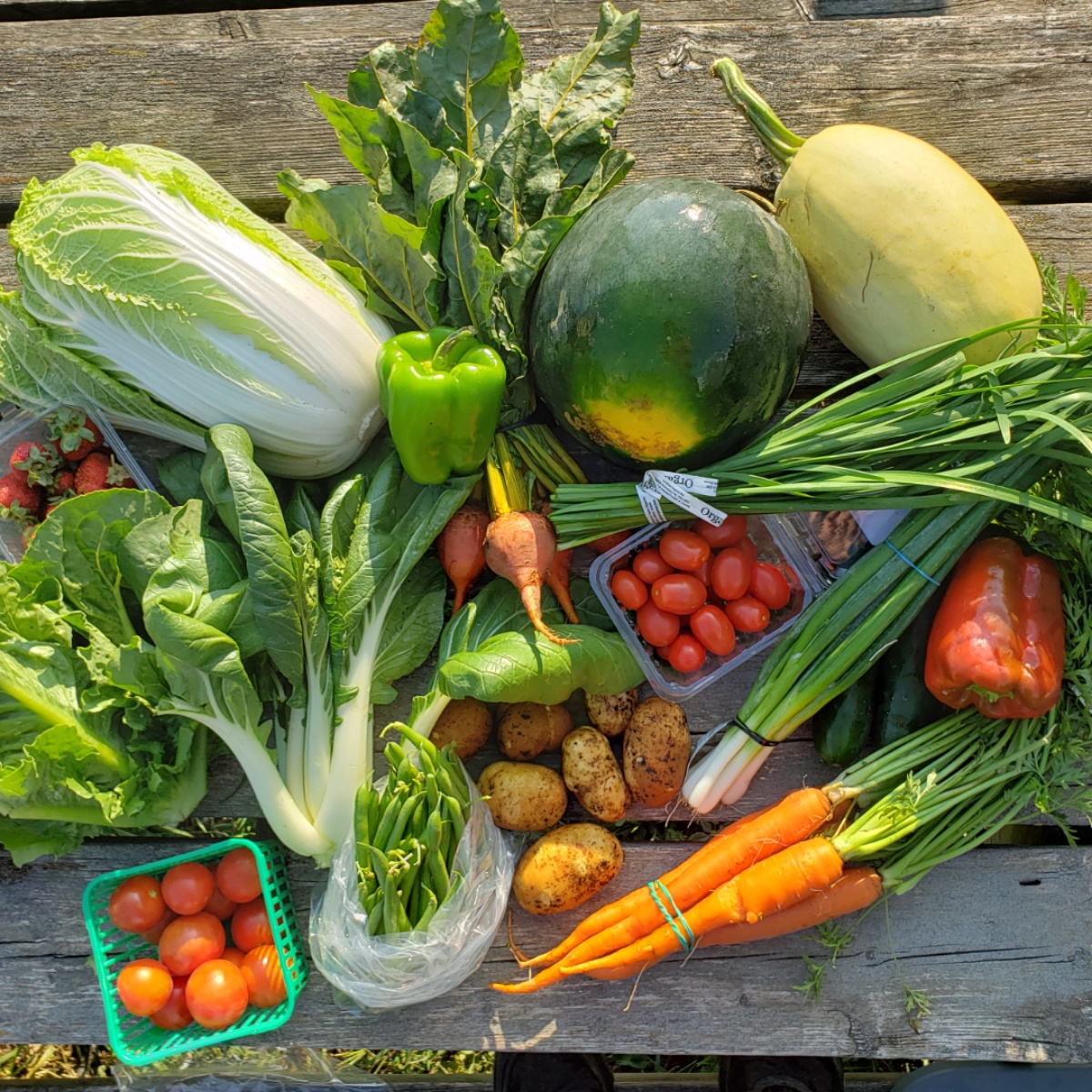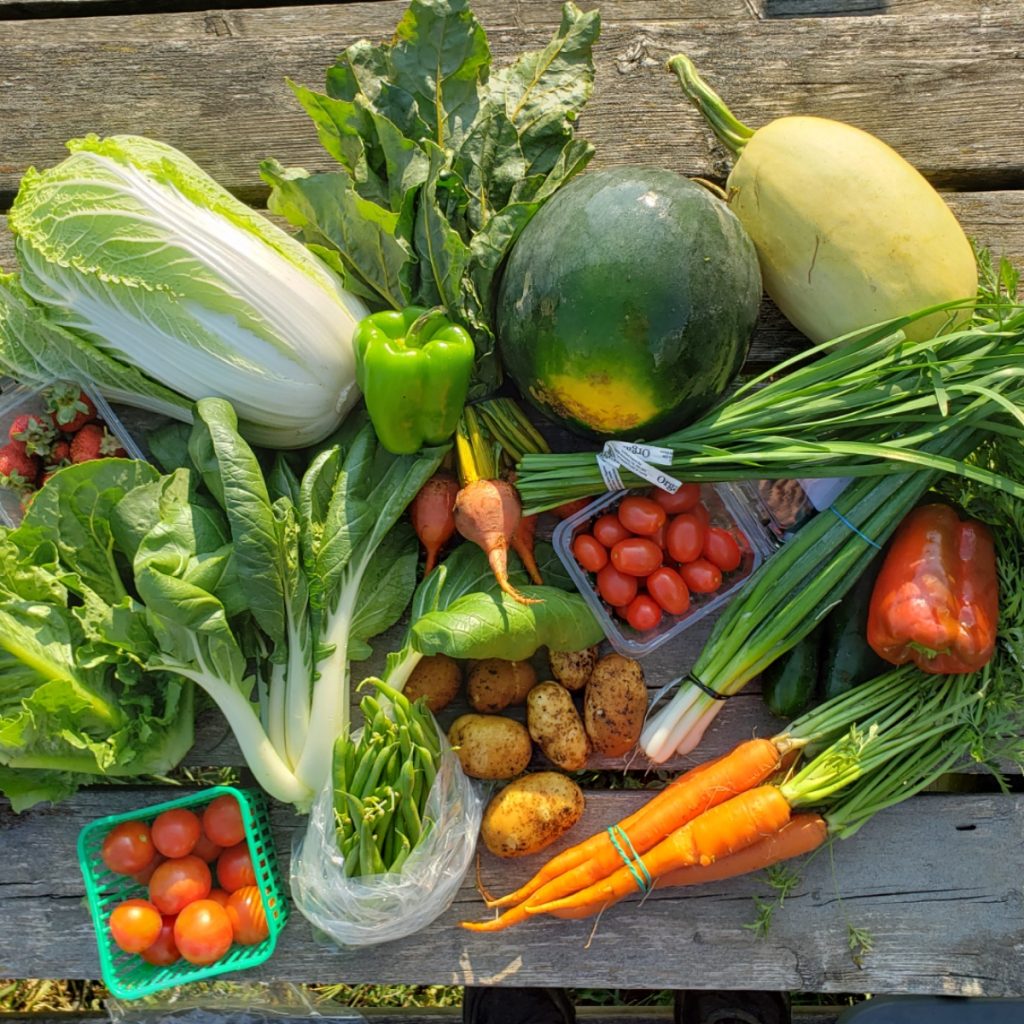 Simply 6 Shares: Red watermelon, grape tomatoes, green beans, carrots, golden beets, romaine lettuce
Fruit Shares: 1 yellow doll watermelon (Zephyr), 5 BC peaches, 6 bartlett pears, 6 nadorcotts, 1/2 pint blueberries
Recipes
Watermelon Fresca (drink)
Now for your veggie boxes and recipes! I am sure you can guess by my mammoth watermelon harvesting that we would be enjoying watermelon this week. Are you getting tired of just eating watermelon? Try this watermelon fresca recipe, inspired by Angela's market offerings.
Are the tomatoes, peppers and last week's cucumbers accumulating? Try a refreshing gazpacho, a soup served cold that will hydrate you and fill you with vitamins.
Gazpacho, as shared by Angela of FN Happy Farms
Ingredients
3 cups ripe heirloom tomatoes
1 cup cucumber
1 small green pepper, red pepper
1 small jalapeno
2 garlic cloves
10 basil leaves (anyone still have their basil plant from June?)
1/2 tsp good quality salt
Directions
Add all ingredients to blender and add your choice of 1 tbsp citrus juice and 2 tbsp extra virgin olive oil. Strain or leave chunky. Add ice cubes to chill, water or extra tomato juice. Add extra salt and pepper to taste.
Grilled Beef & Bok Choy Salad
A fellow farm share couple shared how bok choy is something they get excited about now, with this awesome recipe. The recipe calls for baby bok choy, but the white bokchoy in your shares would also be great, but might need a couple extra minutes to soften.
Ingredients:
1/4 cup each vegetable oil, rice vinegar & soy sauce
2 tbsp sesame oil
2 tbsp Ontario honey
3 cloves Ontario garlic, minced
1- 1 1/2 tsp Asian chili sauce (7mL)
2 Ontario beef striploin steaks
4 Ontario baby bok choy (or your 1lb + bokchoy in your shares)
2 cups Ontario snow peas, trimmed
4 Ontario radishes, halved and thinly sliced
6 cups Ontario mixed greens
1 tbsp sesame seeds
Directions
In measuring, combine vegetable oil, vinegar, soy sauce, seame oil, honey, garlic and chili sauce. Pour 1/4 cup over steaks, turning to coat. Cover and set aside in refridgerator to marinate.
Meanwhile, trim ended from bok choy, cut in half lengthwise. In large bowl, toss bok choy with 1/4 cup dressing to coat. Grill over medium heat, turning once, for about 8 minutes. Return to bowl and cover with plastic wrap. Let stand until tender-crisp, about 10 minutes.
Grill steaks over medium-high for 3 to 4 minutes per side or medium rare, or to desired doneness. Let stand covered 5 minutes before slicing.
Meanwhile in a large pot of boiling salted water, black snow peas for 1 to 2 minutes or until tender-crisp. Drain and plunge into bowl of ice water. Drain and dry.
Drain any liquid from bok choy. Cut each in half again lengthwise and return to bowl. Add snow peas and radishes, drizzling a little of remaining dressing to coat. Place greens on a large platter. Top with bok choy mixture and sliced beef Sprinkle with seame seeds. Serve with remaining dressing.
Grill time: 15 mins. Prep Time: 25 mins. Cooking time: 10 mins. Serves 4.
Fridge Cleaner Stir Fry Veggies
Does your fridge end up with bits and pieces of pushed-aside veggies by the end of the week? Why not bring them together for a colourful side dish that comes together quickly and wins you some fridge space back :)!
Ingredients: these are flexible- always start with root or harder veggies first, and soften a little before adding the softer veggies. In this one I started with sliced kolhrabi and zucchini, then after a couple minutes added red and green peppers, snow peas, and finally some frozen corn (fresh of course is wonderful too!). I added baby bok choy and cooked just until wilted, and "dressed" the stir fry in a mix of olive oil, apple cider vinegar, a little vegan butter, a couple tbsp honey, salt and pepper. Really tasty!