Hello from the farm! My favourite farmer (aka husband) and I celebrated 12 years of marriage this weekend. We have sure come a long way from those two starry-eyed lovebirds who thought the world was our oyster! Lol. Well, maybe it still is, but we had no idea how much work it was getting to the pearls. However, those pearls of our commitment to each other, walking with God, raising kids, and running and growing this farm- they have been so worth it! In a fashion in step with a busy 12 years so far, we dug up our backyard to fix a septic line, then I booted over to the farm to receive a new flock of young laying hens, and put ourselves together enough to spend an evening celebrating. We have much to be thankful for.
I do hope that this new bunch of laying hens sees our egg production go up enough to have a little extra to sell here and there, but I do plan to get through this week supplying all our egg share customers regularily, without any early morning visits to the hens to get just those last few eggs!
I am stoked to be offering our own roasting chickens, fed organically and kept on pasture from 4 weeks on. They are now available on our website and can be delivered with a farm share or be picked up from the farm store. Please note they are frozen and we need someone to be home to receive them or a cooler left out with plenty of ice packs.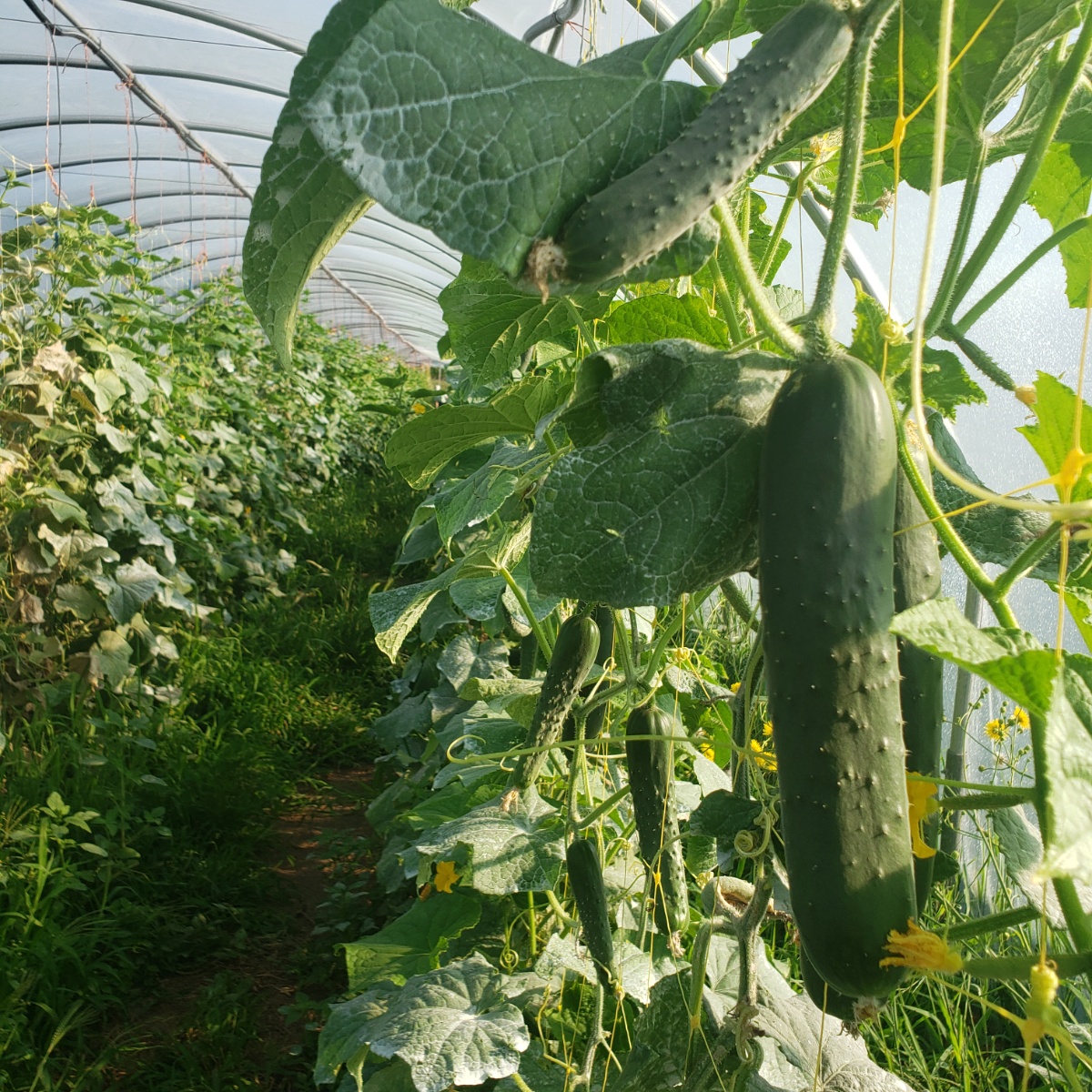 Now on to the veggies! This week the tomatoes are finally in plenty enough for everyone to get some. You may receive a typical beefsteak (red) tomato, a brandywine heirloom tomato (with green top and red bottom when ripe), campari tomatoes (small red tomatoes), or other heirloom varieties (one is yellow with green stripes when ready). The heirloom varieties are less hardy and tend to split more easily. The taste is truly worth any irritation! Tomatoes are best kept out of the fridge at room temperature, and are ready to enjoy when they turn from super firm and get a little softer, just like a regular tomato. We hope you enjoy tasting the amazing flavour of in season tomatoes and get a chance to taste test a couple varieties over the tomato season.
This week we also have some stunning eggplant! I could not resist putting it in all your boxes as it is just so beautiful. You might be a little reluctant to try eggplant, but it is so worth getting to know. First of all, it is best kept out of the fridge (ideally in a cooler space), but room temperature is ok too. The trick to cutting out any bitter taste is to peel, slice and then lightly salt the eggplant slices. I enjoy then baking the slices (a couple millimetres thick) spread out on a greased baking sheet at 425 degrees for about 8-10 mins or until tender. Then carefully remove them with a spatula and use as you would noodles in lasagna! Don't forget the spinach…totally essential in lasagna in my opinion.
Recipes
Easy Fajita Chicken & Rice
If I can manage this on a Monday night (Mondays are my craziest day of the week), you can too!
Ingredients
1lb chicken breast, cut into cubes or small chunks
2 tbsp. olive oil, for frying
2 green peppers, cores removed and chopped into 1/2 inch pieces
3 roma tomatoes (or other tomatoes, diced)
1 package taco seasoning mix (or make your own with chili powder, cumin, salt, etc.)
1 1/4 cup dry parboiled rice
2 1/4 cups water
Directions
I started by pouring the water into a medium saucepan along with the rice, and bringing it to a boil. Then I covered it and let it simmer until cooked (see package directions).
Meanwhile, I cut up my chicken and sauteed it in a wok in the olive oil. Once mostly cooked, I added the chopped green pepper and tomatoes and cooked until tender (around 5-7 minutes), adding the taco seasoning part way through. The juice from the tomatoes gives it some liquid to make a nice sauce.
I served the fajita mix on a bed of rice, garnishing it with cheddar cheese, a sprig of thyme and even offered my kiddos a little plain yogurt with it in case it was too spicy for them. I got lots of "thank you, mom"s, and "this is good!"s, and lots of empty plates…so I'm gonna call that a big win for a dinner where I was admittedly winging it. I hope you like this recipe as well!
Eggplant Parmesan
Try this classic recipe to make the most out of your eggplant. Tip: the eggplants in your shares are about 1-2lbs in size. If your eggplant seems a little small to fill your dish, try using your zucchini and breading it up along with the eggplant in the same way. Hopefully you still have fresh basil from your basil plant to add some extra flavour to this dish.
Ratatouille
Want a recipe for your eggplant that is low carb and also vegan? Try This Ratatouille Recipe: https://cookieandkate.com/best-ratatouille-recipe/
Baba Ghanouj
Have you tried Baba Ghanouj? Sounds kinda funky, but it is one amazingly delicious garlicky dip made of eggplant that you'll want to have with everything. Bonus- also uses your garlic and parsley from your farm share.
Curly Endive Salad With Bacon and Poached Eggs
I don't know what it is, but endive just pairs so nicely with eggs and bacon! Last time I had endive I simply sauteed it in the bacon fat after cooking some bacon and a couple fried eggs. If you want to take it to the next level, try this recipe.
Greens Hack (Think kale, swiss chard) from a fellow Farm Share member
She says: "I've really enjoyed trying a variety of greens I wouldn't normally buy, and feel diversifying my diet has had a positive impact on my and my family's health.  My kids are pretty picky eaters but I have found a 'greens hack' that works well.  I take the kale, chards and other 'sturdy' greens and turn them into chips. 
Basically, I remove the stems and tear the greens into small pieces.  Then I massage the following into the greens: olive oil, garlic powder, smoked paprika, salt (I use Herbamare Herbed Sea Salt) and a generous sprinkling of nutritional yeast flakes. The key is to work the oil and flavourings into the greens, making sure each piece is covered.   I lay them in a single layer on a parchment paper covered tray and cook them in an oven set around 250 to 275 degrees, until they are crispy.  If you can believe it, my boys literally fight over these veggie chips.  Admittedly, my hubby and I find them super addictive, too. 
Actually, I use the same technique/ingredients for making the veggie chips (as listed above) using the salad lettuces instead, except I don't cook it.  I add some diced avocado and anchovies to the 'dressed' salad greens and call it my 'Twisted Caesar Salad'.  I'm sure croutons would be a good addition but I try to avoid grains.  It's quite tasty! "
Thank you for sharing, C.C.
Have a great hack for helping your family enjoy their veggies? Bring it on. I'd love your ideas via email or over facebook. Thanks for sharing your genius! 
In your Shares This Week: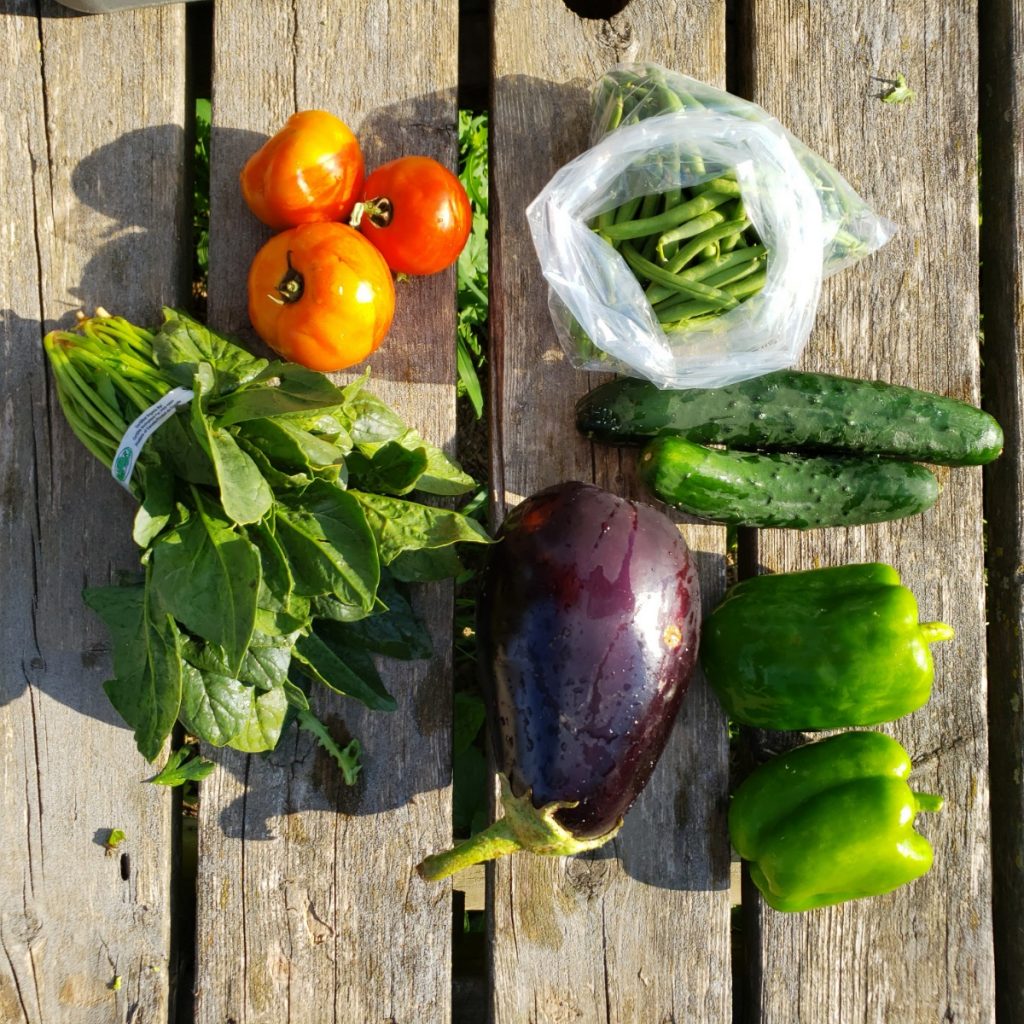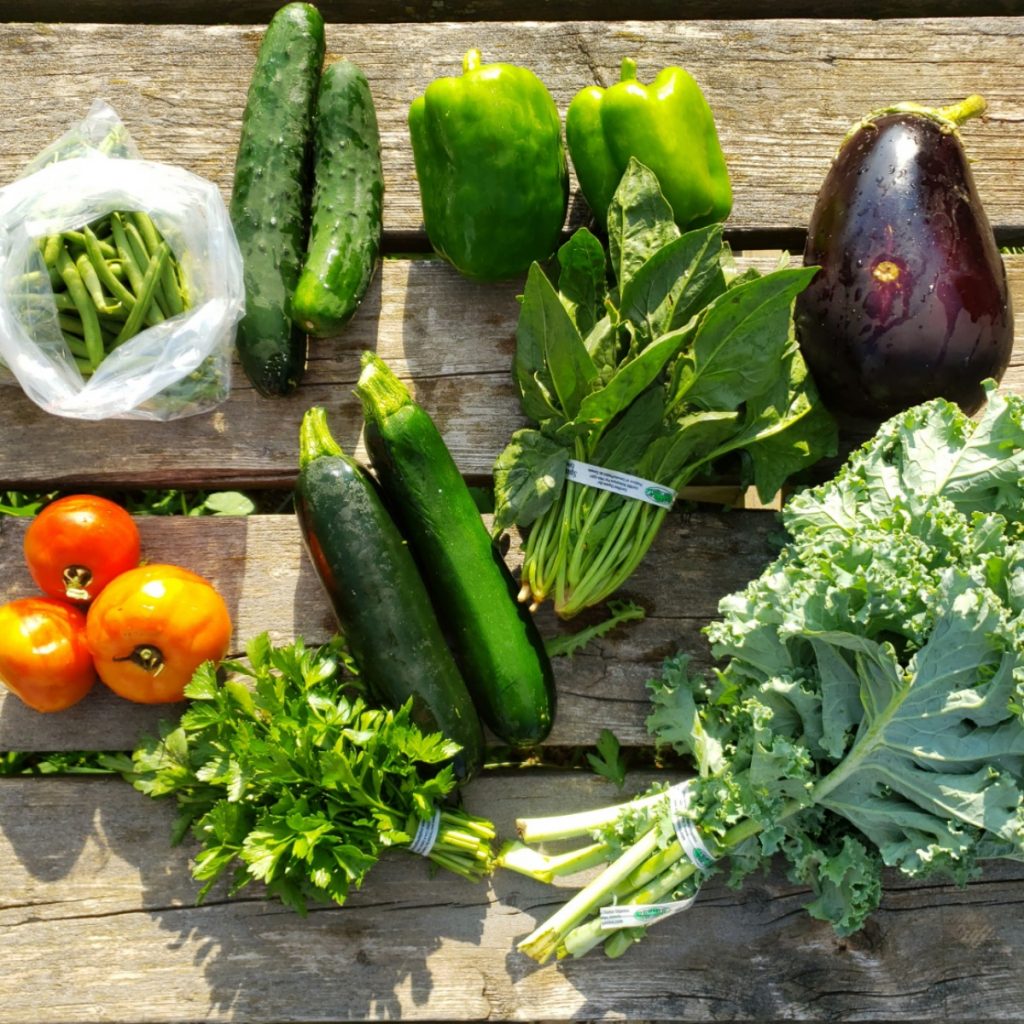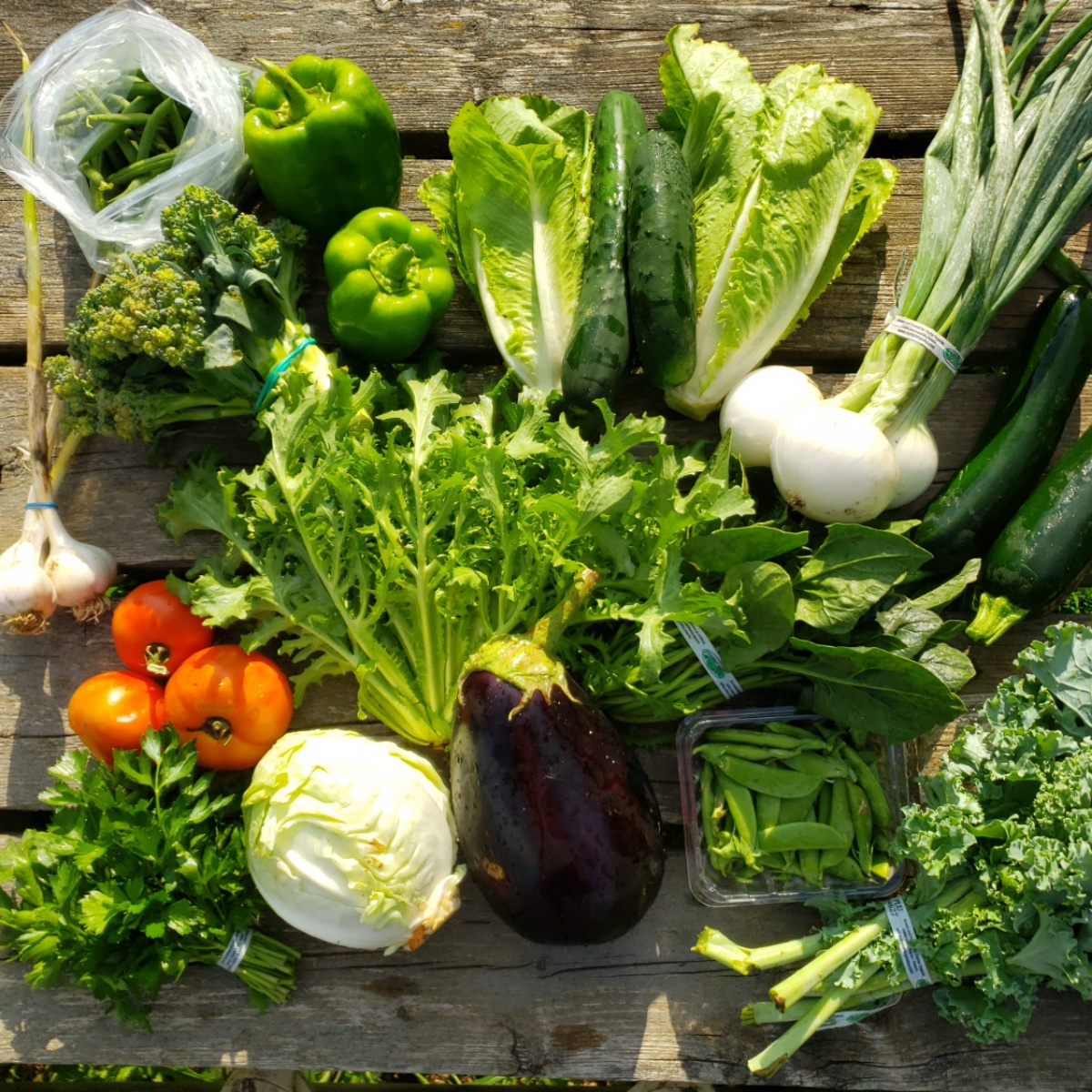 So many ideas this week! Happy cooking! Stay cool and hope you all get a chance to dance in the rain 🙂