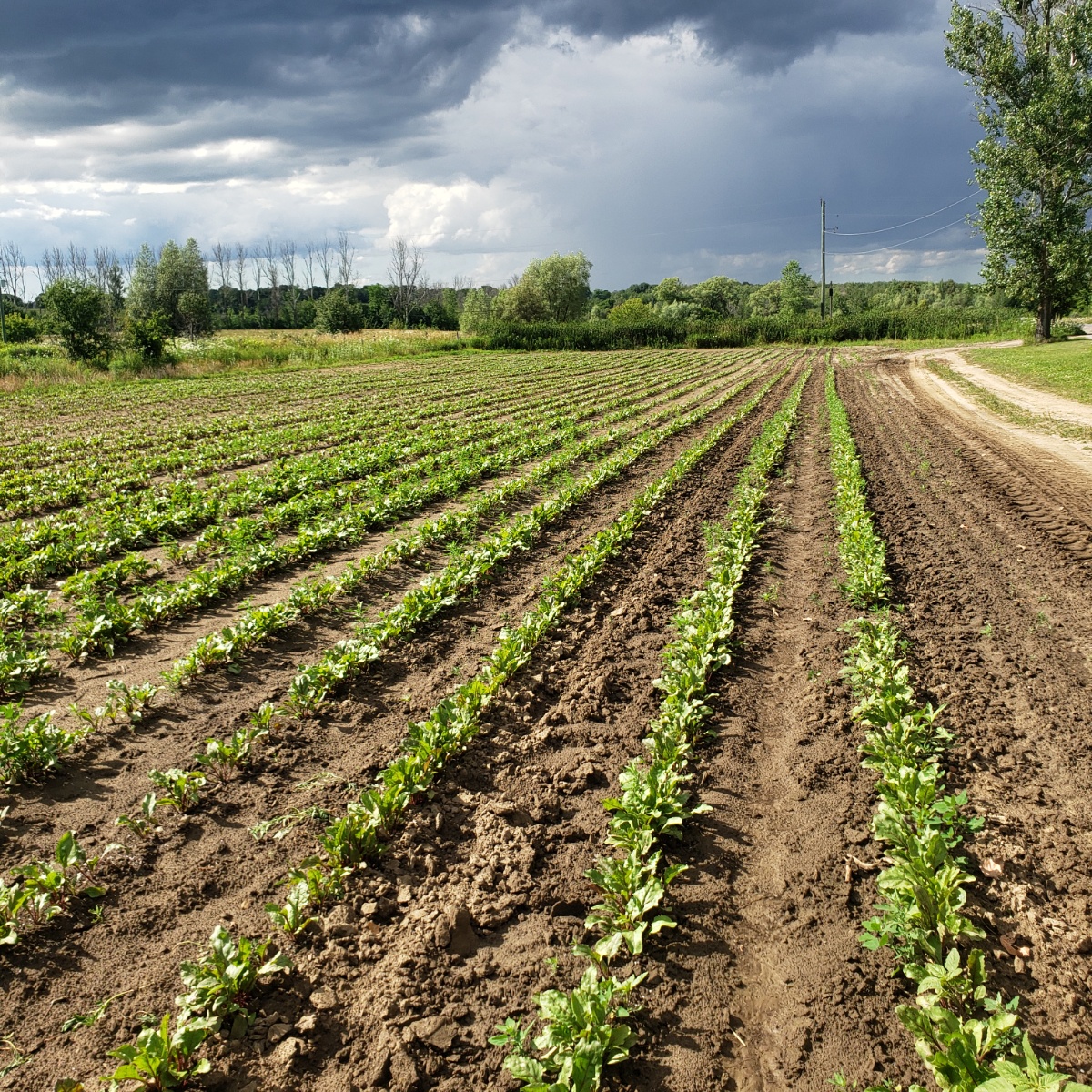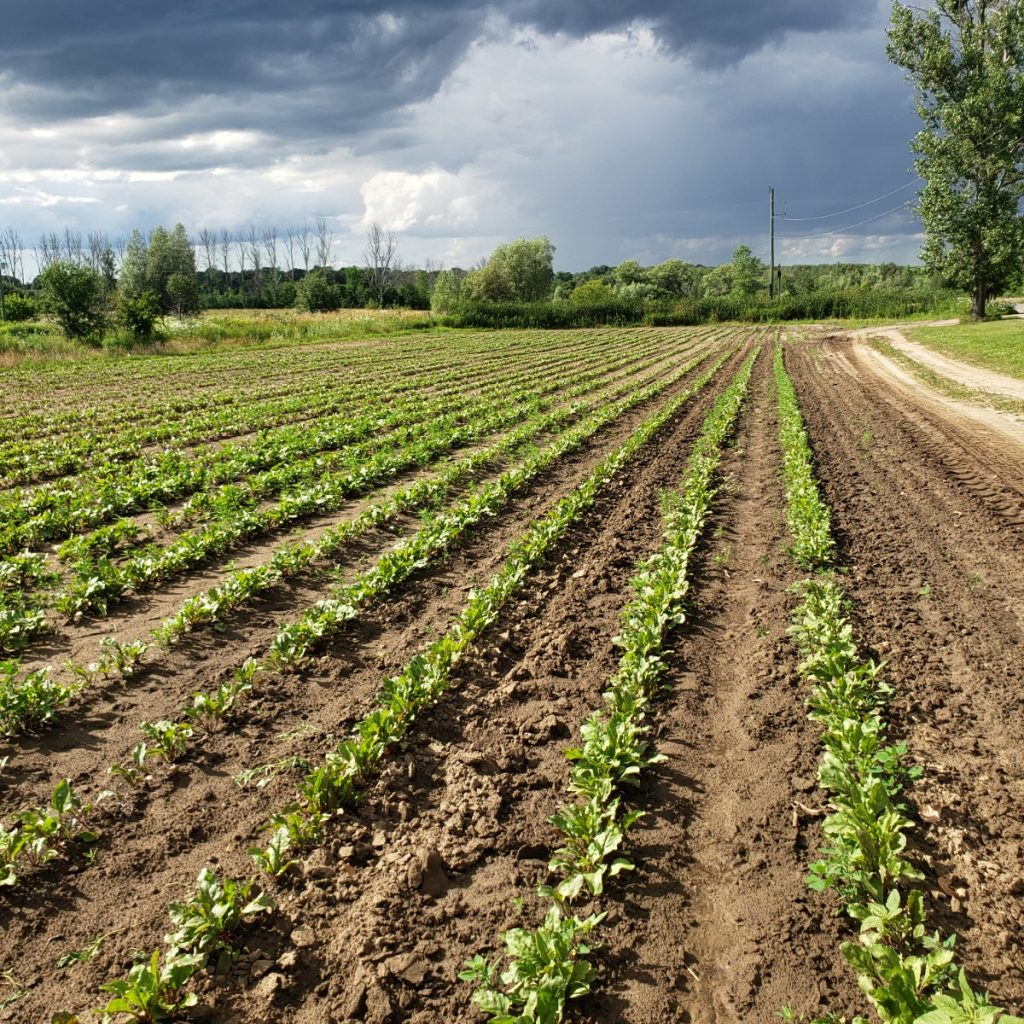 2020- it's been a wild ride, hasn't it? When the year began we used to saunter around the grocery store without a care in the world, look forward to big events with 100s or even thousands of people, and wouldn't have dreamed of wearing a mask in public…unless of course we were at a masquerade party. But here we are! I am not feeling too hard done by by all the changes and restrictions, though I miss freely interacting with others without worrying about the distance. I am mostly thankful- thankful that covid has not touched my little circle or visited the farm. We are still going to be cautious until the threat dissipates more, as we know that thousands rely on us for their food supply (in farm share and beyond) and many workers have travelled far from home to feed you all, and we need to return them home safe and sound.
This has to be the most challenging year I can recall since first heading up Farm Share, 11 years ago. Maybe the years of returning to work just a week or 2 post-partum, or harvesting and running a business while babywearing or nursing have grown a little fuzzy and maybe even nostalgic in my mind, but a variety have factors have all collided to make this one for the books! The insects, the weeds, seem worse than I have ever seen them, brought out by the drought and heat. In the same conditions, some crops have hobbled along and some have been lost altogether. This year feels like a fight- a fight for each crop. The cucumber beetle, the weeds, the swede midge bug, the raccoons, the drought…all threatening to steal all our sweat-borne efforts away, and the labour we have is less that we did on years where the conditions were more favourable. Each watering, each organic pest control measure, each and every weed removed for the third time from that same crop- all take precious time from a precious few of us. Entire crops have been lost- and we know that other farmers are in this same struggle too. But, we are passionate about what we do- passionate to bring forth bounty from the dusty land; passionate to feed your family well; passionate to make the most out of this thin hand we've been dealt, and thankful, so despite the losses and the struggle, beautiful crops are emerging. The baskets this week make me smile with their colour and variety. I am grateful, and I hope you are too.
Thank you to those of you who have been cheering us on. Other businesses closed for a while and had time to re-tool. Farmers carried on like every-day, but harder, as many of them were left short-handed. We are tired, but we are some of the most stubborn, determined folks you will ever meet. A customer brought her lovely family to see the chickens (socially distanced of course), and seeing her family's wonder, curiosity, and appreciation buoyed me up for another week. Serving you, feeding you well, means so very much to us. We hope that these baskets bring you happiness and good health.
The most exciting addition this week is definitely watermelon. The variety in your veggie shares this week is yellow doll, and I think you'll see when you open it up just where it gets that name! It should be a nice bright yellow colour on the inside. You be the judge- is it actually sweeter than red watermelon?
We also have some sweet corn for the whole shares (or are trying our dardnest to get to it before the raccoons). Apparently, raccoons prefer organic too. There is lots more nice sweet corn still ripening, so we are hoping for more in the coming weeks.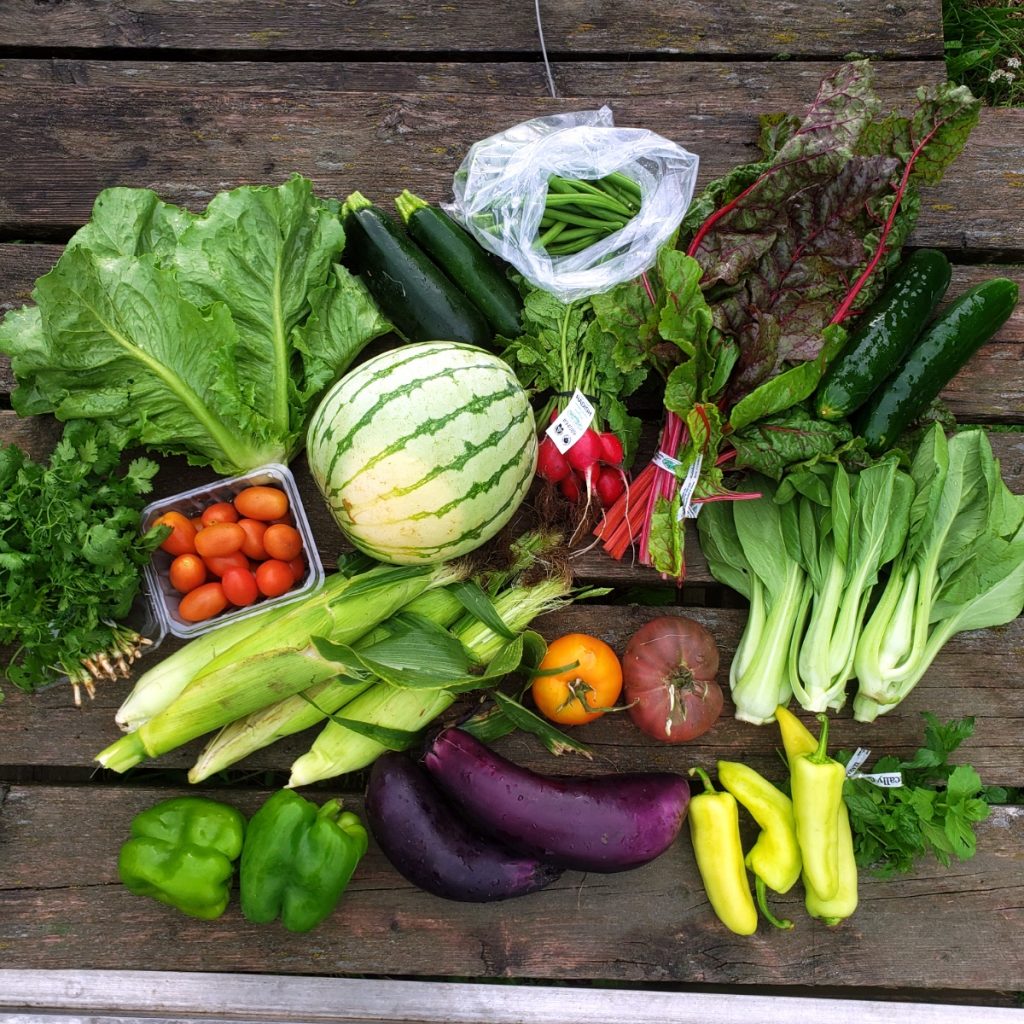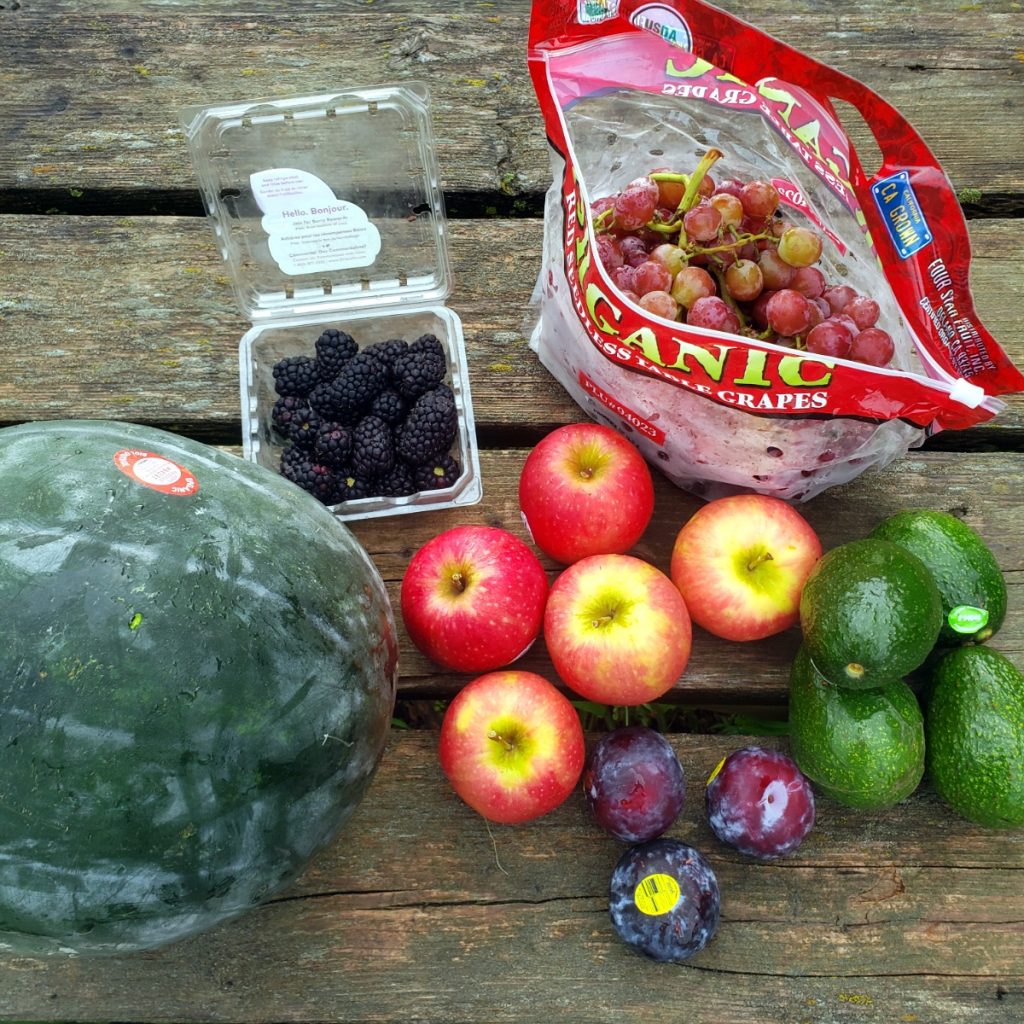 Recipes
This week I did a remake of the Fajita Rice from last week, adding some of the new ingredients now available like banana pepper and fresh cilantro. It definitely took it to the next level! My daughter decided we should eat by candlelight, and it was late- but I indulged her. Sometimes you just gotta create some beauty and live a little, and kids totally get this. That's something so cool about kids and why I need them around. They teach me a lot :).
Chicken Fajita Rice (Serves 4-5, depending on the size of the eaters 😉
Ingredients
1lb chicken breast (I used our own organically fed chicken!) vegetarian option- use cooked black beans!
2 tbsp olive oil (for sautéing)
2 green peppers, diced
1-2 banana peppers, diced (they are quite mild still- you can try a little nibble and see how much you want to use- your head will not blow off)
cooked rice (mine was leftover and made this meal nice and speedy)
approx 3 tomatoes or 1lb plus tomatoes, diced
taco seasoning mix
3-4 tbsp. fresh cilantro
grated cheddar cheese (to serve)
Directions
Cut chicken breast into small cubes and place in a large pan with olive oil. When almost cooked through, add green & banana peppers and sautee a couple minutes or until slightly softened. Add cooked rice and tomatoes, stirring for even cooking,
Add taco seasoning mix and a little water if the juices from the tomatoes have evaporated
Garnish the cilantro or mix in after cooking is complete. Top with cheddar cheese.
Alternate serving idea: add above ingredients minus the green pepper and stuff right in a green pepper and bake…or….fill a soft tortilla and you have a burrito.
Watermelon Feta Salad
This one is traditionally done with red watermelon, but will also taste just as nice with your yellow one (or the large red ones in your fruit shares). You can also expect more watermelon this week, so this is a fun idea if you get bored of just snacking on watermelon on it's own. Bonus, you also have a perfect place for your mint, whole share members 🙂 Find the recipe here.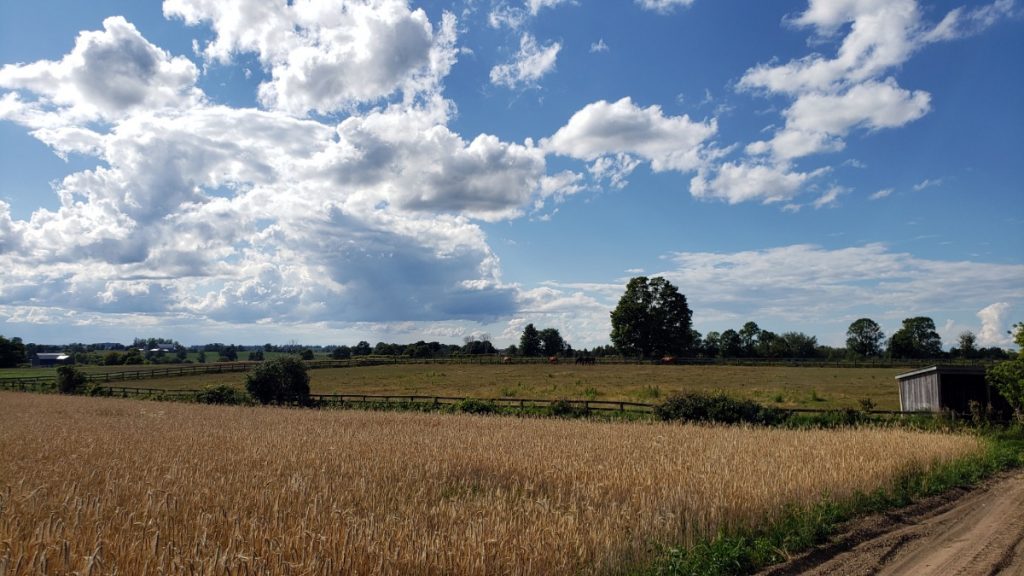 That's all folks. Here we are in August, my favourite month on the farm and in general. Hot days, cool nights…a whole lot growing. Enjoy!