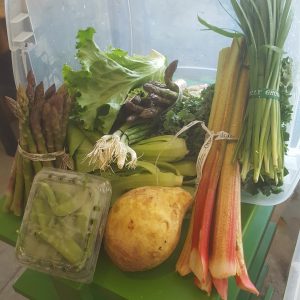 Welcome to a new season of farm share!
It's been a crazy year so far with a very cold April and super hot May, and this week it feels like fall…what?! We also just had our Open House! It was a perfect day and it was a pleasure to connect with the awesome folks who support our farm as farm share members, and other great folks eager to see what organic veggie farming looks like.
I am excited to send you lots of fresh spring veggies, and plenty of asparagus. Asparagus is a short-lived season, so I hope you enjoy it often. Asparagus is fantastic on the barbecue (I put it in tin foil or a barbecue safe dish, slathered in MELT butter alternative and lightly salted). You can also put it right on the grill, but I don't want to lose any of those delicious spears if they were to fall!
We also have some lovely rhubarb. If you were at our open house, you got to try it in gluten-free vegan strawberry rhubarb bars. These were a hit and quite simple. We used quinoa oats due to an oat sensitivity. You can get the recipe here.
If that sounds like too much work, why not whip up some rhubarb chia refrigerator jam? Healthy, easy, and great with yogurt, on toast, or topping ice cream. Here's the recipe. Feel free to tweak the sweeteners to your own taste buds.
Ingredients
1lb rhubarb, washed and finely chopped
1/3 cup real maple syrup or honey
1 tsp stevia powder (or other sweetener if needed)
1 tbsp. chia seeds
optional: lemon juice to preserve colour, or I stirred in and then removed cooked beets to give it a pinkier hue
Directions
Finely chop 1lb rhubarb. Add to small saucepan and cook on medium, stirring regularly. When it begins to cook down, add maple syrup, stevia, optional lemon or cooked beets and chia seeds.
Stir and cook until you have a smooth jam. (Don't worry if it's not all the way thickened as it will thicken with chia seeds in the fridge).
Refrigerate for a few hours and enjoy!
Now for your box contents:
Half Shares
1lb asparagus
another pound of asparagus (never too much, right!?)
1lb baby bokchoy
1lb rhubarb
1 pint snow peas
1 bunch green kale
1 bunch green onions
1 bunch garlic chives (chop up as needed with kitchen scissors and add to any savory dish)
1lb rutabaga (makes a great mash, French fry, addition to soup or even raw in salad. One of my ingenious customers gave me the idea to slice them into rounds, bake them and then top as pizzas!)
1 head green leaf lettuce
Whole Shares
All of the above…plus…
turnip greens (light green leafy veg, great in salad or as cooking green)
sugar snap peas
arugula (spicy salad green)
lemon balm (makes a lovely tea or chop and use in pasta for added lemony flavour)
a 3rd asparagus! (so good on pizza, in pasta, in stir fries, or just sautéed as a side)
Fruit Shares
3lbs bananas
8 nectarines
1lb strawberries
5 Valencia oranges
1 honey dew melon