I can't hardly believe we are over halfway though our farm share season already!  I took my boys to the park today and there were leafs already brown on the ground-a sign that summer is nearing an end and the fall will soon be here.  While I am saddened by how short our summer season is, I am very excited for what the fall harvest is going to bring us.  I shared a recipe last week for the
radicchio
with sausages and here is a picture of our meal.  My husband wasn't too fond of the radicchio-so I'll be trying another recipe if another one comes in our share.  If you have a recipe you used and enjoyed please share by emailing Jennifer a picture and a recipe and we will post it to the blog!
Here is what you can expect to see in your shares this week-since we missed a week while away and are doing a fast I requested we get  half share on the weeks we usually wouldn't get a share.  This weeks recipe I thought I'd share some
lettuce wrap recipes.
I know that sometimes salads despite the wide variety can sometimes get old-but there are SO many options for lettuce that are not salads.  I'll try making these for the boys this week hoping that they'll enjoy more leafy greens but over the next 40 days my husband and I are fasting-and so I will be sharing a lot more smoothie recipes as well as juicing recipes too!
Here is what our half share this week looks like!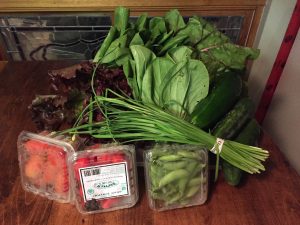 -grape tomatoes
-garlic chives
-eggplant
-saladette tomatoes
-baby bok choy
-zucchini
-cucumbers
-red leaf lettuce
-rainbow swiss chard
-peas (sugar snap and snow)
Whole
-green peppers or cauliflower
-carrots
-mini tomatoes or extra grape tomatoes
-romaine lettuce
-white onions
-dill
-pickling cucumbers