This week Jenny is sharing what has been happening at the farm.  This weeks recipe features the lovely watermelons that you're getting in your box this week.  I figured  a nice refersing beverage recipe would be fun to change things up a bit since the end of summer draws near.  This is from the Eat Clean Cookbook by Tosca Reno and Jenny also included a recipe for us this week 🙂
Watermelon Sangria
Yields: 12 cups
1 small watermelon rind removed and cut into 3″ chunks
Juice of 1 lime
Juice of 1 lemon
3 1/2 cups / 750ml bottle pink wine 3 fresh oranges washed/peeled/quartered/sliced
6 cups lemonade chilled
ice cubs
1.Place the watermelon chunks in a food processor.  Add the juice of the lemons and limes.  Process until smooth.  Strain mixture though a fine mesh sieve into a large bowl.
2. Add pink wine. Stir to combine.
3. Prepare two large pitchers by filling one-third with ice and layering the sliced orange segments among the ice cubes.  Pour sangria mixture into pitchers. Serve cold.
Hello from the farm everyone! I'm not sure if I've shared this but I have had some obstacles to overcome lately on the farm. A few weeks ago, I lost both of my harvesting/packing staff suddenly, just as they were gaining skill at their work. In all that I felt blessed and taken care of, as one of my best friends had both the availability and desire to work for me. We shuffled things around at the farm to get things done. It also means me doing more labour myself. If my email reply timing is a little slow, now you know why! However, I think things are getting back into a better rhythm.
The cool, rainy weather has posed a constant challenge, especially for the tomatoes (sigh). Looking into our tomato field is about enough to make someone cry, however the grape and saladette tomatoes are doing ok. We also have a new crop of lovely beans and peas, looking better than ever! They always seem like a bonus in August. The carrots are beautiful giants and the zucchini and cucumbers continue to produce well. We also have produced the largest, nicest fennel I've ever seen. Even the strawberries are coming in larger (though still few in number) and a better shape.
We are rolling with the punches here, dodging rain and storm by careful planning, and rejoicing with every fragrant, beautiful bunch of something. I hope you feel like your along for the ride.
Jennifer
Half Shares
-saladette tomatoes
-cucumbers
-zucchini
-carrots
-green or flat green beans
-snow peas
-bok choy
-green kale
-romaine lettuce
-green pepper
Whole Shares
(Same as above with)
-fennel
-eggplant
-cauliflower or broccoli
-watermelon
-strawberries
-field tomatoes or onions
-green leaf lettuce
-parsley
Hi everyone!
Here is my super healthy, filling and fast lunch idea:
Zucchini pasta with kale, red pepper, green onions and peanut sauce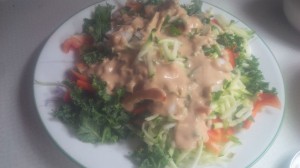 Serves 2
Ingredients
-1 large zucchini or 2 medium
-1/2 red pepper, thinly sliced
-2 green onions, finely chopped
-a few sprigs fresh cilantro (optional)
Directions
1. Melt approx 1/2 cup natural peanut butter in saucepan. Add a few tbsps. Water, a couple tbsps apple cide vinegar until it is a nice sauce-like consistency. Add cayenne pepper, salt and garlic powder to taste. Add more water if needed.
2. Meanwhile, cut zucchini into noodles with a round veggie slicer device (or try with a peeler) into thin noodles.
3. Arrange noodles, red pepper, kale, and green onions onto 2 plates. Pour sauce over top and serve hot or cold.
4. Get ready to kick butt because you have fueled your body so well!
Jennifer