Hello from Holland!
We've spent just over a week here and we finally got to do a farm visit to the farm of one of our seed producers, Beyo. It's cool to see some of the Dutch culture applied to farming. I love the "less is more" vibe I am experiencing here. The homes here are smaller, people travel less, enjoy tea with friends more, and space is used efficiently. Although we already grow cucumbers in a similar way, I loved seeing the pepper plants growing vertically. They look quite happy!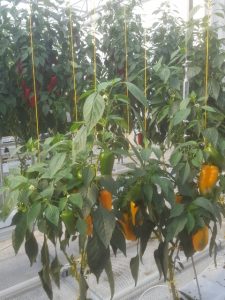 The food here consists of a lot of bread and very delicious cheese, though I have seen a beautiful assortment of vegetables and fruits in the open air markets we have gone to in a few different towns.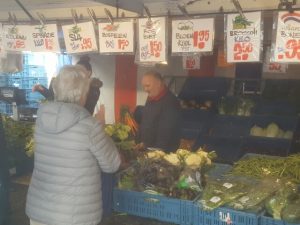 Fall is in the air and Thanksgiving is just around the corner, so I thought it was time to give you a gorgeous little pumpkin to add some hearty flavour to your dishes. No, you do not have to make pie! Pumpkin has a place on your dinner menus too! Here is a recipe idea for you. I can't wait to dig into some pumpkin when I get home. Feel free to add peppers, greens and other veggies to this dish. To make the pumpkin puree, all you have to do is cut the pumpkin around the middle (using a large, sharp knife), scoop out the seeds (save for making a snack), and place halves facedown on a baking sheet and bake for about an hour at 400 degrees. Then scoop the flesh out of the skin and put in your blender. Blend until smooth. Voila! Pumpkin puree!
I should warn you, a few of the items below may have been changed based on availability. Each week I start with a plan, but nature can be surprising and sometimes a Veggie grows more quickly or slowly than I had planned. I hope you can embrace nature's surprises along with me 🙂
Half
Pumpkin
Pepper squash
Leeks
Eggplant
Red peppers
Field tomatoes
Green or red kale
Red leaf lettuce
Parsnips Alt carrots
Spanish onions
Whole
grape tomatoes
celery
beets
parsley
green beans
Swiss chard
bananas
pears
blackberries
silken apples
kiwi
Have a simple and beautiful week!