October has arrived and fall is in full swing.  The weather has begun to cool down after a beautiful week of warmer weather and Thanksgiving (believe it or not) is just a couple of weeks away.  This week I finally used up some cabbage that's been hiding deep in my fridge and made some incredible soup that I'm very excited to share with you.  I plan on trying it with the red cabbage from this weeks farm share and I'm sure it will turn out just as good-and I know it will freeze well for this winter.
I must admit that I have a love/hate relationship with fall-while I love the colors of the leaves while they change (as well as the holiday season and my son's birthday) I dread the season that is to come.  Last winter was never ending in my mind and I can only hope that it goes more quickly this year.  Just a few more weeks in the farm share season to enjoy before it comes to an end-where did the time go?
Here is what you can look forward to in this weeks boxes
Half Share
-carrots
-red beets
-snow peas
-eggplant
-red sheppard peppers (sweet)
-green onions
-red or rainbow swiss chard
-romaine lettuce
-spaghetti or butternut squash
-red cabbage
Whole Share
(same as above with)
-green peppers
-cilantro
-green beans
-tomatillos
-red leaf lettuce
-green kale
This weeks recipe I found on this site (I should note I didn't use any lemon as the recipe suggests)-I hope you enjoy it as much as my family did.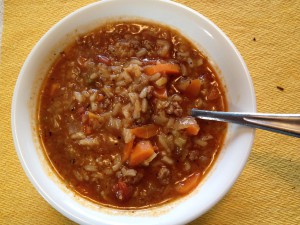 http://www.food.com/recipe/cabbage-and-ground-beef-soup-339284
3/4

lb

lean ground beef

1

tablespoon

extra virgin olive oil

1

onion, diced

1

garlic clove, finely chopped

1/2

teaspoon

dried thyme

1/2

teaspoon

dried marjoram

1/2

teaspoon

salt

1/4

teaspoon

black pepper

1

dash

ground cloves

3

cups

roughly chopped cabbage

2

carrots, cut in half on the lenght, then sliced

2

celery ribs, sliced

3

cups

reduced-sodium beef broth

3

cups

water

1/4

cup

tomato paste

1

cup

cooked rice
lemon, quarters

Directions:

1

In a large saucepan, cook ground beef at medium-high heat, stirring from timet to time for about 5 minutes or until not pink. With a skimmer, took out the beef and put in a bowl. Set aside. Deglaze the saucepan and then wipe off the grease.

2

In the saucepan, heat oil at medium heat. Add onion, garlic, thyme, marjoram, salt, pepper and cloves. Cook, stirring, for about 5 minutes or until onion has soften. Add cabbage, carrots and celery. Cook, stirring, for 3 minutes. Add stock, water, tomato paste and bay leaves. Stir.

3

Put the beef back in the saucepan and bring to boil. Reduce heat, cover and let simmer for about 15 minutes (me it was near 25 minutes) or until cabbage is tender. Add cooked rice and reheat for about 2 minutes. Remove bay leaves. Serve the soup with lemon quarters.