Hello from the farm! Hard to believe its mid-October with the summer like weather we've been having! I hope you all are enjoying the last few days of warmth before the cooler fall weather sets in.  The farm is beautiful this time of year with lots of bounty to still be shared, however we only have a few more weeks in the summer share season.  If you haven't had a chance to look into signing up for our winter share please do! It's well worth getting at least the fresh fruit delivered to your door, since it's all lovely organic produce that brings the taste of summer to our winter Ontario produce selection.
This past weekend I had the pleasure of attending an art and meditation retreat, which was a blessed time away to recharge my own energy levels.  However I had to bring pot luck foods for a very restricted diet/lifestyle choices, which included a couple of vegans.  Sadly I forgot to get photos of the bounty but I made a wonderful vegan roasted butternut squash soup as well as a yummy potato and leek soup.  I also made a lovely kale, quinoa, cranberries and feta salad  which was a huge hit (I put the goat cheese on the side) and I have plans to try this stuffed butternut squash and quinoa recipe.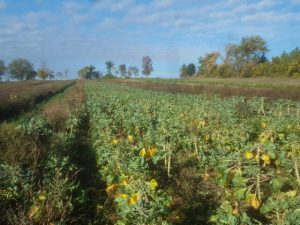 Half
leeks
rutabaga
savoy cabbage
ground cherries
romaine lettuce
Baby bokchoy
carrots
radish
butternut squash
brussels sprouts
whole
beets
zucchini or green leaf lettuce
lemon balm (herb)
bell beppers
Parsnips
Collard greens
Fruit
3lbs Bartlett pears
1/2 pint raspberries
1lbs kiwi
5 oranges
1 pineapple
Here of some images of the brussels sprouts field, the Jerusalem artichokes flowering, and some of our farm store produce. Fall colours are really starting to beautify our surroundings at the farm!