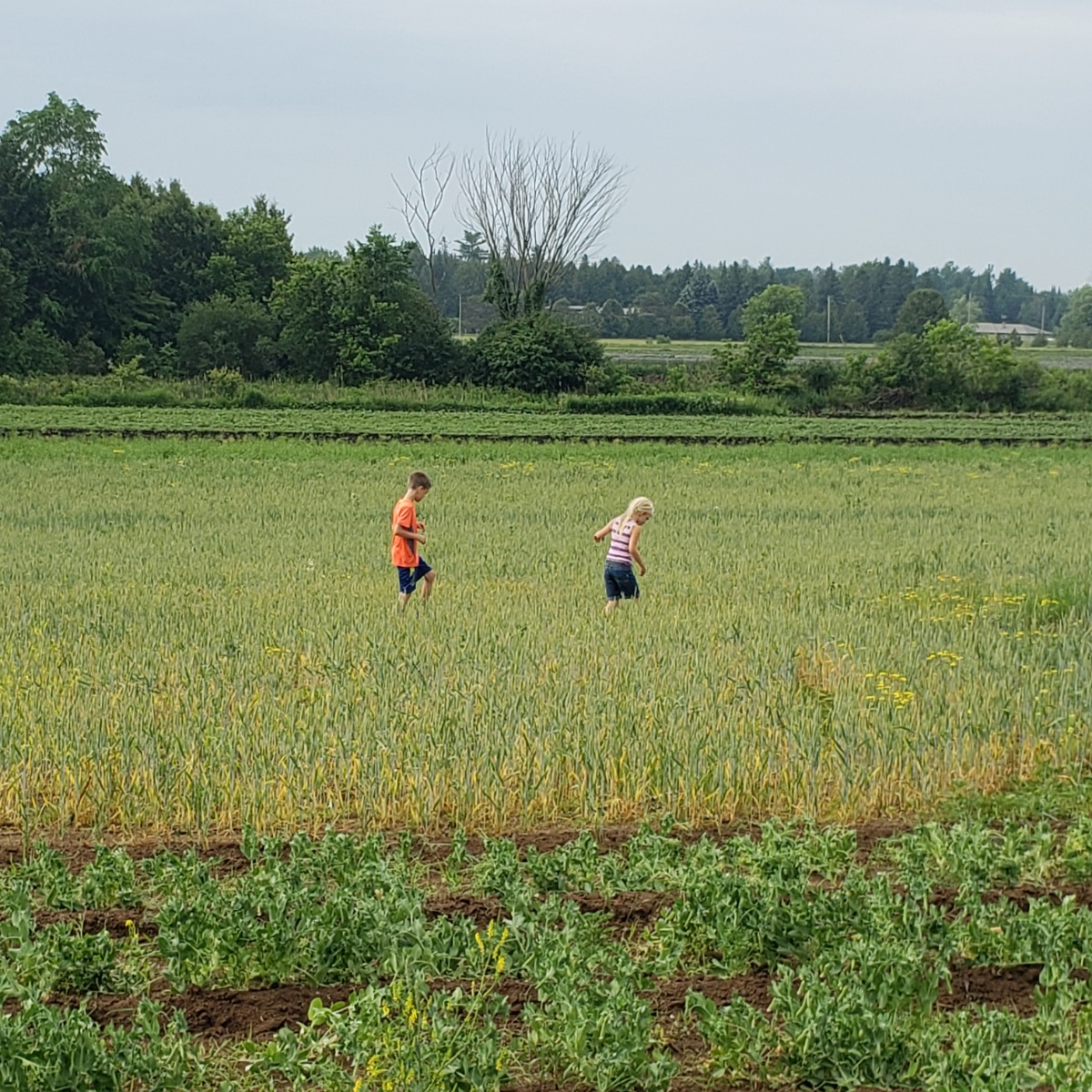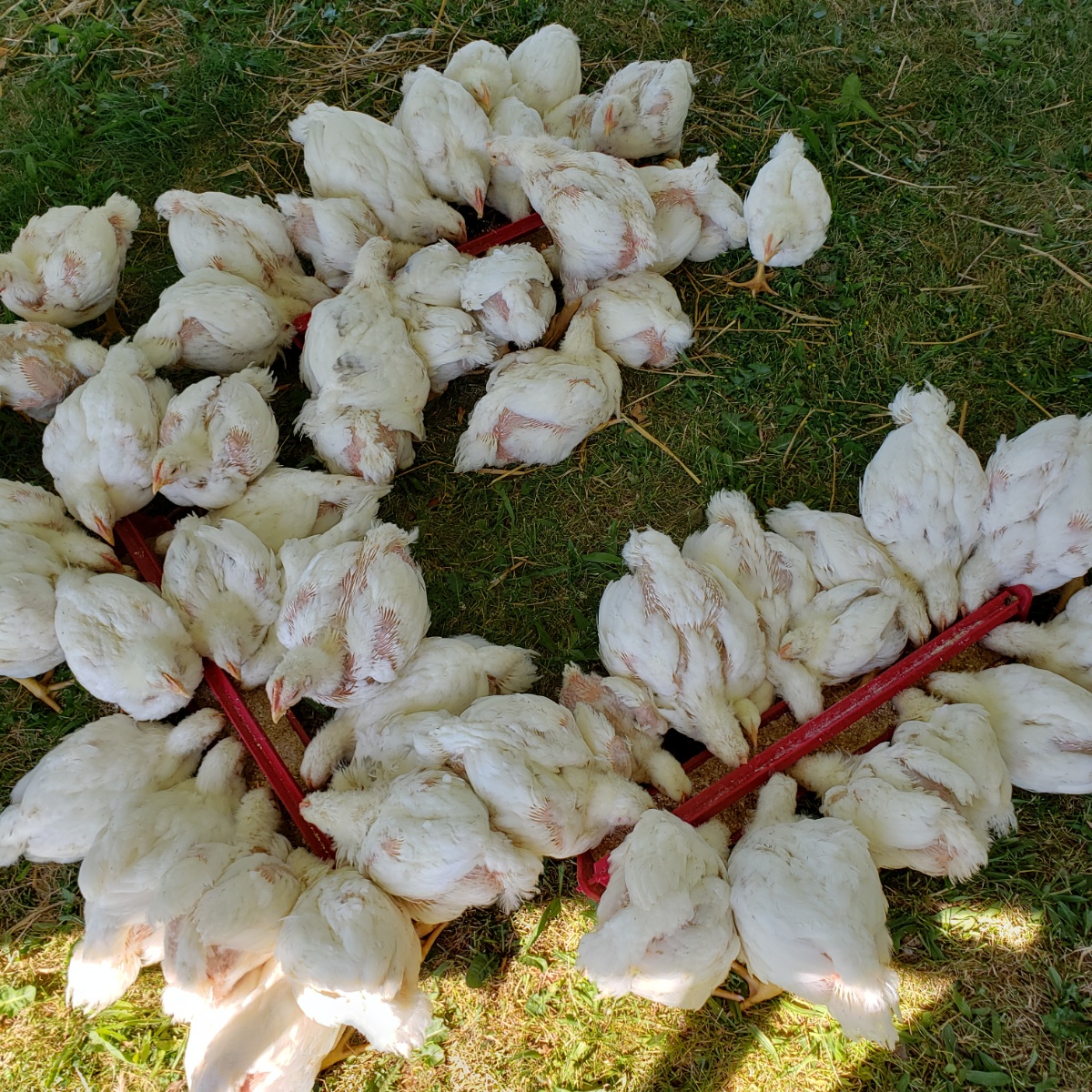 It's been hot, hot, hot here at the farm! While it is still super dry, we managed to get a little dusting of rain last night and a little dusting today. Every cloud I see I am cheering it on toward our farm to get some water for our fields. We wouldn't be doing too well without irrigation! We use drip line irrigation for the most part, where lines run with water right at the root of the plant and let out tiny amounts of water continually out of tiny holes. Some crops like our snow peas, brand new this week, are not irrigated, so we rely on at least a little rain for them. They look lovely, and the sugar snap peas are soon to follow. They are on the plants and a decent size, but they need to plump out a little and get sweeter before we pick them. The kids had fun in the field with us picking (sort of- they were mostly playing and enjoying the available snack that the fields afforded us! In this picture there is a cover crop of wheat that we use to enrich the soil, and the pea plants in the foreground. Most vegetables take a lot of nitrogen out of the soil, and both grains and peas help bring the nitrogen back in, preparing the fields for future crops.
Asparagus is slowly down greatly and starting to go up to seed quickly. This time of year, the heads of the shoots open up and turn into branches of an almost fuzzy bluish tree. They look so cool when they are all grown up. Letting this process happen helps the plant stay healthy and get ready for next year's season. The redcurrants are looking rosy and should be ready for picking next week. Some of the strawberry plants are starting now but growing very slowly! We have everbearing plants so even if we have to wait to get them started, we will get to enjoy them beyond the traditional berry season.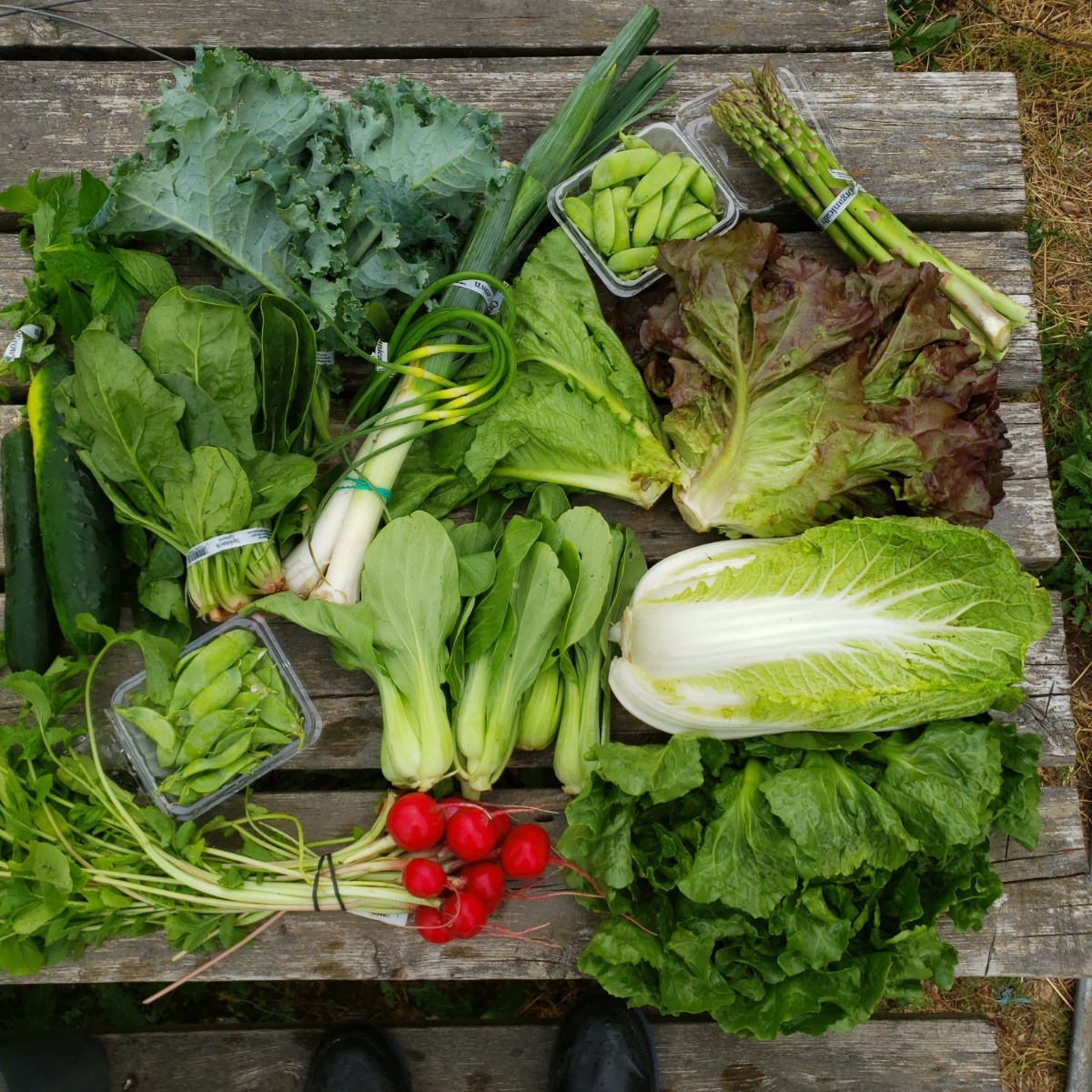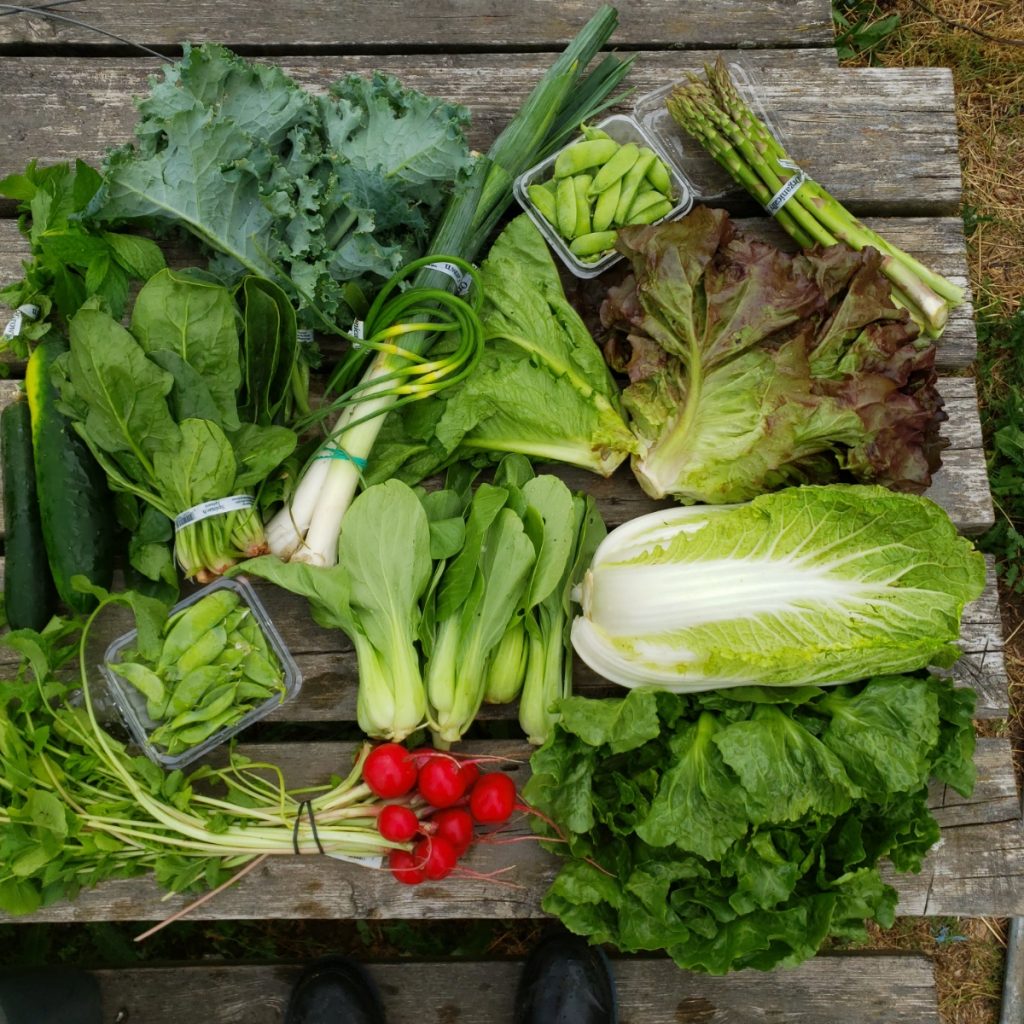 Half shares this week:
1lb cucumbers (1 large or 2 smaller)
1 bunch radish
1 pint snow peas
1 bunch mint (see recipe below for a great salad using your first 4 items)
1 Chinese cabbage (see recipe idea below)
1 bunch green kale
1 bunch garlic scapes (tops of the garlic plants, curly cylindrical herb)
1 bunch spinach
1 head romaine
1 head red leaf
Whole shares receive the above as well as:
extra snow peas
curly endive
1lb baby bokchoy
1 bunch leeks
1 bunch asparagus
Simply 6 Shares:
1 Chinese cabbage
1lb cucumbers
1 bunch radish
1 head romaine
1 bunch green kale
pint snow peas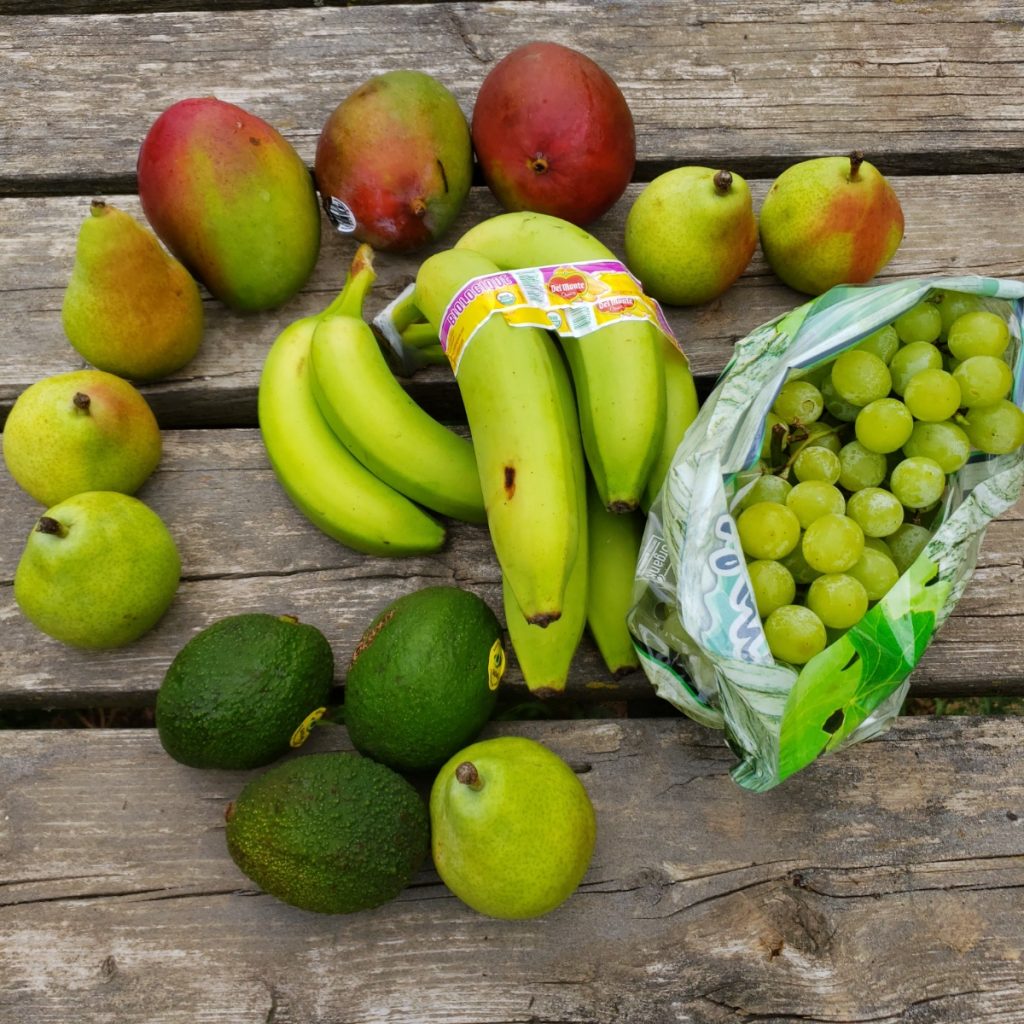 Fruit Shares
3 organic mangoes
6 organic Anjou pears
2lbs organic green grapes (US)
3lbs organic bananas
3 organic avocadoes
Recipes
Snow Pea, Cucumber, Radish & Mint Salad
I made the recipe found at this site excluding the dill and even forgot the feta cheese! I still ended up with a very delicious little salad. I used scissors to cut my snow peas and about 3/4 of my mint bunch (seriously made it so much easier!), chopped up 1 small cucumber and 5 radishes. Very refreshing and different!
Chinese Cabbage Salad
You can try the delicious stir fry recipe we shared last week (scroll down), chop it up and add it to your noodle soup, or make this delicious salad. Chopped peanuts or cashews go great with this salad if you don't have pine nuts around (seriously, $$$!)
Garlic Scapes Pasta
You don't have to wait for the garlic bulbs to form to enjoy the garlicky taste! Whether on pizza, pasta or in a stir fry, chop and enjoy your garlic tops (scapes). Try this easy pasta recipe.
Stewed Rhubarb with Yogurt
Is that bunch of rhubarb hanging out in your fridge looking a little sad? Give it a nice soak in cold water and chop it up. Then add to a frying pan with a little water and a couple tbsp. sugar. Stew until nice and soft. They add to your yogurt. Add fresh berries for some extra pizazz. Yummy both hot and cold!
Keto Rhubarb Crisp

Here is a revised recipe from https://www.ketoconnect.net/rhubarb-crisp-recipe/(I love it because it is just rhubarb, so it's nice and tangy)

Ingredients:CRUMBLE TOPPING:     
1 cup almond flour      
1/3 cup unsweetened coconut flakes
1/3 cup pecans, chopped
2 tbsp coconut sugar     
 2 tbsp chia seeds
1 tbsp erythritol or xylitol
1/2 tsp ground cinnamon
pinch of salt
1/3 cup butter or coconut butter, room temperature
1 tsp vanilla extract

RHUBARB FILLING:1/4 cup water2 tbsp chia seeds1 lb rhubarb (about 3-4 cups), cut into 1/2 inch pieces (fresh or thawed from frozen)2 tbsp erythritol 10 drops liquid steviaInstructions:

CRUMBLE TOPPING:For the topping, preheat oven to 275F and line a baking sheet with parchment paper.In a large bowl, whisk together almond flour, shredded coconut, coconut sugar, chia seeds, pecans, erythritol sweetener, cinnamon and salt. In a small bowl, stir together the softened butter and vanilla.Add butter mixture to the almond flour mixture and use a pastry cutter or two knives to blend in until the mixture resembles coarse crumbs. Spread out evenly on prepared baking sheet and pat down with hands to flatten slightly.Bake 10 minutes, then gently stir. Bake another 10-15 minutes, or until golden brown. Remove and let cool completely.RHUBARB FILLING:For the filling, preheat oven to 400F. In a large bowl, combine water and chia seeds and allow to soak for 5-7 minutes. Stir in rhubarb, erythritol sweetener, and stevia extract, tossing to coat.Spread rhubarb mixture into a 9×13 inch glass or ceramic baking dish. Cover tightly with foil and bake 30 to 35 minutes, or until mixture is bubbling and rhubarb is tender.Remove filling from oven and remove foil. Break cooled topping into pieces with your hand and place over filling to cover completely. Can be put back into oven at 300F for 5 minutes to warm topping. Serve warm. If desired, top with lightly sweetened whipped cream or coconut whip.
Enjoy. The whip cream really made this so delicious!


Shared By Farm Share member Danielle
Hope all the colour and freshness makes you hungry for the good your body wants!