Well hello summer! There has been no doubt about what season we are in. Temperatures have been soaring here which means our Jamaican workers are finally comfortable ;). There have been some storm systems rolling by, but we only seem to catch a dusting here or there of rain. We could use a good day or 2 of all day rain, and keeping everything irrigated has been keeping us hopping! Even the sugar snap and snow peas needed a little extra help in the rain department, so we've got our big metal irrigation pipes and sprinklers out, which used to be the only type we had when I first started working for the Eng family. They are not nearly as efficient as the drip-line system and are very laboursome to move, but we need every bit of water we can get right now!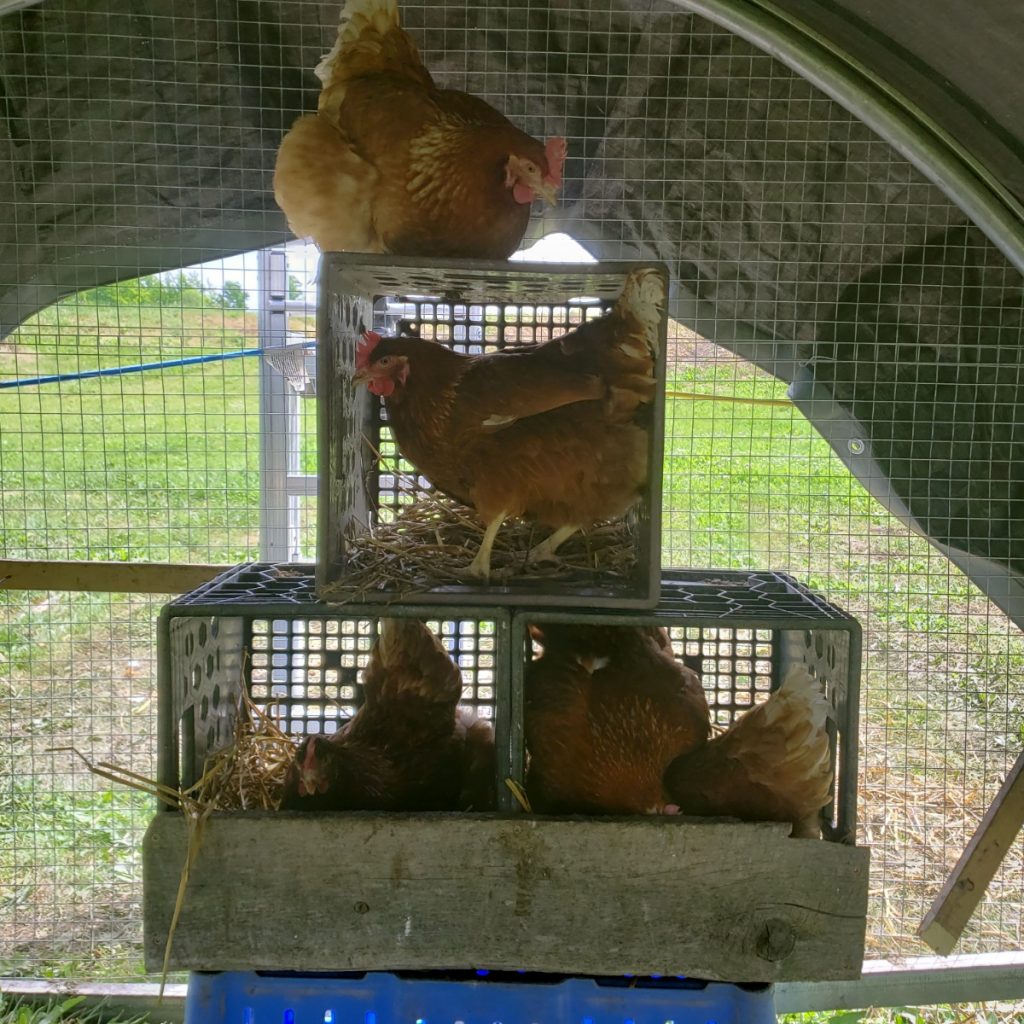 Today I found one of the chicks (now 5 weeks old and getting big), lying on it's back with a leg up, looking half-dead. I was worried about this poor thing, whose bare belly looked like it was going to get burned in the sun. I righted the poor thing and got him drinking some water and he seemed ok again. There chicken tractors always have shade and lots of water, so do not fear. This silly feathered friend just needed a little help and I'm thankful I could come to his rescue.
I just took the one picture of your veggie shares this week thanks to a toddler on my hip who was none too happy after waking up from one of those accidental naps. Such is life and work in the pandemic, eh, parents?! I would encourage you in the words of my dear friend who watched my kids for most of the day to have grace with yourself. Don't set the bar too high, friend! Even I, the veggie lady, have crazy days (ok that seems to be most of them!), and ended up serving store bought jamaican patties for supper, but then of course, salad always has my back when I have like zero time! washed the green leaf lettuce and added a little dressing and I knew I had something decent in my little ones' bellies and mine, even if it's not my ideal.
This week I was hoping for recurrants, zucchini and beets (and strawberries), but they are all a little slow in coming, and likely to show up in next weeks' boxes. Just when I wondered what exactly to replace them with the rainbow swiss chard came to my rescue! We grow seeds with mixed colours of stems and plant them all together in rows. When I harvest, I take a few stalks of red, pink, yellow and white and tie them into a cute and colourful bunch. Here's an easy way to prepare swiss chard by sauteeing with garlic and lemon flavours . If you are cooking for kids who are suspicious of new leafy greens, try chopping them finely and adding to pastas, stir fries, or spaghetti sauce. My parents are big swiss chard fans and all they need is some butter and a sprinkle of salt to devour the stuff! Another great idea is sauteeing and adding some cheese and herbs and stuffing chicken breasts. So delish!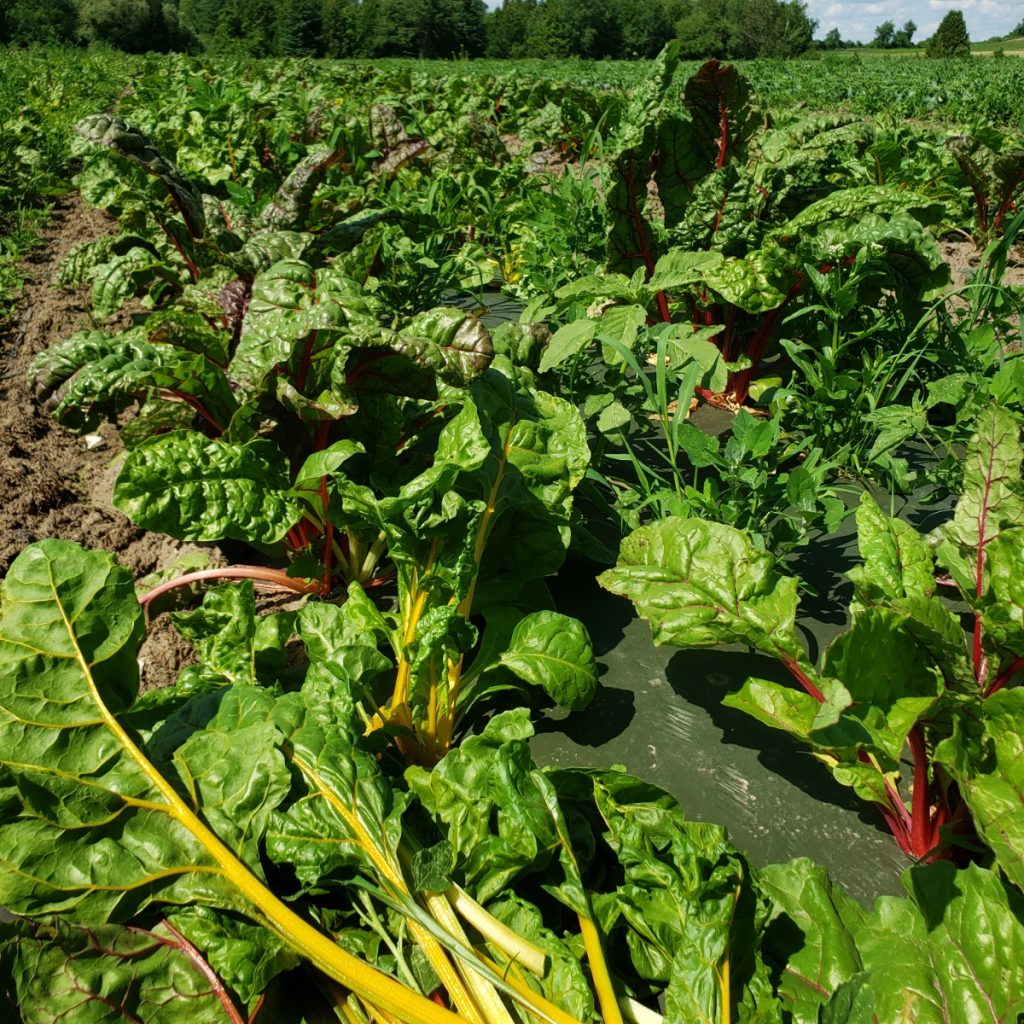 Your Farm Shares this Week: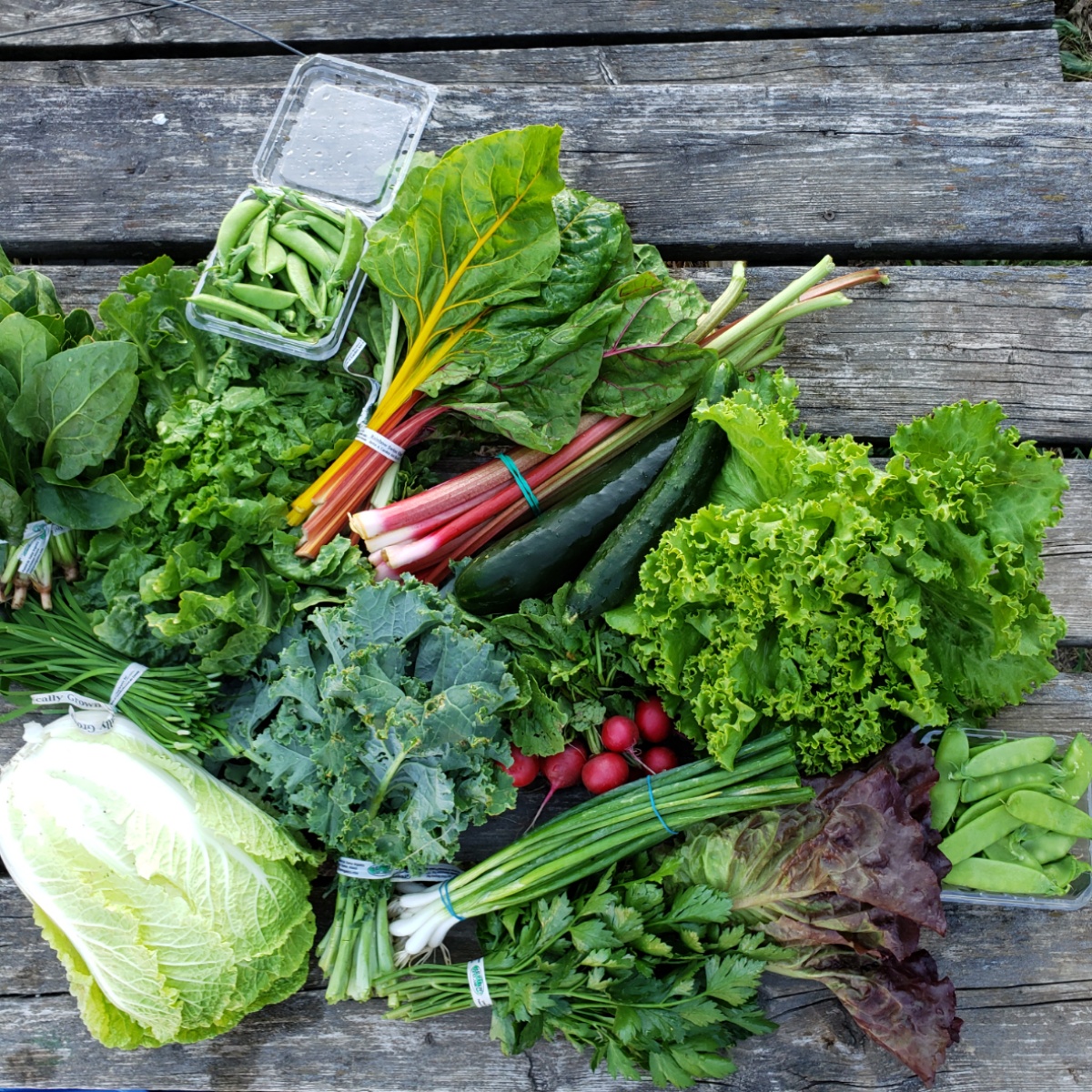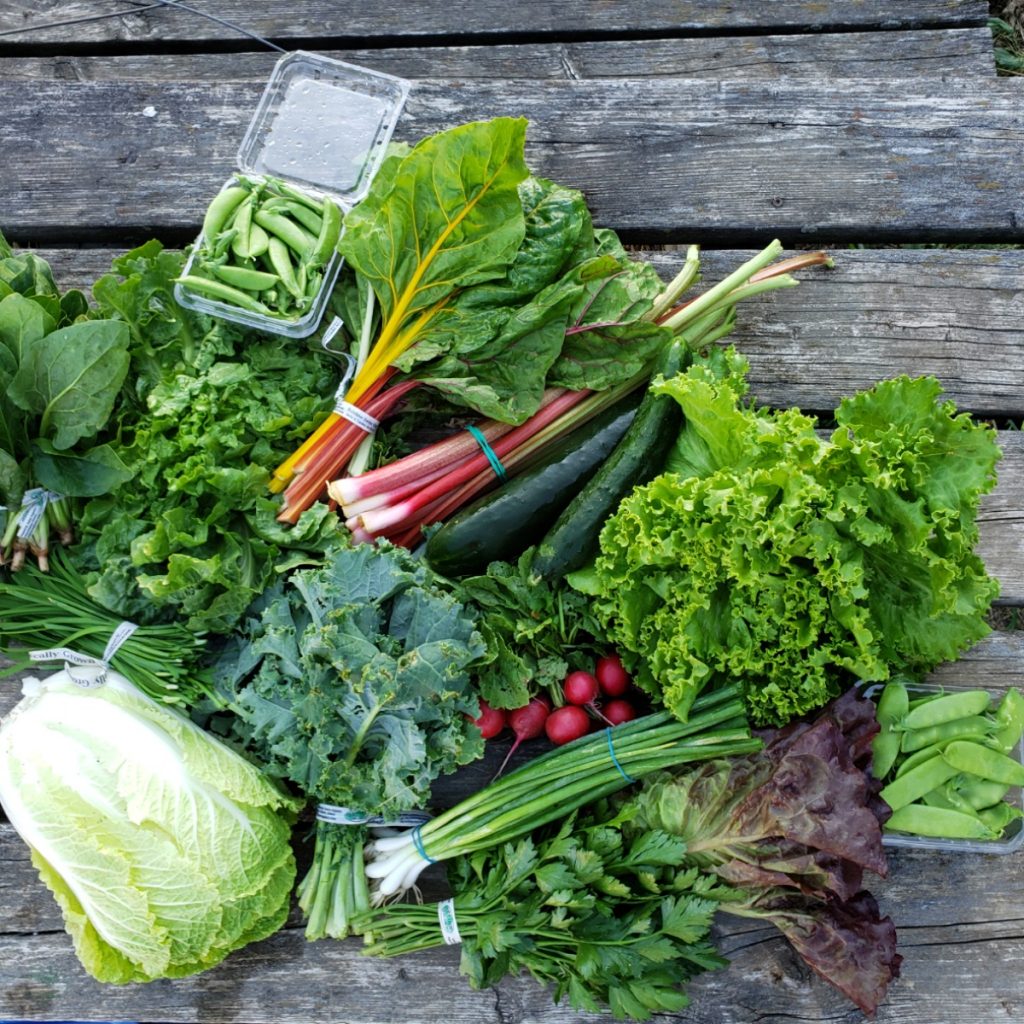 Half Shares:
sugar snap peas (make an awesome snack on their own or with dip)
snow peas (also great alone for snacking or in salads and stir fries- only cook for a couple mins for best results)
rhubarb (see rhubarb crisp recipes below)
radish
spinach
rainbow swiss chard (recipes below)
parsley (recipe below)
cucumber
green leaf lettuce (the best lettuce for burgers and tacos)
red leaf lettuce (adds beautiful colour to garden salads)
Simply Six Shares
sugar snap peas (make an awesome snack on their own or with dip)
snow peas (also great alone for snacking or in salads and stir fries- only cook for a couple mins for best results)
spinach
rainbow swiss chard (recipes below)
cucumber
red leaf lettuce (adds beautiful colour to garden salads)
Whole Shares: Same as half shares with the addition of:
chinese cabbage
green onions
endive (try a Dutch favourite, Stampot, or endive with mashed potatoes) I simply sauteed mine in bacon grease and had alongside my eggs. A nice way to get some greens in at breakfast 🙂
green kale- have you tried kale chips? I like to massage my kale with a little olive oil and top my pizza with it. It crisps up and makes kale chips on your pizza.
garlic chives
Fruit Shares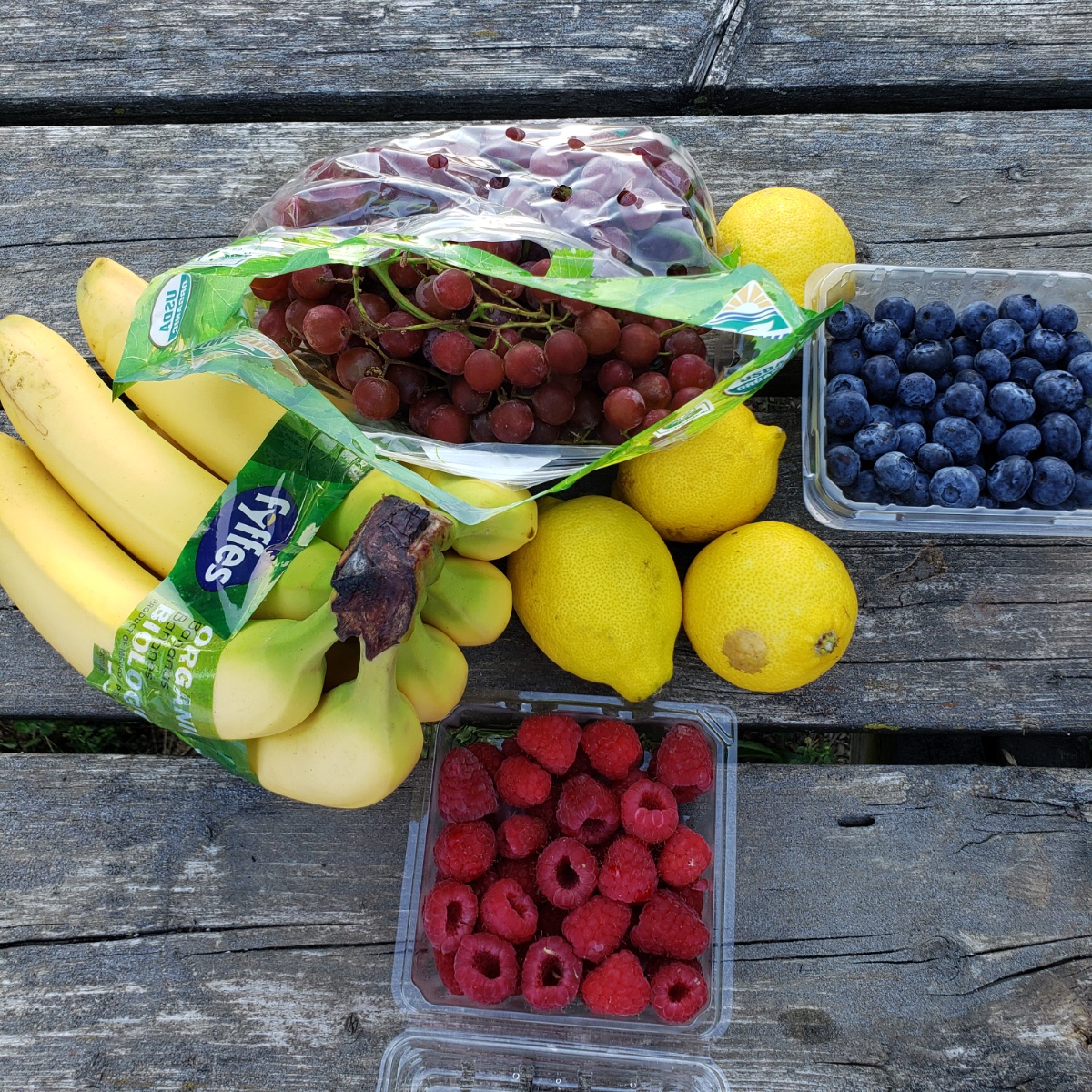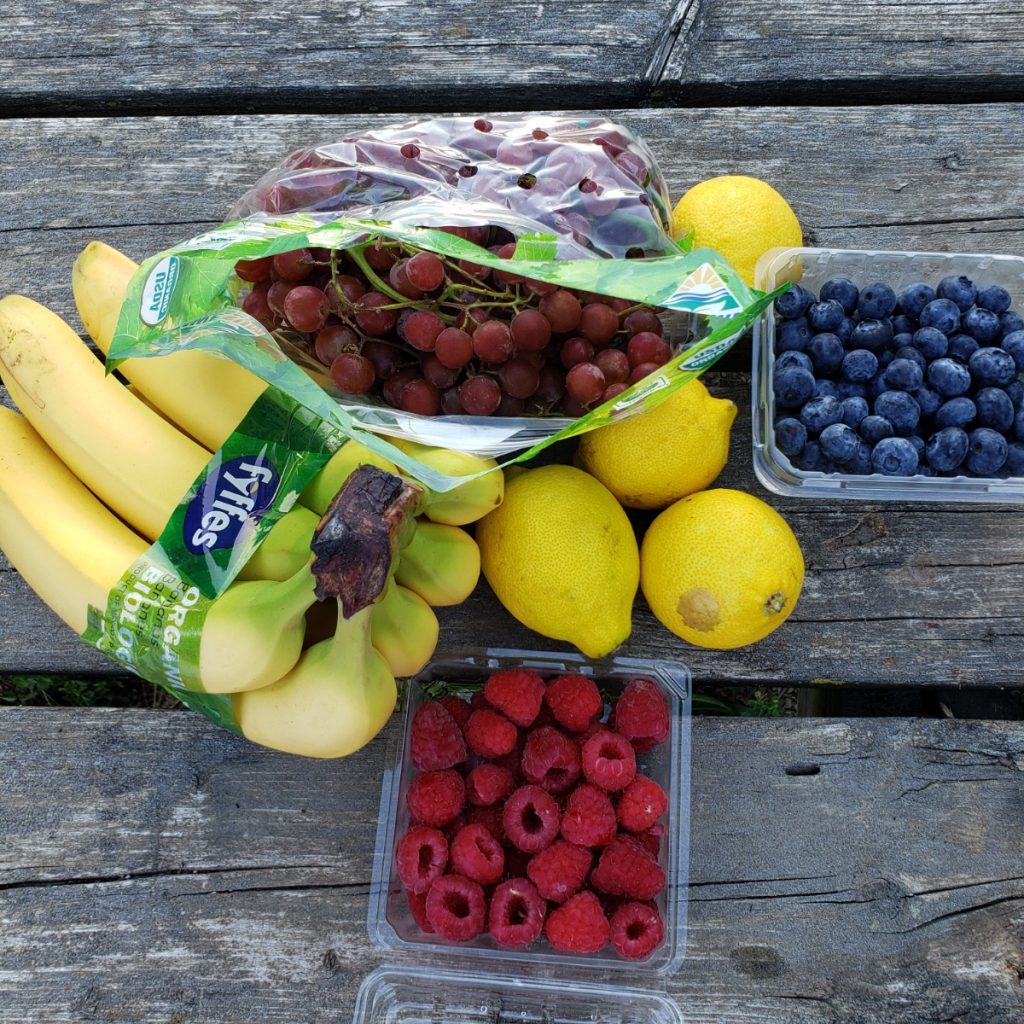 Recipes
Since we are blessed with another crop of rhubarb, I am going to re-share this great keto recipes for rhubarb crisp shared by a customer. There are other ways to sweeten up rhubarb other than white sugar. Here is a traditional recipe for rhubarb crisp if you don't have fancy stuff like xylitol in your cupboard. Are you doing pick your own strawberries? Strawberries and rhubarb are a match made in heaven. I wish we had our own strawberries to send you but our plants are not producing enough to share just yet. We are hoping our ever-bearing strawberries will kick it up a notch soon so you can enjoy them. In the mean time, I hope you can find some nice berries close to home. They have some chemical free ones in Leaskdale at Spring View Farms my farm share packer raves about if you are in the Uxbridge area. Just don't plan to pick on Sunday as they are closed. Here is the Keto Rhubarb crisp recipe:
Keto Rhubarb Crisp

Here is a revised recipe from https://www.ketoconnect.net/rhubarb-crisp-recipe/(I love it because it is just rhubarb, so it's nice and tangy)

Ingredients:CRUMBLE TOPPING:
1 cup almond flour
1/3 cup unsweetened coconut flakes
1/3 cup pecans, chopped
2 tbsp coconut sugar
2 tbsp chia seeds
1 tbsp erythritol or xylitol
1/2 tsp ground cinnamon
pinch of salt
1/3 cup butter or coconut butter, room temperature
1 tsp vanilla extract

RHUBARB FILLING:1/4 cup water2 tbsp chia seeds1 lb rhubarb (about 3-4 cups), cut into 1/2 inch pieces (fresh or thawed from frozen)2 tbsp erythritol 10 drops liquid steviaInstructions:

CRUMBLE TOPPING:For the topping, preheat oven to 275F and line a baking sheet with parchment paper.In a large bowl, whisk together almond flour, shredded coconut, coconut sugar, chia seeds, pecans, erythritol sweetener, cinnamon and salt. In a small bowl, stir together the softened butter and vanilla.Add butter mixture to the almond flour mixture and use a pastry cutter or two knives to blend in until the mixture resembles coarse crumbs. Spread out evenly on prepared baking sheet and pat down with hands to flatten slightly.Bake 10 minutes, then gently stir. Bake another 10-15 minutes, or until golden brown. Remove and let cool completely.RHUBARB FILLING:For the filling, preheat oven to 400F. In a large bowl, combine water and chia seeds and allow to soak for 5-7 minutes. Stir in rhubarb, erythritol sweetener, and stevia extract, tossing to coat.Spread rhubarb mixture into a 9×13 inch glass or ceramic baking dish. Cover tightly with foil and bake 30 to 35 minutes, or until mixture is bubbling and rhubarb is tender.Remove filling from oven and remove foil. Break cooled topping into pieces with your hand and place over filling to cover completely. Can be put back into oven at 300F for 5 minutes to warm topping. Serve warm. If desired, top with lightly sweetened whipped cream or coconut whip.
Enjoy. The whip cream really made this so delicious!
Tabouleh (middle-eastern salad featuring Parsley)
One more recipe for you. Wondering what to do with that big bunch of parsley? Tabouleh is a middle-Eastern salad filled with flavour and vitamins to keep you going all day. It also uses cucumber, mint and green onions but the whites of your leeks if you still have them, finely chopped would do the trick too. Get the recipe here. Serve with falafel if you want to go all out in delicious middle-eastern cuisine!
Ps- I love to see your creations and hear your ideas- and share them. If you have any ideas or new recipe finds you can post them on facebook or email myself and I will share it on the blog. We are in this good food journey together, all!
Wishing you a week of kindness and grace to yourself, that extends out toward others. It's a beautiful thing!