Can you believe that December is here? Normally I am wishing away November, as it is the greyest month of the whole year, but this year was totally different- we got actual sunshine! Even on Sunday, I forced my kiddos to go outside. "Soak up all the vitamin D while you can!" I told them. Seriously I am so thankful for that little bit of sunshine. Now on the farm we are slowly saying goodbye to all the migrant workers. Only 2 will remain after tomorrow, and we are so happy to send them home healthy to their families. I tell them often, "We could seriously not do this without you!". Our workers make a huge sacrifice spending a long time away from their homes to earn a good living for their families and feed us Canadians both on our farm and virtually industry-wide. So if you ate today, thank a farmer, yes, but also thank a migrant worker!
Tonight after a busy day preparing your share boxes on the farm, I served tacos ("a-crap-it's-dinner-time-and-I-haven't starting-cooking-yet") favourite around our house. I kept it pretty simple aside from adding some grated celery root to my taco meat mix (I get those extra vitamins in where I can, folks). I find with kids, you never know whether you will have a tweety bird to dinner or a velociraptor. Tonight we had the velociraptor, so my portion wasn't quite as robust as I would have liked. Enter a good-ol night snack of mango salsa and tortilla chips. We have our own mango salsa made right on the farm with organic mangos. It's sweet and a little tangy, and you can tickle your sweet and salty tastebuds all at once when you pair it with some tortilla chips!
Being home a little more for me means lots more cooking and baking from scratch! I made up this chicken soup I am calling Rainbow Chicken Soup 'cause check out the beautiful rainbow of in season organic veggies it contains! I used a spent hen (laying hen that's not laying well anymore) to make the stock and provide the soup with ample meat, but you could simply used leftover chicken bones and add some meat after if you like. I like to keep bones leftover from roast chickens or even chicken legs in the freezer until I have enough to fill my instant pot. It's nice not to waste the bones as they contain so many nutrients, especially for your gut health, like L-glutamine, which helps repair your intestinal walls! Now aren't you hungry after hearing that?! lol ok so it sounds weird, but it is good for you friends. Of course this soup gets knocked up about 100 levels with the addition of carrots, celery root, savoy cabbage, watermelon radish and baby bokchoy. See Recipe below.
Your Farm Shares This Week:
Regular Organic Veggie Shares:
4lbs red potatoes (Downey Farms, Ontario organic)
1 bunch or 2lbs organic carrots (Zephyr organic or Pfennings organics, Ontario)
1lb watermelon radish (Zephyr Organics)
Brussels sprouts or parsnips (Zephyr Organics/Pfennings)
1 red or savoy cabbage (Zephyr Organics)
1 pie pumpkin (Zephyr Organics)
1lb baby bok choy (Zephyr Organics)
1 bunch green kale (Zephyr Organics)
2lbs rutabaga (Zephyr Organics) – not as bitter as turnip and works great as oven fries!
Family Sized Boxes Get everything above plus:
extra 2lbs potatoes
extra bunch or 1lb of carrots
2lbs beets (Zephyr Organics)
both brussels sprouts and parsnips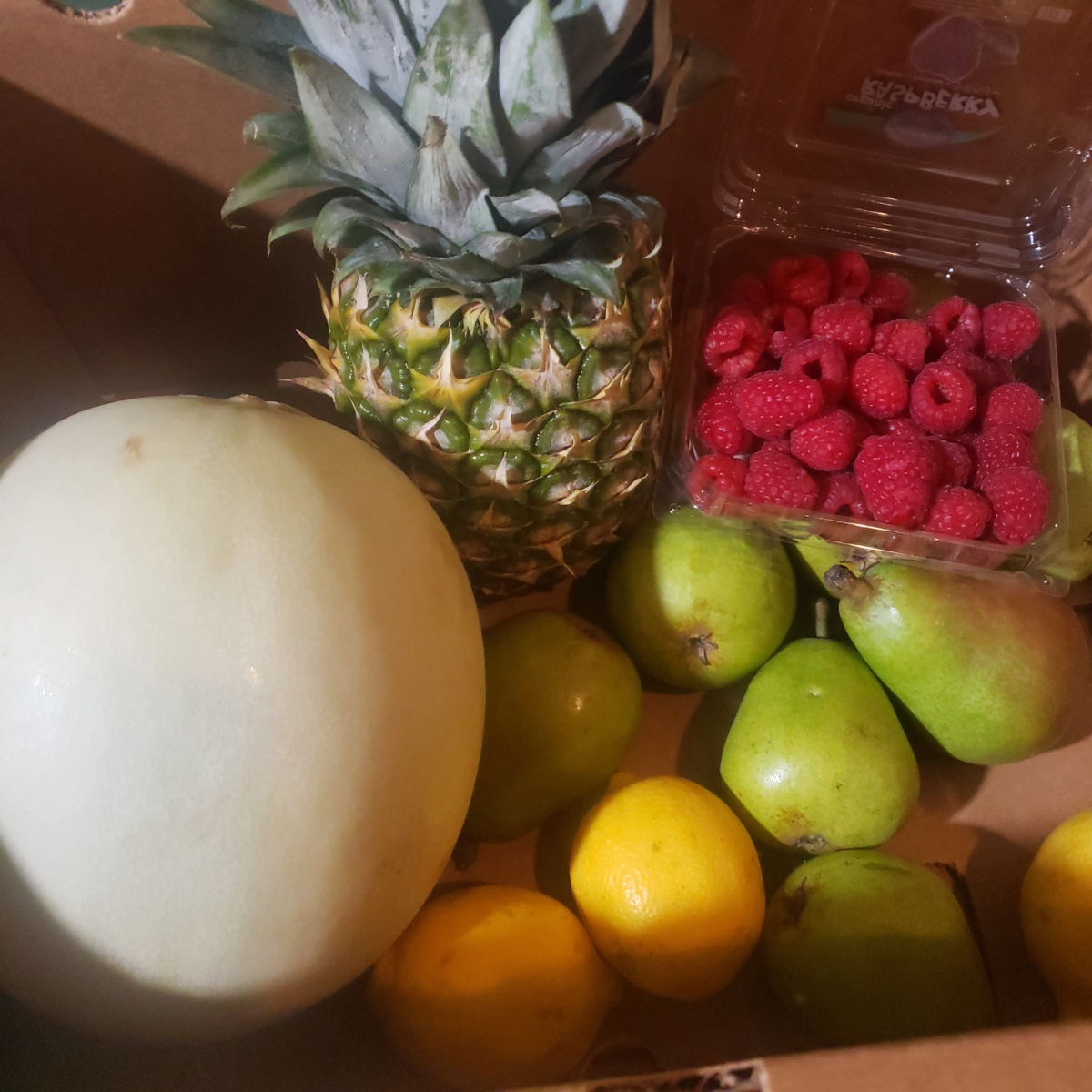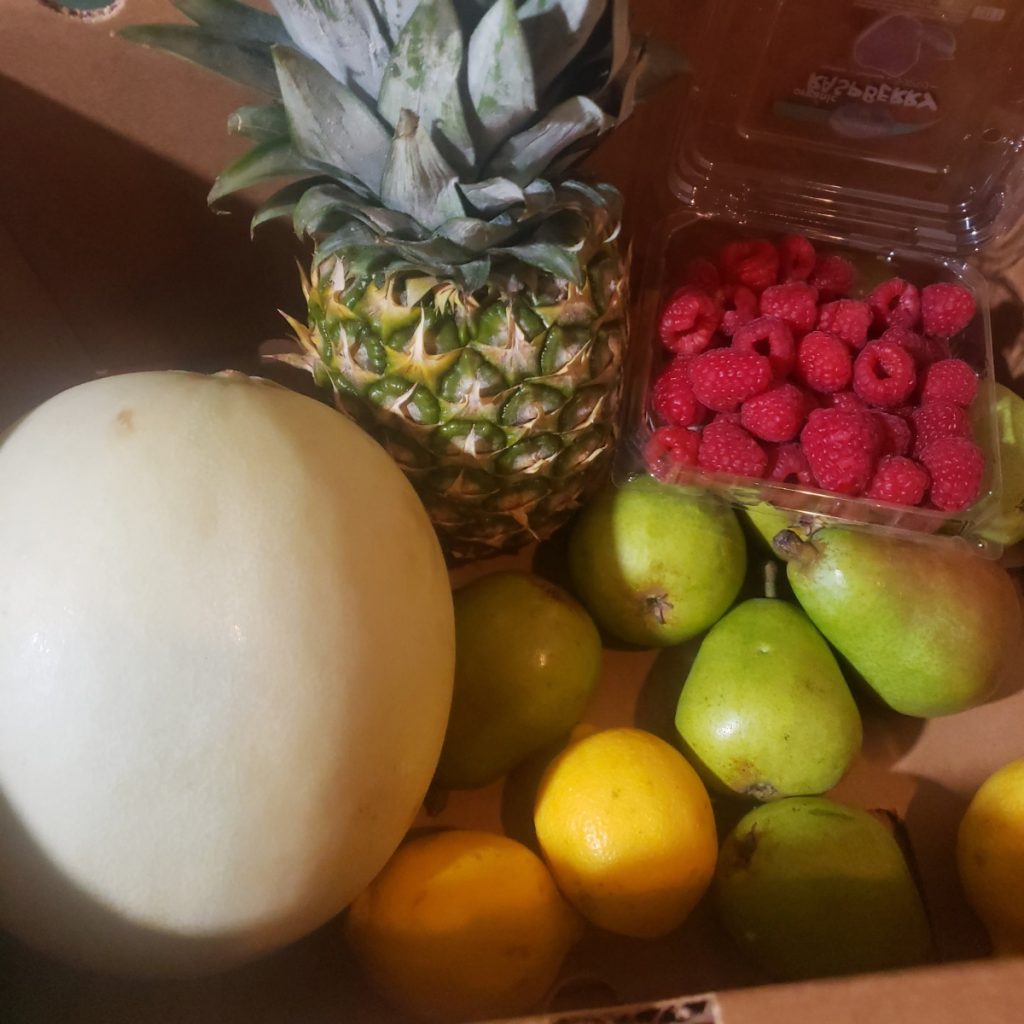 Fruit Shares
1 organic honey dew melon
1 organic pineapple
7 BC organic bartlett or anjou pears
4 organic lemons
1/2 pint organic raspberries
Rainbow Chicken Soup
Ingredients:
1 spent hen or bones/leftover meat from roast chicken
Water to fill instant pot or stock pot to fill line
1 tbsp. apple cider vinegar (helps release the nutrients from the bones)
1 small-medium red onion, peeled and chopped
2 large garlic cloves, peeled and chopped
3 medium carrots, scrubbed clean and chopped
1 cup watermelon radish, peeled and chopped
1 cup celery root, peeled and chopped
1-1.5 cups savoy cabbage, finely chopped
1 head baby bokchoy
1 cup gluten free rotini noodles (or noodle/rice of choice)
thyme, salt and pepper to taste
bay leaf (optional but adds great flavour)
Directions
Lay chicken/bones in instant pot or stock pot so it lays beneath the fill line (I had to cut mine a little to get it to fit)
Fill pot with water and 1 tbsp apple cider vinegar.
Add thyme, salt, pepper and bay leaf if using.
Add finely chopped onion and garlic, sauteeing first if you have the time.
Bring water to the boil on your stove or set instant pot to seal and pressure cook for 40 mins. If cooking on the stove, I would at least simmer it for 2 hours before adding other ingredients (the longer the better for getting the nutrients out of the bones.)
Carefully set the instant pot to quick release and wait until safe to open. Add celery root, watermelon radish, carrots and cabbage and pressure cook for 4 mins. If working on stovetop, add all vegetables except baby bok choy and let simmer until tender on stovetop.
Do another careful quick release on the instant pot and when pressure is released, add noodles and baby bokchoy and cook on sautee until noodles are al dente (as per the package directions). I find especially gluten free noodles can continue to cook and get mushy in the hot soup, so cook them until just tender. On stovetop, simply add the noodles and baby bokchoy and cook till al dente.
Taste and adjust seasoning, and enjoy! My family is a little cray-cray for garlic naan, so us gluten-eaters have some of that with our soup, and my ds who is gluten-free just had a little toast and butter (note to self, learn how to make vegan, gluten free naan!).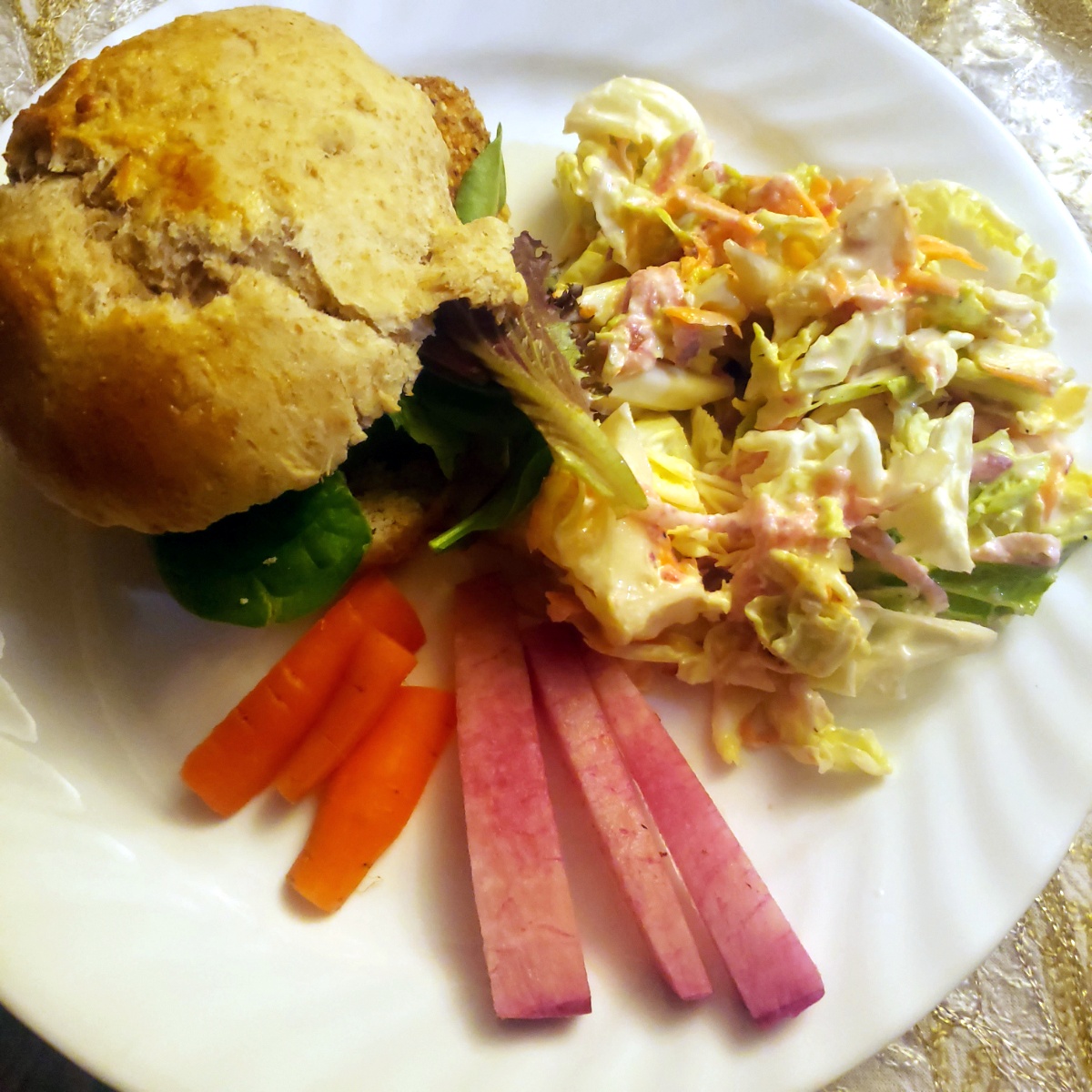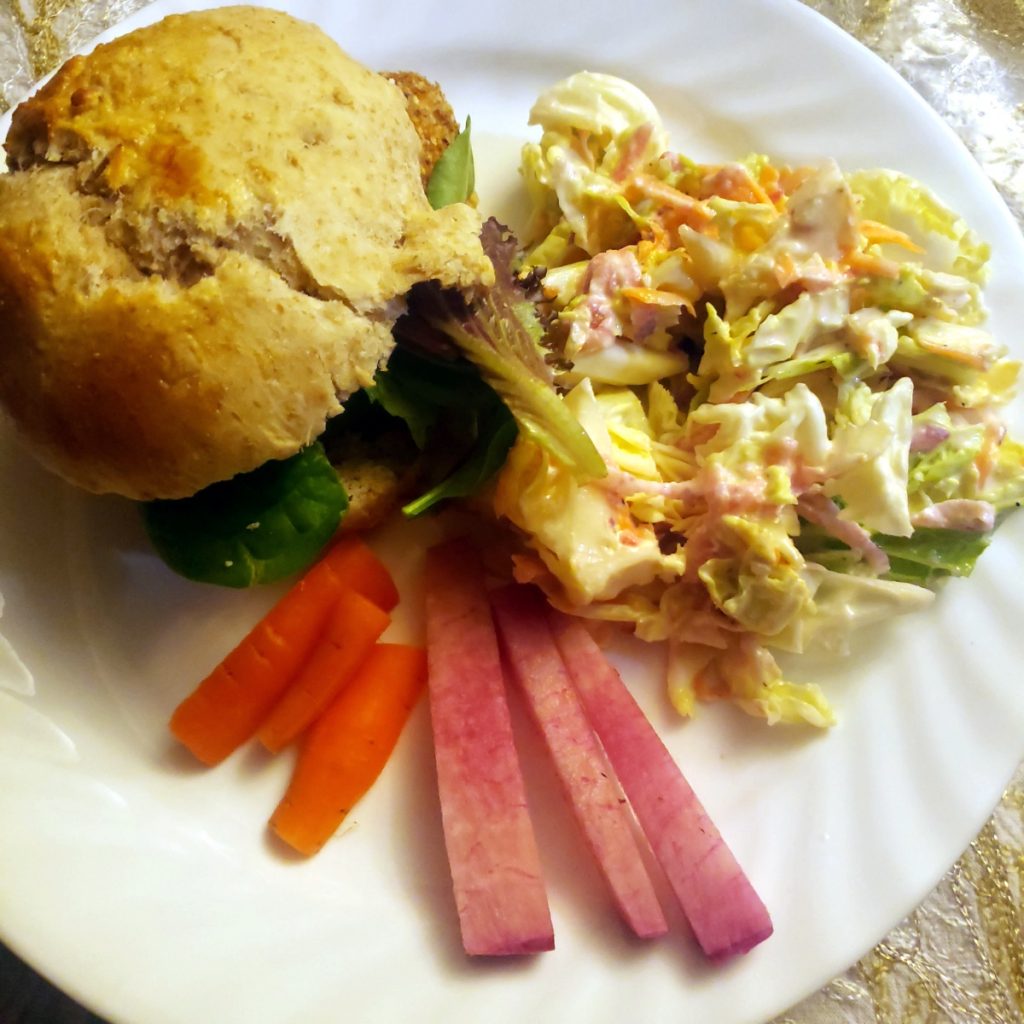 Savoy, Watermelon Radish and Carrot Coleslaw for 3-4
Ingredients
3 cups finely chopped savoy cabbage (I find the savoy doesn't do as well on the grater so I prefer to chop with a knife)
1 cup grated watermelon radish
1-2 large carrots
optional : 1 cup red cabbage
dressing: 1/4 cup italian salad dressing, 3 tbsp. mayonnaise, 1 tsp liquid honey, dash of salt and pepper
Directions
Chop the cabbage, grate the watermelon radish and carrots, and add to mixing bowl (If you want to save dishes, pick a container with a lid for easy cleanup of leftovers).
Mix dressing ingredients in a small bowl and toss in salad. Goes great with homemade chicken burgers (pictured) or fish. Tip: my kids are not into coleslaw yet- I offered them carrot sticks and watermelon radish sticks to snack on. While I haven't sold them on the watermelon radish raw yet, I am giving them the chance to try something new and expand their repertoire, so that's a win in my books :).
Looking for a recipe for those Brussels Sprouts that does not involve bacon? Try this recipe for Roasted Brussels Sprouts with Balsamic Reduction. Even if you don't have all the ingredients, this post gives you great tips on how to perfectly roast your sprouts, which most foodies will tell you is THE way to enjoy brussels sprouts. Enjoy!.