As I write this, friends, York Region is joining Toronto in a lockdown. This means that most of our Farm Share members are currently in a lockdown, right before the holidays. This is tough, especially for the small business owners. Those that have found a way to make curbside pickup work- please think of them as you plan for the holidays. You could be someone's Christmas miracle! I hope you have found a way to bless someone. Sometimes unexpected gifts are the best ones. Is there someone you know that is truly alone during this lockdown? They might not have any kids coming over or even a job to go to (seriously, it's nice to have a way out of the house now and then ;). Even the smallest gift can mean so very much. I am looking forward to having the kids home and doing some simple Christmas baking! I think I'm not the only once since the grocery store was sold out of baking powder! Lucky for me (and maybe you too!), I don't have to cancel all my baking plans because baking powder can be made at home using 3 simple ingredients. Here's the recipe. I found the cream of tartar in with the spices at the grocery store. In my experience, the best way to get out of a rut is through gratitude (actually writing it down or taking pictures of things that make you grateful without that leading to an hour on social media as you post it- lol) and looking outward. If you are feeling low or lonely, chances are someone else is in that spot too. Just a simple phone call with a real live human will give you both a boost, provided of course you keep it positive. It could just be simply. "Hey, I was thinking of you. I'm glad we're friends." Calls like that are gold! If worse comes to worse and they can't pick up, you could leave them a little voicemail pick me up. And of course, there are always little gifts…handmade is even better!
This week I tried making cheesecake bites for the first time. I was going to make cheesecake, but had no idea that people use $15 worth of cream cheese to make a whole cheesecake (like 4 bricks…wow!). Since I had only one extra brick of cream cheese, and had no desire to eat a whole cheesecake among the 4 of us who can eat such things, I discovered this Pumpkin Cheesecake Bites Recipe! It would be a great addition to your holiday menu, or just because, and it is sized just right for those smaller gatherings we are expecting this year. Plus, if you have a pumpkin from us that is just not vibing with your winter decor, this is the right time to eat it up. I used a small pumpkin (probably about 2lbs), which yielded me 1 and a half cups pumpkin puree. This left me a whole cup after making the cheesecake which I used the very next day in pancakes. I just added them to this recipe, which I love- it's a great gluten-free & vegan pancake recipe that always seems to turn out, and the addition of pumpkin and cinnamon (and let's be honest, a few chocolate chips too), just took it up a notch. Please note, I reduced the coconut milk a little as the pumpkin puree added a moisture of its own (maybe about 1/2 cup less milk). Another note, if you get a big pie pumpkin leaving you more puree than you know what to do with, pour the puree into muffin tins and freeze. Then, run a little hot water over the underside (keeping the pumpkin pucks dry), and they will just pop out and can go right into a ziploc in the freezer for future recipes. Note: you might want to do this over a bowl or clean sink, in case they "pop" out when you least expect it ;).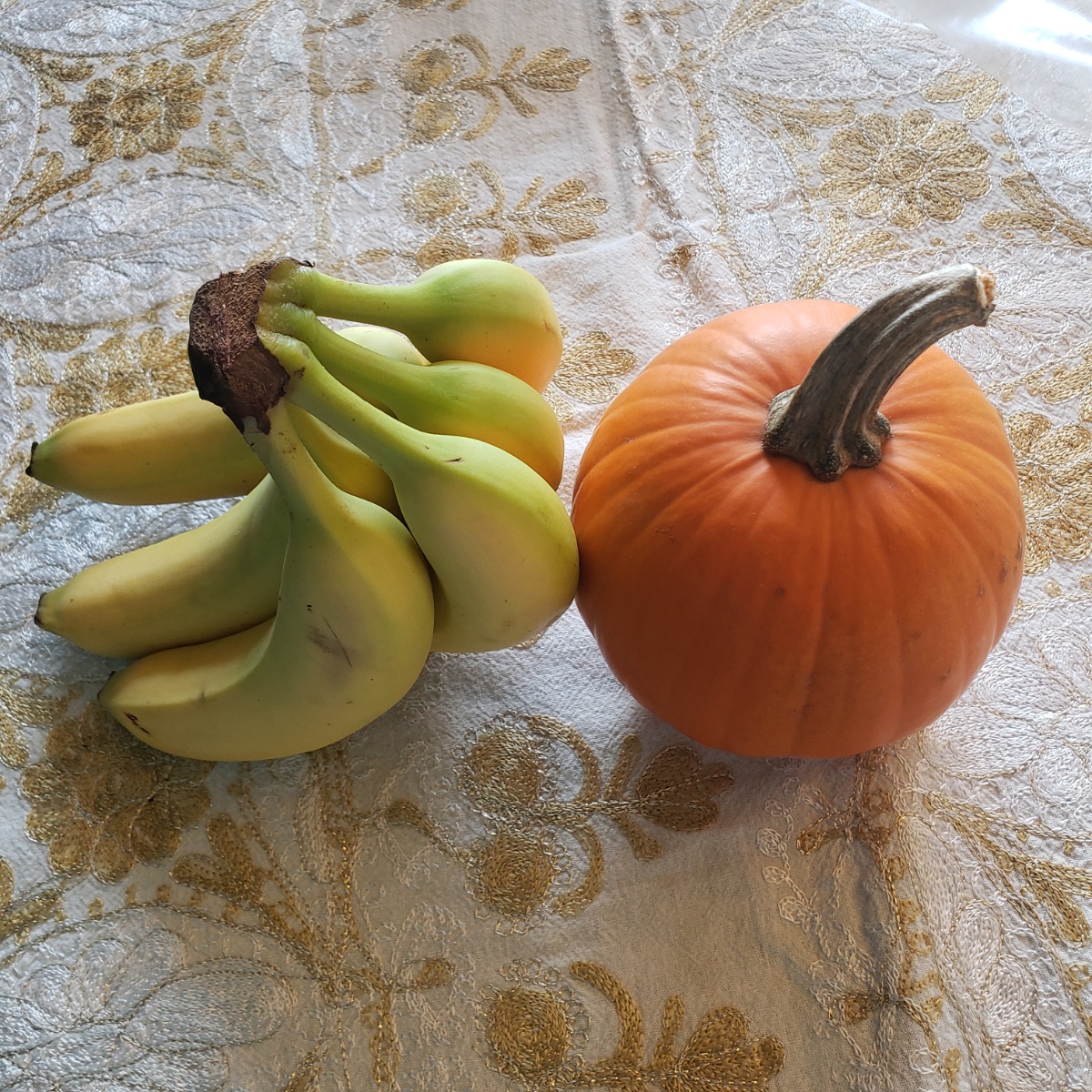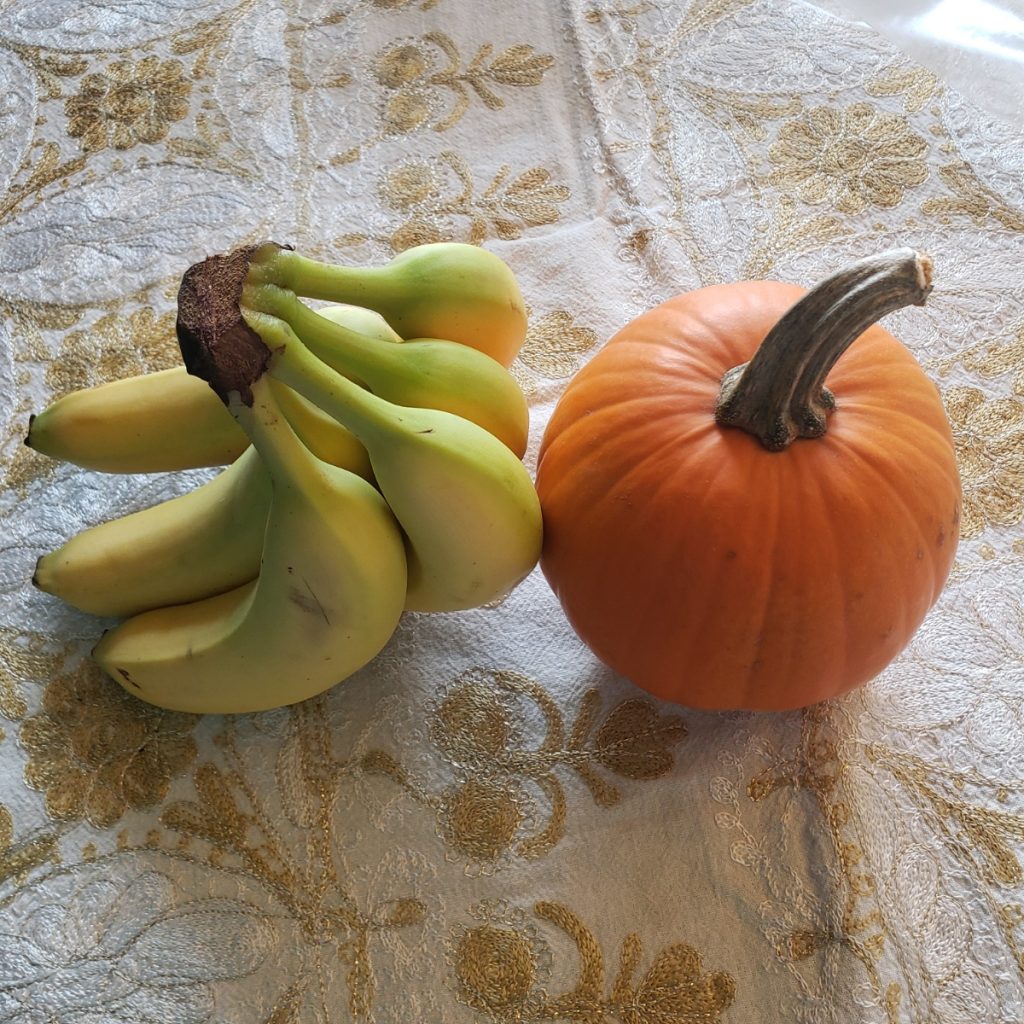 Get the recipe for Mini Pumpkin Cheesecakes here.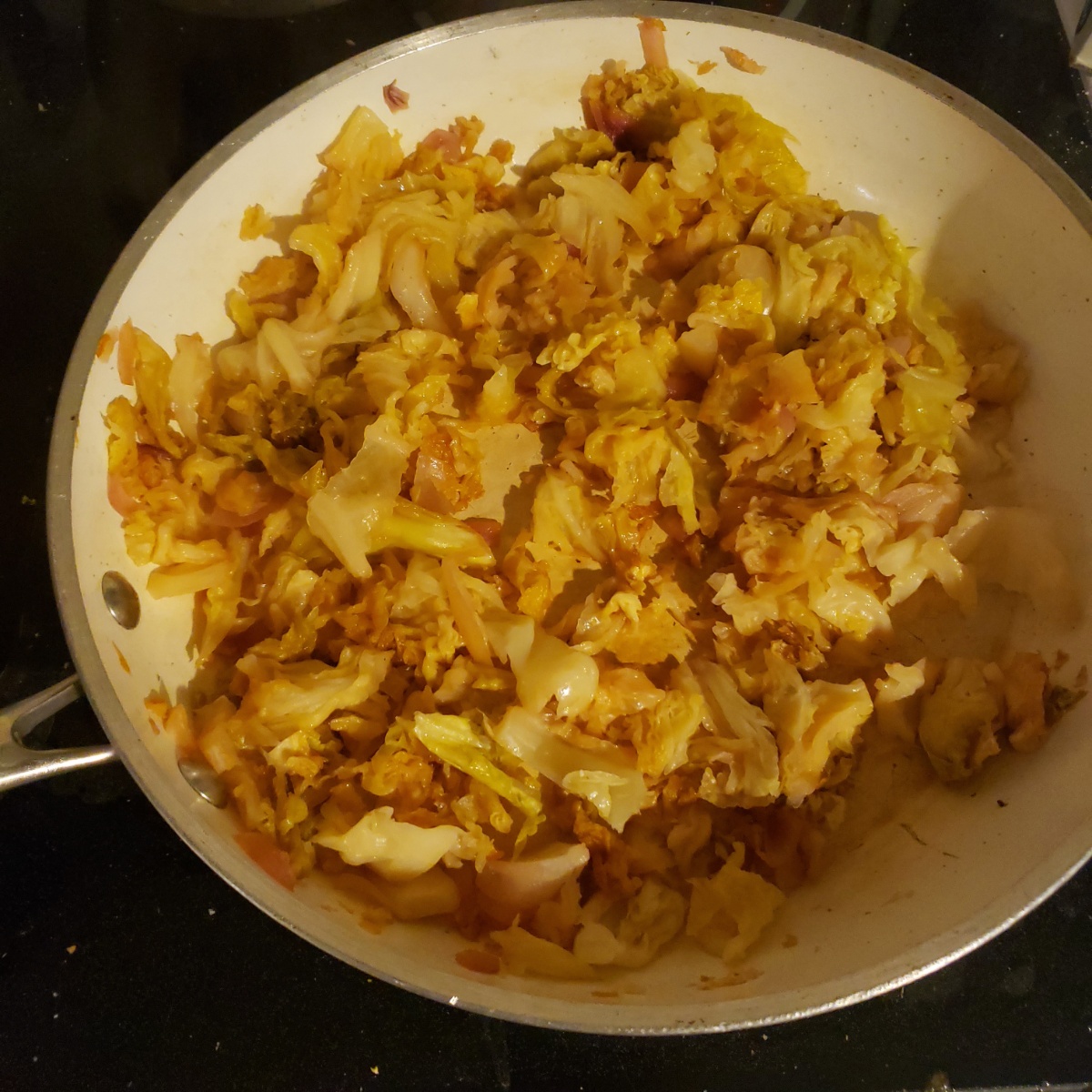 I've got to follow my own advice here and say a big thank you- you have been such solid supporters of our farm that we have reached capacity yet again. I want to serve everyone up our organic produce and eggs, but the reality is I can't. I would rather serve a smaller number well than a larger number just so-so. But I am so thankful that on top of the pandemic, lack of childcare and activities, labour shortages, record-breaking pests and high heat and drought, I did not have to chase down customers. You came and you came with gratitude, and I am so very grateful! Please keep us in the loop if there is anything we can do to serve you better. A simple idea I had was to provide a couple extra stocking stuffers/teacher/neighbour gift options. Spark's Honey Co (right in Mount Albert) makes some beautiful body care products like the Winter Salve (nice rich moisturizing that works well even with sensitive skin) and Peppermint Lip Balm made with their own beeswax. I can take orders up until 4pm tomorrow for delivery, or if you miss the deadline but don't mind the drive, we can also arrange pick up. Just trying to make your life easier with the in-store shopping coming to a halt for many of you. Don't forget that coffee is probably the gift teachers most need this year (Am I right!?) and we have some lovely maples syrup, honey and mango preserves as well. Simple email me and send an etransfer to info@zephyrorganics.com if ordered through the website gives you trouble. 🙂
What's in your bins this week:
Regular Winter Veggie Shares (all items certified organic)
4lbs yellow potatoes (Pennings, Ontario)
2lbs sweet potatoes (Norfolk, Ontario- last of the season!)
1 red or savoy cabbage (Zephyr Organics- last of the season)
2lbs carrots (Pfennings Ontario)
2lbs red beets (Zephyr Organics)
1lb yellow onions (Zephyr/Ontario organic)
1 squash (pepper or pie pumpkin- last of the season)
1lb vine tomatoes (Ontario greenhouse)
1 8oz spring mix (US organic)
Large Veggie Shares (same as above but with the addition of…)
Extra 2lbs potatoes
extra 2lbs carrots
Extra 1lb onions
1 english cucumber (Ontario organic)
Fruit Shares
1 pineapple (Organic)
1 Cantaloupe (Organic)
2lbs clementines (Organic)
2 x 1/2 pint blueberries (organic)
2.5lbs BC organic Gala apples
In conclusion friends, I hope you have a beautiful holiday season, whether you celebrate Christmas, or Hannukah or just enjoy taking a break with your close family, enjoying the natural wonders (look up to the sky over the next few night to see the Geminids meteor shower and then again on Dec 21st to see Jupiter and Saturn align in the sky and make a "Christmas Star". These are rare and special events to behold. Lots of neighborhoods have beautiful light displays to drive or walk through. Holiday tunes can boost your moods…baking, especially with a buddy or to give as a gift, getting off social media and making a real live phone call or having a zoom meeting (online video conversation hosting site). Freeze your butt off and make a snowman or sled down a hill. Who cares if you are a grown-up – grown-ups need fun too! We're not going to be shut in forever folks. We still have much to be grateful for. Help a friend get through this too. We can still have a beautiful Holiday Season together. All we need is love. Merry Christmas and Happy Holidays from the Engs and those few brave souls still working on these chilly days!