I hope you all enjoyed the yummy produce that you got last week in your boxes-I know we have! We enjoyed steaks from the farm (Howards Farm in Newmarket is where we get our meat/fish)with baked potatoes and grilled asparagus-it was a wonderful way to welcome in the warm weather that we had last weekend.
As promised-this weeks recipe is a bit more adventurous than last weeks.  Last night I made pitas  and soup (sauteed onions-mushrooms-jerusalem artichokes in a pan and then added chopped cooked bacon and smoked chicken breast-and lastly throwing in chopped bok choy and spinach) we had it with sour cream and another sauce that we get at costco and a little cheese.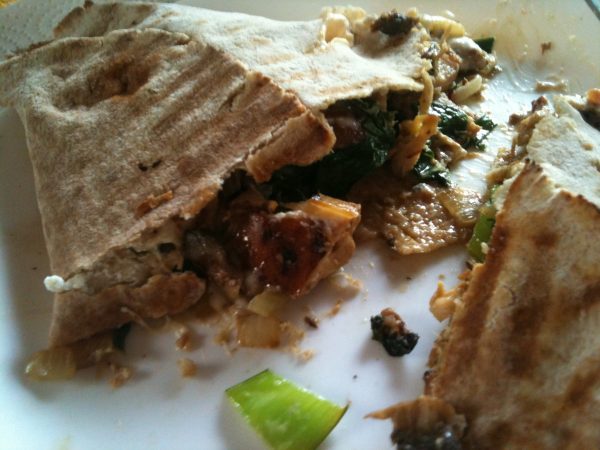 The receipe I am sharing is a parsnip and carrot soup.  I found it on a lovely blog.  http://www.eatingbirdfood.com/2012/11/amazing-carrot-and-parsnip-soup/
Now I will I couldn't find miso paste so I had to omit that-I also forgot the shallots and didn't do the garnish.  Overall it came out pretty well but for me-it had too much cumin-so next go I'll reduce it by half.
It uses a ton of stuff that you'll be getting in your box-including fresh sage.
Here is what you can expect to see in your boxes this week-enjoy!
Half Share
-baby bok choy
-asparagus
-basil pots
-green leaf lettuce
-kale
-jerusalem artichokes
-rhubarb
-red leaf lettuce
-radish
-double asparagus
Whole shares: same as above but also with:
-leeks
-parsnips
-big bok choy
-garlic chives
-sage
Amazing Carrot and Parsnip Soup (credit to Brittany Mullins-Eating Bird Food)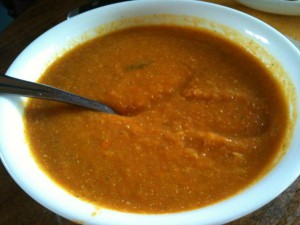 Ingredients
1 Tablespoon coconut oil
1 onion, chopped
1 shallot, chopped finely
1 teaspoon minced garlic
1 lb. carrots, peeled and chopped
½ lb. parsnips, peeled and chopped
5 cups of vegetable broth or water
⅓ cup uncooked quinoa, rinsed and drained
1 teaspoon fresh thyme
3 fresh sage leaves, finely chopped
1 teaspoon cumin
¼ teaspoon turmeric
sprinkle of cayenne pepper
ground black pepper, to taste
1 Tablespoon miso paste, dissolved in 1 Tablespoon warm water
sea salt, to taste
scallions, as garnish
1 ounce gruyere cheese (optional)
Instructions
In a large stock pot, heat coconut oil on medium heat. Place onion, shallot and garlic into the pot and sauté for about five to seven minutes or until onions are translucent.
Add herbs and spices (thyme, sage, cumin, turmeric, cayenne pepper and ground pepper) to the pot and stir.
Add chopped carrots, parsnip and quinoa to the pot. Pour in vegetable broth or water. Bring mixture to a boil. Reduce to simmer and cook for about 20-40 minutes until veggies are tender.
Remove from heat and let stand 3-5 minutes until cooled slightly. Using an immersion blender, blend the contents of the pot until a smooth even consistency is reached. If you don't have an immersion blender, you can blend the soup in your blender in small batches.
Dissolve miso in warm water and stir into the soup. Miso gives the soup a wonderful flavor but if you don't have miso, simply season the soup with a little sea salt.
Serve immediately garnished with scallions and shredded gruyere cheese. Enjoy!