The heat is here! And that means the growth of many items is accelerated. We are harvesting the asparagus and cucumbers every second day now. Any longer and we would risk letting the asparagus get seedy and the cucumbers get too large. With this combo of heat and rain, the strawberries, redcurrants and peas should be ready soon!
New this week we have cucumbers and mint. They happen to be wonderful- together! See below for a couple super simple ways to enjoy this pair.
More farm share members have been joining up these last couple weeks and we have an abundance of veggies to accommodate them- so if you know anyone that would love our csa, feel free to send them our way! Having trouble identifying items in your box? Many items are listed with pictures in our online store. https://zephyrorganics.com/custom-orders/
Half Shares
Whole Shares (same as above with the addition of)
leeks
2nd asparagus
collard greens (makes an easy low carb, gluten-free wrap!)
oregano (savory herb excellent in Italian and Greek foods)
turnip greens
Recipes
Cucumber-Mint Water
(makes one 2L pitcher)
Directions.
Fill 2L jug with filtered water. Add 1/3 of a cucumber and 8-10 large leaves of mint to jug. Let sit for a few hours for flavours to mix. Enjoy the refreshing taste!
Refreshing Cucumber Salad
Serves 2-3 as side. Kid-friendly recipe.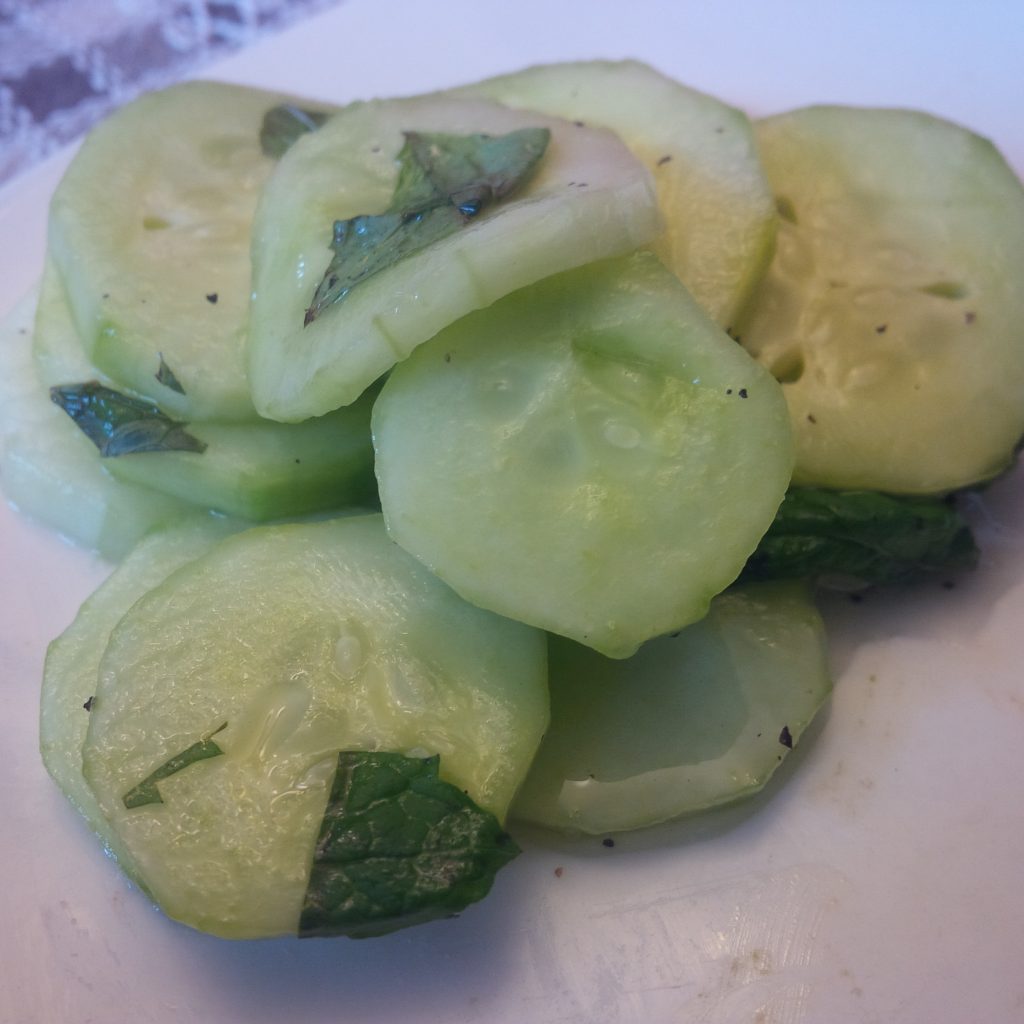 Ingredients
1lb cucumber (1 large or 2 smaller)
1 1/2 tbsp. chopped mint (I used kitchen scissors- so easy!)
1 1/2 tbsp. honey
3 tbsp. white vinegar
salt and pepper to taste
Directions
Peel and chop cucumber and wash and chop mint.
Add all ingredients to a medium bowl and mix. Let refrigerate for 1 or more hours. Enjoy!
Rhubarb-Blueberry Syrup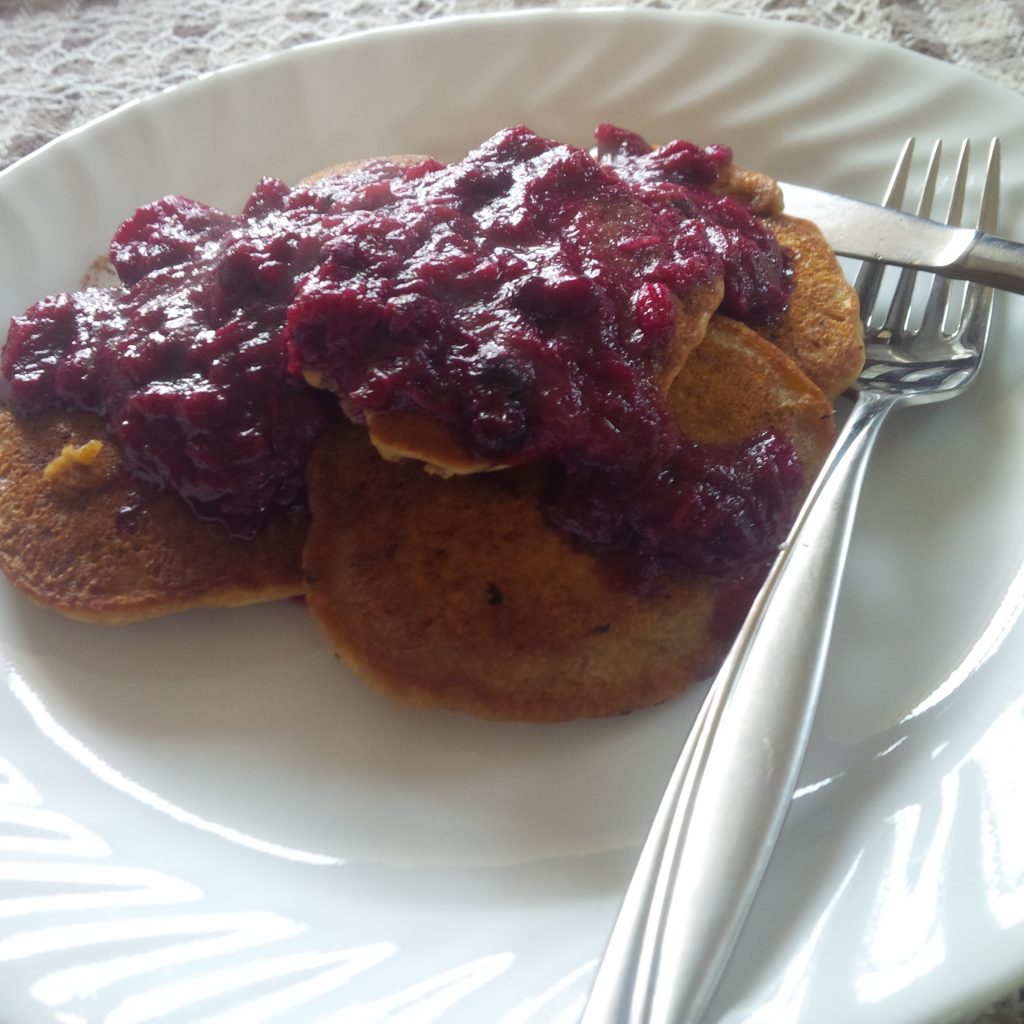 This recipe was born out of necessity when (gasp) we ran out of syrup on pancake day. I have a great gluten, dairy and egg free (and other allergen free) pancake recipe if anyone has been searching for such. This syrup was tasty with pancakes and great with yogurt the next day.
Ingredients
2 medium stalks rhubarb
1 cup blueberries (frozen)
4 tbsp. water
1/2 cup white or coconut sugar (or to taste- I am trying to remember the exact measure)
1 tsp. lemon juice
Directions
Wash and chop rhubarb. Add to small pot with lemon juice, water and sugar.
Heat on med-high until it comes to a boil. Lower heat to med-low and simmer until thickened.
Add blueberries and continue to cook and stir until blueberries are soft and cooked.
Enjoy hot with pancakes or chilled on yogurt!
Remember to keep hydrated this week as the temperatures climb!
I hope you all enjoyed the yummy produce that you got last week in your boxes-I know we have! We enjoyed steaks from the farm (Howards Farm in Newmarket is where we get our meat/fish)with baked potatoes and grilled asparagus-it was a wonderful way to welcome in the warm weather that we had last weekend.
As promised-this weeks recipe is a bit more adventurous than last weeks.  Last night I made pitas  and soup (sauteed onions-mushrooms-jerusalem artichokes in a pan and then added chopped cooked bacon and smoked chicken breast-and lastly throwing in chopped bok choy and spinach) we had it with sour cream and another sauce that we get at costco and a little cheese.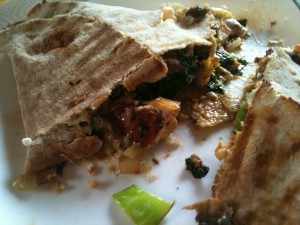 The receipe I am sharing is a parsnip and carrot soup.  I found it on a lovely blog.  http://www.eatingbirdfood.com/2012/11/amazing-carrot-and-parsnip-soup/
Now I will I couldn't find miso paste so I had to omit that-I also forgot the shallots and didn't do the garnish.  Overall it came out pretty well but for me-it had too much cumin-so next go I'll reduce it by half.
It uses a ton of stuff that you'll be getting in your box-including fresh sage.
Here is what you can expect to see in your boxes this week-enjoy!
Half Share
-baby bok choy
-asparagus
-basil pots
-green leaf lettuce
-kale
-jerusalem artichokes
-rhubarb
-red leaf lettuce
-radish
-double asparagus
Whole shares: same as above but also with:
-leeks
-parsnips
-big bok choy
-garlic chives
-sage
Amazing Carrot and Parsnip Soup (credit to Brittany Mullins-Eating Bird Food)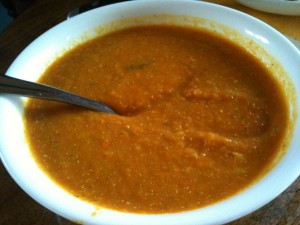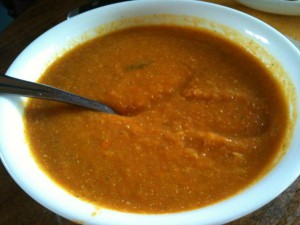 Ingredients
1 Tablespoon coconut oil
1 onion, chopped
1 shallot, chopped finely
1 teaspoon minced garlic
1 lb. carrots, peeled and chopped
½ lb. parsnips, peeled and chopped
5 cups of vegetable broth or water
⅓ cup uncooked quinoa, rinsed and drained
1 teaspoon fresh thyme
3 fresh sage leaves, finely chopped
1 teaspoon cumin
¼ teaspoon turmeric
sprinkle of cayenne pepper
ground black pepper, to taste
1 Tablespoon miso paste, dissolved in 1 Tablespoon warm water
sea salt, to taste
scallions, as garnish
1 ounce gruyere cheese (optional)
Instructions
In a large stock pot, heat coconut oil on medium heat. Place onion, shallot and garlic into the pot and sauté for about five to seven minutes or until onions are translucent.
Add herbs and spices (thyme, sage, cumin, turmeric, cayenne pepper and ground pepper) to the pot and stir.
Add chopped carrots, parsnip and quinoa to the pot. Pour in vegetable broth or water. Bring mixture to a boil. Reduce to simmer and cook for about 20-40 minutes until veggies are tender.
Remove from heat and let stand 3-5 minutes until cooled slightly. Using an immersion blender, blend the contents of the pot until a smooth even consistency is reached. If you don't have an immersion blender, you can blend the soup in your blender in small batches.
Dissolve miso in warm water and stir into the soup. Miso gives the soup a wonderful flavor but if you don't have miso, simply season the soup with a little sea salt.
Serve immediately garnished with scallions and shredded gruyere cheese. Enjoy!
Good day to you all!
Apologies for the delay in posting this entry, I was travelling yesterday and that storm we had made for a tricky flight into Toronto. We were bounced around until they decided we couldn't land and then re-routed to Buffalo. A very long and nerve-wracking jaunt!
But back to the boxes! Here are the contents for this week (which many of you know by now) and a great recipe from one of our farm share subscribers, thanks Danielle! I love the idea of making break with rhubarb, so different.
You can also find some great (and quick to make) salad dressings over on the Canadian Living website — I love trying new ones and they are a great way to jazz up your leafy greens.  My salad "formula" is to mix up the greens, pick one type of nut, one type of fruit, one type of cheese and several crunchy veggies and toss them all together with a complementary dressing.  Easy peasy!
Half Share
-green leaf lettuce
-romaine lettuce
-baby bok choy
-black kale
-strawberries
-carrots
-mini onions
-garlic scapes
-asparagus
-radishes
Whole Share
-green leaf lettuce
-romaine lettuce
-baby bok choy
-black kale
-strawberries
-carrots
-mini onions
-garlic scapes
-asparagus
-radishes
-red kale
-chinese cabbage
-curly parsley
-extra strawberries
-rhubarb
-red swiss chard
Ingredients:
2-1/4 cups unbleached all-purpose flour
1 cup whole-wheat flour
1 teaspoon baking soda
1 teaspoon baking powder
1/2 teaspoon salt
2 teaspoon ground cinnamon
1/2 teaspoon ground nutmeg
1/2 teaspoon ground allspice
2 eggs
1 cup low-fat buttermilk
1 cup packed brown sugar
1/2 cup applesauce
2 teaspoons vanilla extract
2 cups finely chopped rhubarb
1/4 cup chopped walnuts, toasted
TOPPING:
2 teaspoons butter
1/4 cup chopped walnuts, toasted
1/3 cup packed brown sugar
Directions:
Preheat the oven to 350 degrees. Coat two standard-size loaf pans with nonstick cooking spray and set aside.
Combine the all-purpose flour, whole-wheat flour, baking soda, baking powder, salt, cinnamon, nutmeg and allspice in a bowl and set aside.
In another bowl, beat the eggs, buttermilk, brown sugar, applesauce and vanilla. Add the dry ingredients all at once, and stir until just moistened. Do not over mix. Stir in the rhubarb and walnuts. Spoon the batter into the prepared pans.
To make the topping, mix together the butter, walnuts and brown sugar. Spread evenly over the top of both loaves. Bake in the preheated oven for about 50 minutes, or until a sharp knife inserted into the center comes out clean.
Recipe makes 24 servings.
Each serving contains approximately:
126 calories, 3 grams fat, 17 milligrams cholesterol, 140 milligrams sodium, 23 grams carbohydrates, 3 grams protein and 1 gram fiber.
I hope you enjoy it, I'm going to try it the next time we have rhubarb in the bins!