Hi everyone! I (Jennifer) wanted to wake up the blog to provide you with an update from the farm and share a recipe that I think just about everyone will enjoy.
My family and I had the privilege of travelling to central Florida to meet up with some farms we will be shipping produce to in the summer months, when Florida is just too hot to grow certain crops. Along the way we got to pick oranges right from the trees (which I was so excited about), and visit lots of friends and family in Florida and all over Virginia. Road tripping with the family, even *gasp* without a dvd player, went surprisingly well aside from the extra stops we made for our 4 1/2 year old and 2 1/2 year olds' smaller bladders. We spent most of our trip visiting with people we wished lived a whole lot closer, and taking in the scenery, city by city. We even took a dip in the chilly Atlantic at Daytona Beach!
We also continued our education and planning efforts (one major thing we like to do this time of year) at the Ontario Fruit and Vegetable Growers Conference in Niagara Falls, which is always a great opportunity to learn something and face to face with other growers and people in the agriculture industry.
While on our trip, our son was on an elimination diet of about 12 foods that his body was not processing. What a challenge! Gluten and dairy free seems so simple now by comparison. One of the most difficult foods to avoid was brewer's yeast, which is in beer of course, but also used for flavour in so many foods including broth and in anything with vinegar (just about all condiments). I know you will tell me to make my own, but I don't often have whole chickens or bone-on beef to make my own broth, therefore this is something I normally buy in the carton. I could not find a single brand without yeast! I was also instructed to load up my son with extra dark leafy greens.
Enter this soup from "www.gimmesomeoven.com", which gets much of its flavour from tomatoes, which I was lucky enough to have still frozen from the summer. I managed to pack in a whole bunch of green swiss chard in here. You can also find this recipe on our pinterest page: https://www.pinterest.com/zephyrfarmshare/ .
Tomato Basil Chicken Stew
Serves 4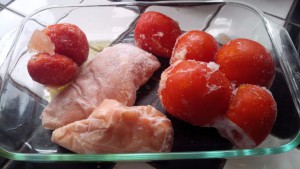 I wasn't quite organized enough to have everything defrosted so I put the chicken and tomatoes together as the oven warmed up with a little olive oil, covered with tin foil and baked about an hour and 20 mins at 375 degrees.
Ingredients
1 Tbsp. olive oil
1 small white onion, chopped
2 carrots, peeled and diced
2 stalks of celery, diced
4 cloves garlic
6 assorted whole tomatoes, roasted
1 (14 oz.) can cannelini beans (I used chickpeas due to a food sensitivity)
1 can water (or as needed)
3 cups shredded cooked chicken
1 bunch green swiss chard, main stems removed
¼ cup roughly chopped fresh basil (or dried to taste)
1 tsp. salt
½ tsp. black pepper
¼ tsp. crushed red pepper flakes
Directions
Heat oil in a large stockpot over medium-high heat. Add onion, carrots and celery. Saute for 7 minutes, stirring occasionally, until the onion is soft and translucent. Add garlic and sauté for an additional minute or two until fragrant.
Add in remaining ingredients, and stir to combine. Use a long spoon to crush the tomatoes. Bring to a boil, then reduce heat to medium-low and simmer partially-covered for 10 minutes. Season with additional salt and pepper if needed.
Serve with freshly-grated Parmesan cheese.
Hope this stew warms you up as we wait for spring and that you are having some adventures of your own.
Jennifer