Hello from the dusty fields of Zephyr Organics! The high heat and dryness continues and we find ourselves praying for rain often (while of course busting our butts to keep everything watered). We have many ways of keeping the plants rolling along, but eventually we will need to receive the rain itself. Even lightning has the function of adding nitrogen to the fields to help plants grow. So join us in praying for that rain! And maybe celebrate with us too when it comes. I think some dancing would be most appropriate :).
All this heat has ripened up the redcurrants to perfection. These tart little berries might not be your go-to snack, but they sure are worth getting to know for their immune-boosting, heart-healthy vitamins and minerals. They also offer a great source of fibre, iron, Vitamin K and are loaded with vitamin C that will enhance your skin. So what to do with them, you ask? I enjoy them raw with some dark chocolate or over some vanilla ice cream. These yogurt cakes look amazing- I can't wait to try the currants in this recipe. 2 Other simple options are adding them to smoothies or adding some colour and flavour to salads.
Keeping it fresh. Does your produce last you a long time? Or is it looking kind of sad and wilty after a day or 2? A little know how can keep most items fresh for weeks- that's right- WEEKS!
Here is a blog post you can have a look at: https://zephyrorganics.com/tips-for-keeping-veggies-fresh/
Your items are harvested for you very fresh, most items look wilty or start to spoil as they lose moisture. Most veggies prefer your crisper drawer and like to be kept in produce bags or containers (even a ziploc will do – I often leave one one end a little open for ventilation). Hope this helps! Also, root items that come with the greens (ie radish or beets) should be separated roots from greens. With radish you can just discard and beets they have nice cooking greens.  If you have produce looking a little tired, most items will perk up nicely in a cold water soak in the sink. 
Hope this helps! Keep your veggies cool, keep the moisture in, and they will be looking good for a while. I was pretty blown away when a farm share in the cooler all of 2 weeks old still looked pretty darned good! Our cooler is kept about 2 degrees Celsius and the closed environment of the farm share bin was well appreciated by the veggies. The only exception is the cucumber and zucchini don't like it too wet. Hope this info helps you keep it fresh!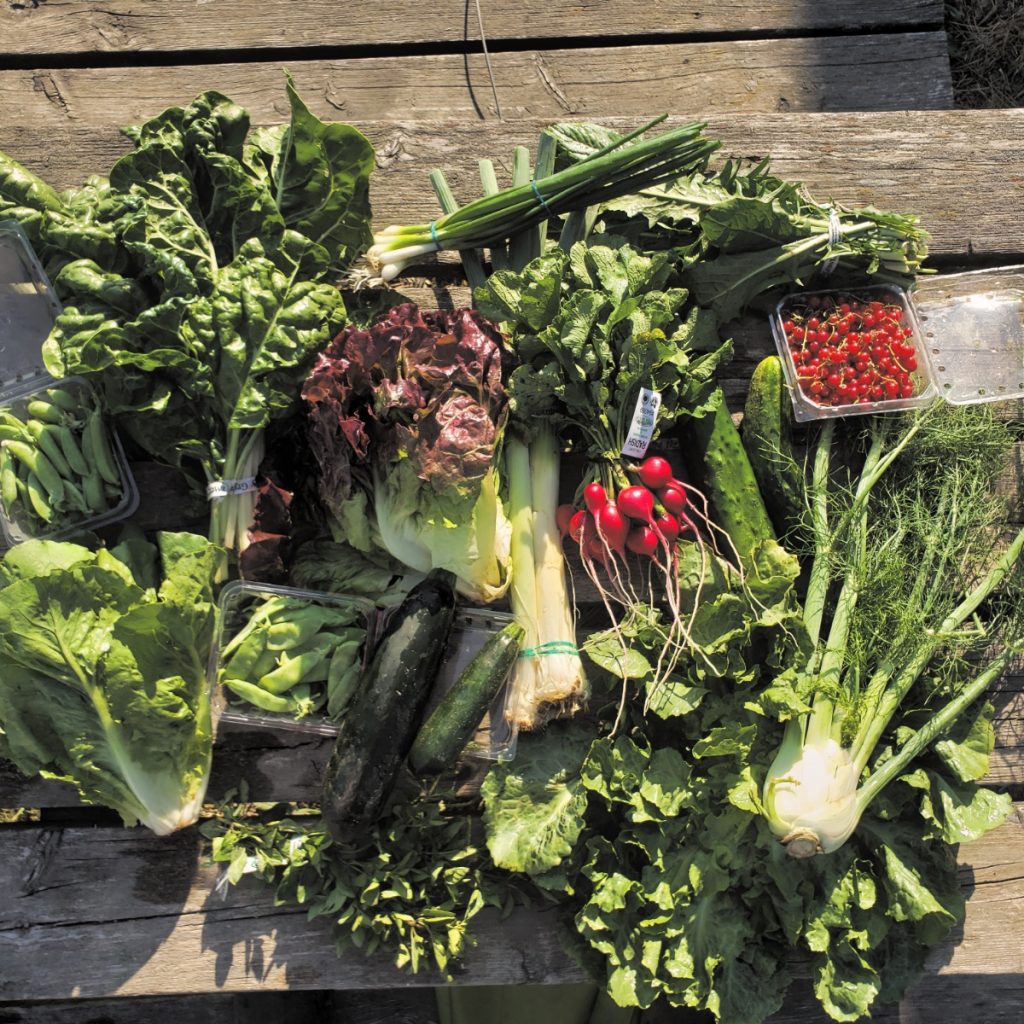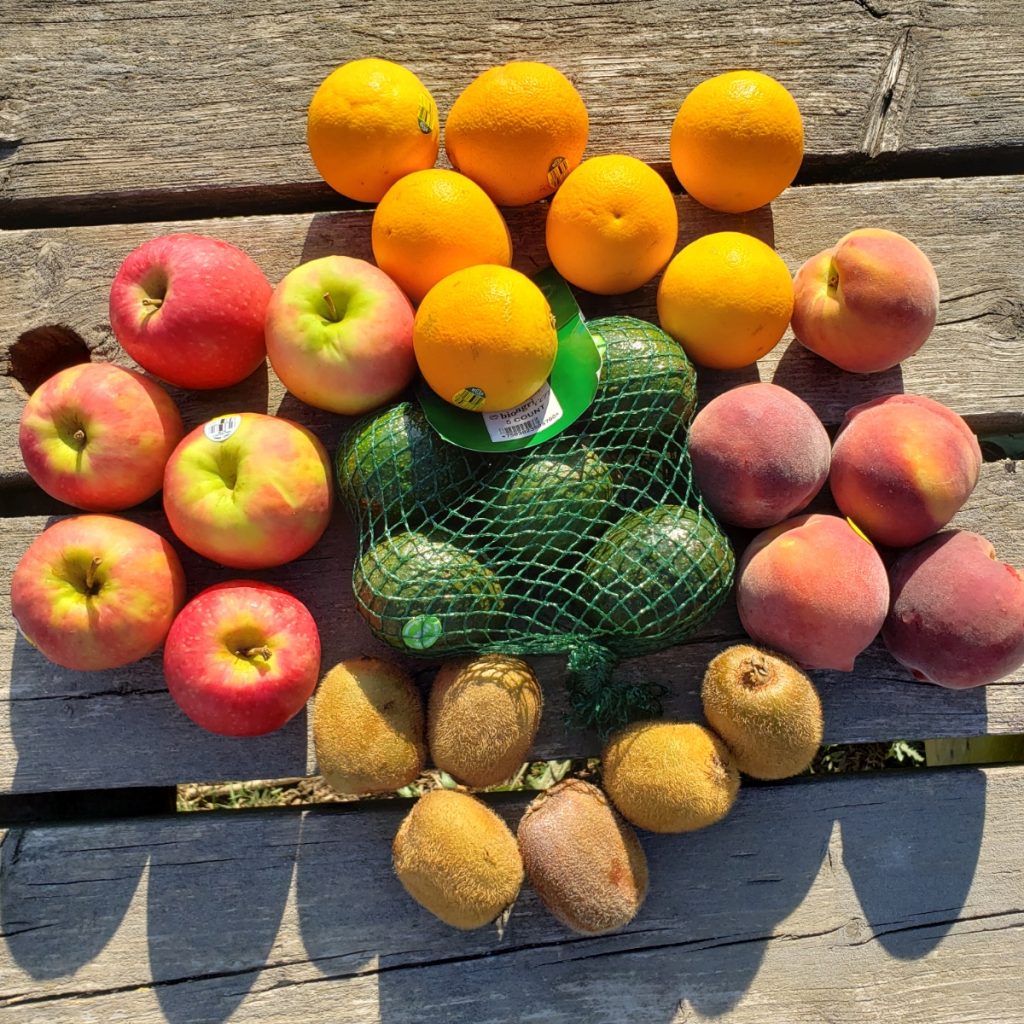 Half Shares
redcurrants
snow peas
sugar snap peas
1lb cucumbers
1lb zucchini* new!
green swiss chard
dandelion greens
red leaf lettuce
romaine lettuce
green onions
Whole Shares received all items above plus:
bunch radish
bunch oregano (herb)
head fennel (celery-like head with fragrant fronds)
head endive (flat lettuce-like green)
bunch leeks
Simply 6 Shares
sugar snap peas
snow peas
romaine lettuce
green onions
1lb zucchini
1lb cucumber
Another new item this week is dandelion greens. No, we didn't just go picking around the weeds in our yard. This is a cultivated type of dandelion greens and a true nutritional superstar:
Compared to spinach, one of our present-day "superfoods," dandelion leaves have eight times more antioxidants, two times more calcium, three times more Vitamin A, and five times more vitamin K and vitamin E (Eating on the Wild Side by Jo Robinson, pg. 23) Woah! Does that make you want to find a way to enjoy it? It does for me 🙂
Recipes
Enter Sauteed Dandelion Greens with Eggs, a quick and easy balanced meal for breakfast and beyond. The recipe recommends blanching the greens in salted boiling water to further reduce the bitterness.
One of your fellow customers knows what we call endive as escarole. She has 2 great ideas for us:
Trout and potato fry up and the other a pasta. I cooked tri-colored pasta, then in a fry pan sautéed a few tiny tomatoes in a little olive oil, added pepper and then added chopped escarole.I drained the pasta, and added the vegetables, then chopped fresh herbs (oregano, thyme and savoury) and added a bit of cubed Gouda and a bit of milk, and stirred it through on low heat until the milk was warm. Then I baked it in the oven at 350 F for about 45 minutes with a lid, removing the lid the last ten minutes or so. The result was delicious as the escarole had retained colour, texture and flavour  without the bitterness. I tried the dish again with onion and that was not as good as the onion masked the flavour of the escarole and herb. My second dish was one with trout- filet skin removed.(Frozen fillets from Costco). I baked it first with lemon and herb, and also baked a potato. Then stir fried it in a non stick pan with herbs and escarole, black pepper and some chopped tomato. Very tasty and again the escarole was flavourful and not bitter. 
Thanks for sharing the great ideas, Pauline!
Fresh Red Currant Yogurt Cakes:
A simple tasty way to enjoy your tart red berries. Check out the recipe here: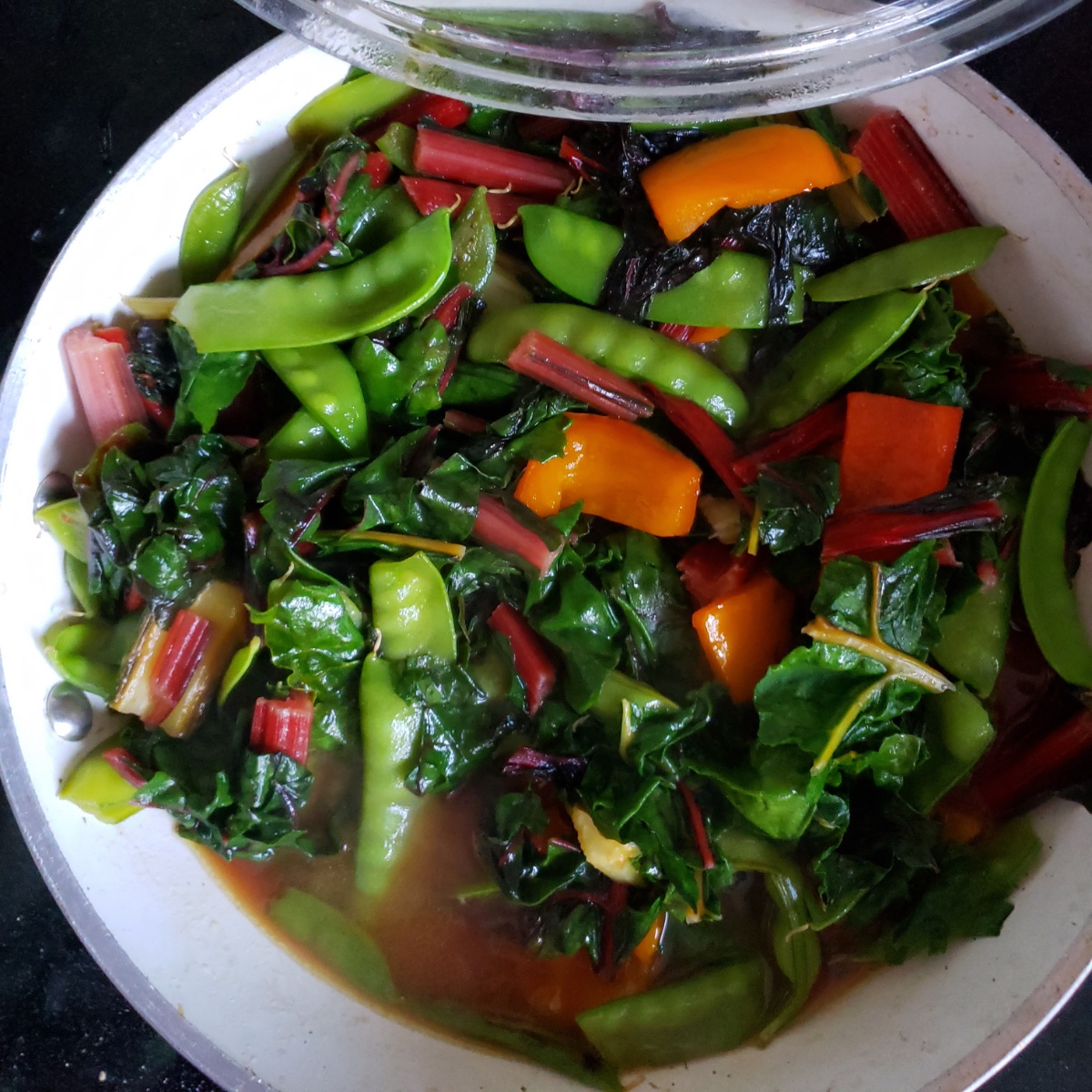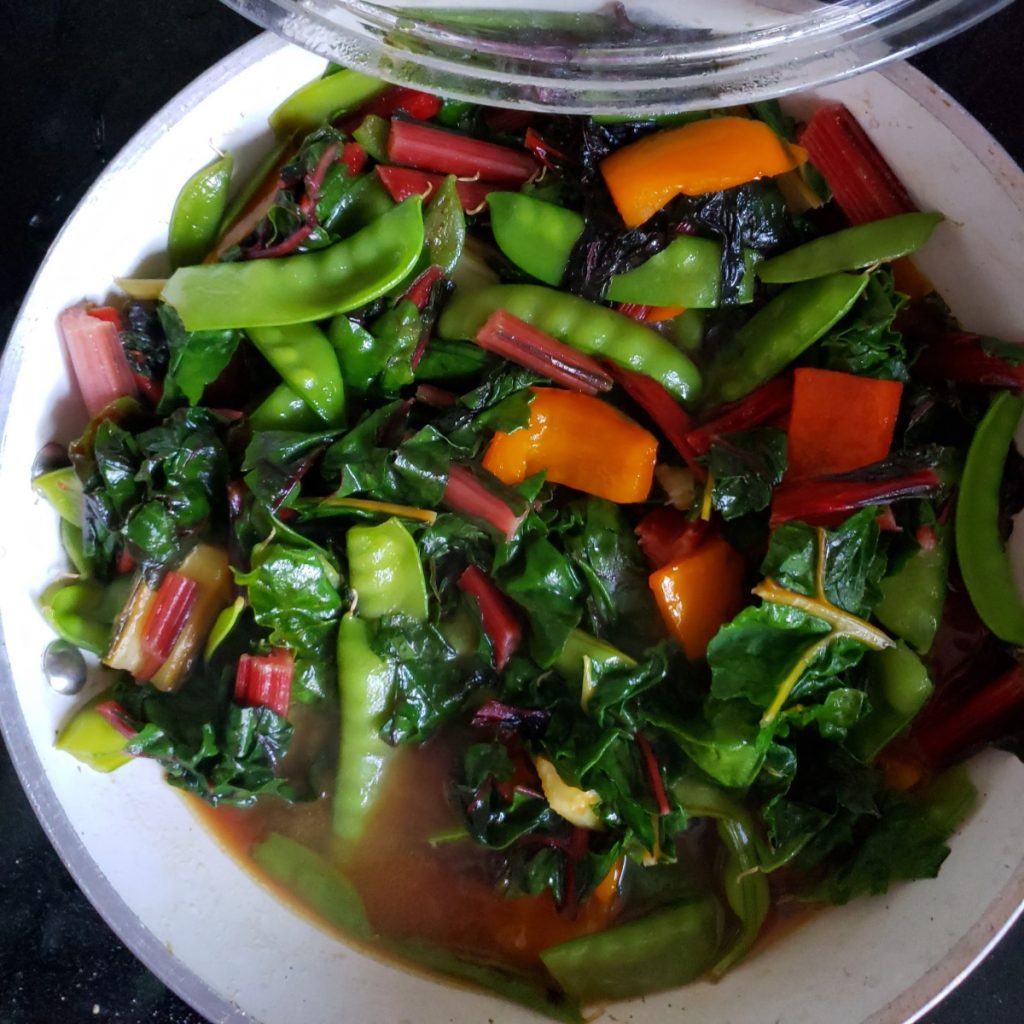 Happy Creating, Friends, and Stay cool!