Happy Thanksgiving!
I am sure looking forward to gathering before a feast with both my husband's and my family (not at the same time, but that would be interesting). Just having a family that enjoys each other's presence fills my heart with thanks. If you see someone around you who you're not sure has a family to gather with, why not grab a chair and count your family a little larger this year?
Do you always make the same dishes for Thanksgiving? I think it's about time I find a good gluten free stuffing recipe my son can enjoy, one that doesn't involve using $15 worth of gluten free bread! I'll post on Facebook if I find something goodles, and feel free to post on Facebook or reply here if you have a great Thanksgiving recipe to share with the Farm Share community.
If your not up for baking your own crust you can check out Charlottes foods in Richmond Hill.  They don't have a website and their hours are a bit wacky because its run by an 80+ year old woman but she has dairy free, gluten free and amazing food options include GLUTEN FREE PIE CRUSTS.  They are talkers but really sweet and amazing so feel free to stop in (call first!) to pick up a gluten free pie crust for your pie making needs. Charolttes foods: (905) 709-9079  Address is 55 West Beaver Creek Rd, Richmond Hill, ON L4B 1K5
Your baskets this week are themed around a traditional Thanksgiving dinner. Potatoes, carrots, squash and even rutabaga! Our pumpkin patch turned out teeny tiny this year so we may not have enough for everyone. Here's hoping a delicious pepper squash can get you in the Thanksgiving mood instead! Don't forget to add the fresh herbs into your stuffing, or use the Parsley for an easy garnish wHich makes you look like you know your way around a Kitchen!
Blessed Thanksgiving, everyone!
Week 18 (Thanksgiving)
-butternut squash
-curly parsley
-sweet peppers
-rutabaga
-carrots
-beets
-red leaf lettuce
-pumpkin or pepper squash
-green cabbage
-yellow potatoes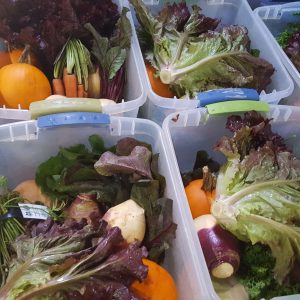 Whole
-2nd carrots
-eggplant
-celery root
-grape tomatoes
-sage or oregano (for turkey stuffing)
-ground cherries