It's the third week of farm share and our second box has just arrived.  I was so excited when I opened up the box to find strawberries sitting at the top! I'll be blessed if I get even one of those with 2 young boys who love fruit around-but can't wait to cut them up to enjoy as a fresh snack in this warm weather.  This week I tried out a new recipe for the rhubarb-it's a lovely Rhubard Spice Cake with Lemon Sauce that I just finished making (no picture of it with the sauce-we just finished dinner and I'm too full to dish it out). I did however taste the lemon sauce and it's incredible! I can't wait to try them together.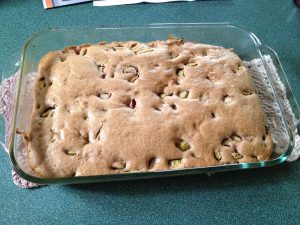 Tonight for dinner I used up the remaining aspergous (which we've been eating steamed and grilled) in a wonderful Alfredo dish with some leftover ham.  It was a hit with some homemade herb bread and a lovely salad it was a meal full of yummy veggies from the farm.   Here is the
Ham and Aspargus Alfredo Recipe
.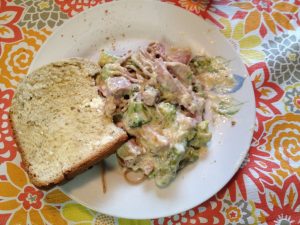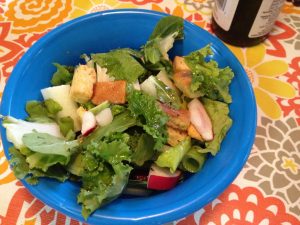 Jenny has a quick note from the farm-
Hi everyone!
This week is the start of some things new. Spinach is here, and I probably don't have to tell you how to enjoy it. I find the best way to wash it is to soak it a couple times in cold water. Any dirt settles to the bottom. Also, we have strawberries! You might want to gobble these up first because they don't last long. They may not be the giant uniform ones you might be accustomed to from California or Florida, but they sure don't lack in taste! Add to this some snow peas (grown in the greenhouse), and the addition of greenhouse beets and cucumbers for the whole shares (more to come for the rest of you), and more variety is already coming your way.  Don't forget to check out our pinterest page for recipe ideas too.
We also have our first lettuces from the fields- that deep and lovely hued red leaf lettuce. Hope you chop, cook and crunch your way to great eating this week. ~Jennifer Eng
Half
-baby bok choy
-snow peas
-asparagus
-strawberries or beets
-green onions or basil pot
-kale
-radish
-spinach
-Boston lettuce
-red leaf lettuce
Whole
-purple bok choy
-endive
-cucumber or extra asparagus
-purple turnip greens
-beets